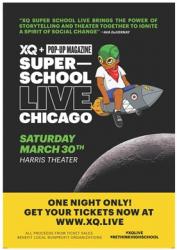 After a welcoming announcement from a very enthusiastic Rachel "Raych" Jackson and Stephanie Germeraad, a series of nine individuals took to the stage to present often humorous yet insightful vignettes about the challenges facing and experiences of high school students in our country today. These narratives ranged from an academically uncertain student who wrote some hilarious food reviews of the product being presented in his high school's cafeteria to a teacher who rouses his students to think like detectives to locate a serial killer to one ambitious student who campaigned for and eventually won a seat on his local school board. All of these pieces were written by students but presented by adults, accompanied by animations, photographs, film or collages created by various artists and supported by original music performed by the Magik*Magik Orchestra in collaboration with DJ Prince.
Perhaps the most profound segment of the evening was one that incorporated a lot of documentary footage to tell the story of Lexington, Nebraska. This small, rural mostly Caucasian community has seen an influx of people of color from Africa and Central America who have flocked there for the economic gains offered by a single, large company which is located there. How the principal of the local high school was able to successfully assimilate not only the students but their parents as well, many of whom had limited exposure to the English language, should serve as an example of how true democracy exists in America.
The most popular, however, was "Who's Gonna Do It? The Mayor?" by Jalen Kobayashi. Kobayashi, a 17-year-old poet/rapper/recording artist from the Northwest side of Chicago and a senior at Whitney M. Young Magnet High School was present to recite his highly motivational ode to individual empowerment, which was all the more timely, as it was delivered a mere three days before the historic run-off Chicago mayoral election.
The after-party, which was really a post-show wrap-up, took place in the lower lobby of the Harris Theatre and felt very much like a swank opening of a modern art gallery as the eternal educators, agitators, realists and students of life were encouraged to interact while white-jacketed servers passed plates of tantalizing appetizers and scrumptious desserts. Chicago was the last city of this XQ + Pop-Up Magazine Super School Live tour which had originated on the West Coast and traveled to nearly a dozen cities before arriving here. Here's hoping that this stimulating and energizing event may become an annual installment. Or, if you happen to be visiting another U.S. city and notice that the Super School Live tour has a performance there, by all means make plans to be a part of the action. This well-coordinated evening will not only inspire you but teach you a thing or two in the process.