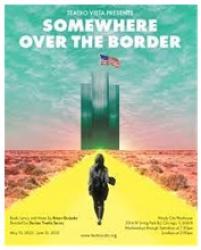 **** Recommended **** Somewhere Over the Border is Brian Quijada's tribute to his mother and her journey from El Salvador to the United States.  Although I'm sure the trek was scary dangerous, Quijada takes a lighter approach, modeling his musical on The Wizard of Oz – consistently light-hearted but always determined and goal-oriented – even through the scary bits!  Quijada's original music includes cumbia, Mexican mariachi boleros, American rock and hip hop styles – all played by a live band.  Kudos to Teatro Vista for a toe-tapping joyous show.  4 Spotlights
Just a note: many theaters are not providing programs at this time, but they do provide OR codes leading to an online program which can be downloaded.  Unfortunately, I couldn't find programs or OR codes for this production.    
By the way, Brian Quijada didn't just write the book, the music and the lyrics, he's the narrator of the story and plays the guitar with the band.  As the story begins, Quijada introduces 16-year-old Reina (Gabriela Moscoso) who lives with her mother, Antonia (Amanda Raquel Martinez). 
This part of the story is all too familiar – Reina meets a young man and ends up pregnant.  She continued working with her mother throughout the pregnancy.  Her mother even delivered the baby, a boy.  After the birth, Reina carried the baby with her wherever she went, including work. 
Reina decided she wanted more for herself and her son, a better life in the United States.  Her brother helped her get the money she needed for the trip.  Early one morning she packed her things in a backpack, wrote her mother a letter and kissed her son goodbye, and left.
Along the way, just like Dorothy, Reina sang and danced her way along a road (not made of yellow bricks) winding around the band pit.  At each stop, she met someone, learned his/her story, added him/her to her little band or travelers, and danced off.  Once she safely reached the United States, she didn't return until her son was ten years old.  
The cast: Andrés Enriquez (Silvano/Don Napo), Amanda Raquel Martinez (Antonia/Leona), Claudia Quesada (Julia) and Tommy Rivera-Vega (Cruz/Adan).  
Somewhere Over the Border was directed by Denise Yvette Serna with choreography by Kasey Alfonso; music direction by Thee Ricky Harris.  In addition to Brian Quijada, the three-piece band includes co-orchestrator Yendrys Cespedes (keyboards/percussion), Roberto "Carpacho" Marin (upright bass) and Guido Acevedo (cajón).
Windy City Playhouse is the perfect venue for Somewhere Over the Border.  The space is set up with seating (only 6 or 7 rows) on three sides.  The band members sit in a kind of pit area in the center, surrounded by a road (perfect for dancing) with a couple of paths branching off toward the rear. 
Note: Guests must show proof of vaccination before entering the theater.  Guests are required to wear masks while inside the building.
Teatro Vista's production of Somewhere Over the Border runs through June 12th at Windy City Playhouse, 3014 W. Irving Park Road, Chicago.  Metered street parking is available on Irving Park Road.  Running time is 1 hour, 50 minutes, no intermission.  Performances are Wednesdays through Saturdays at 7:30 pm, Sundays at 2:00 pm.  Tickets are $49.50.  Ten $15 tickets are available for every performance on a first-come, first-served basis.  FYI www.teatrovista.org.