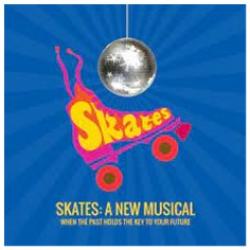 **** Recommended **** Skates A New Musical playing at the newly renovated Studebaker Theatre through June 26th, is a polished production, but the story didn't resonate for me.  It's kind of a mash-up – a pop star takes a nostalgic trip back to a particular place and time, Windy City Skate in the '70s.  Once there, however, she gets to meet and interact with her teen-aged self.  Skates is colorful, fast-paced and fun to watch.  3 ½ Spotlights
Did you ever hang out at your local skating rink?  I have fond memories of the Roller Dome and the people who hung out there, but I wouldn't want to go back.  If I did, there was this dangerous (at least my mom thought so) guy in a white t-shirt with the sleeves rolled up and jeans…  I always wished he'd ask me (instead of his girlfriend) to skate couples-skate with him.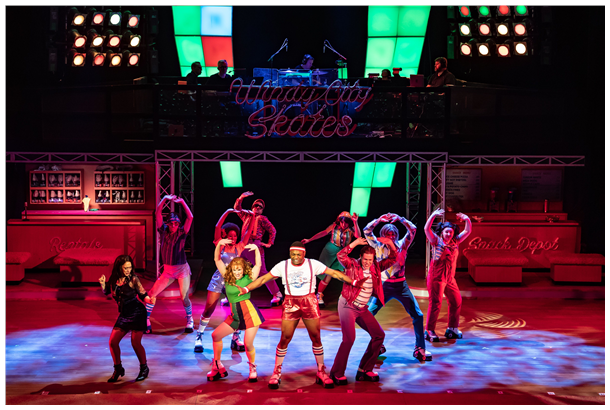 Jacqueline Miller (Diana DeGarmo) is a new pop star on the way to the top – but she has a terrible manager who can't read a map.  He has her appearing in Detroit one night, Seattle the next, and then Buffalo, San Francisco and Chicago.  We know he's a bottom-feeder because he wears parachute pants, so when the tour is suddenly suspended because he ran away with all her money, she's not terribly surprised.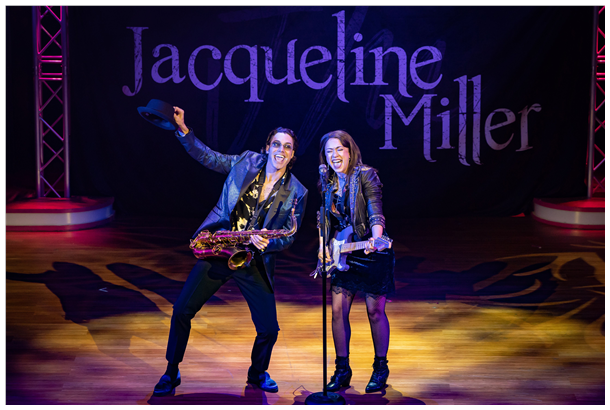 With her new manager, her brother Brad (Zach Severn), on the embezzler's trail, she returns home to Chicago for a pre-arranged personal appearance at the grand re-opening of Windy City Skate.  Her parents, Rebecca (Cory Goodrich) and Hank (Jason Richards) welcome her home.  Meanwhile, her boyfriend/Sax-player/band member, Blake (Ace Young) has taken off and isn't returning her phone calls. 
Her 12-year-old self, Jackie Miller (Emma Lord), wearing red Oshkosh coveralls, is meeting her best friends, Tanya Carson (Adia Bell) and Meghan Behnke (Kelly Felthous) at Windy City Skate where she hopes she'll see her crush, Scotty Watkins (Adam Fane) – although she's sure he'd never skate with her. 
At the rink, Jack (Kelvin Roston, Jr.), in his shiny red hot pants, rules the dance floor/rink at Windy City Skate.  It really was fun to watch everyone skating/dancing together.  Jackie is shocked – and Tanya was jealous – when Scotty asked her for a date.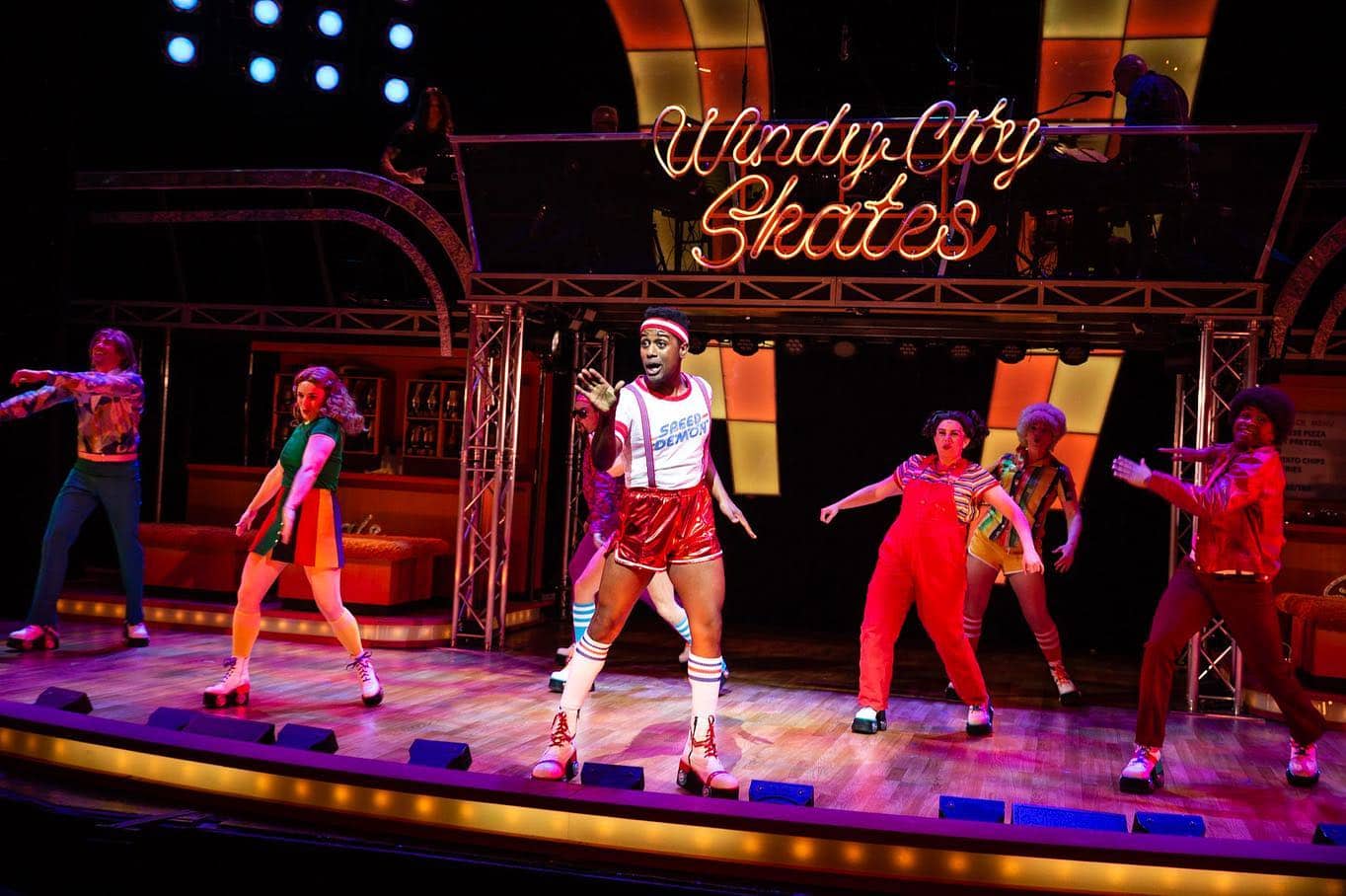 While Jacqueline interacts with her younger self, her love life is imploding.  Although she's positive Blake is cheating on her, she's going to take him back – until Jackie reminds her that she's losing her younger self and everything that made her who she was.  It was kind of a profound truth dropped into a frou-frou moment, which is why I remember it. 
The musicians playing for Skates are: Frank Canino (Conductor/Keyboard), Chuck Larkin (Bass), Andy Wilmouth (Keyboard), Tom Vitacco (Drums) and Jim Abbott (Guitar). 
Skates A New Musical was written by Christine Rea with music by Rick Briskin.  Skates was directed by Brenda Didier with choreography by Christopher Chase Carter, and music direction by Daniel A. Weiss.  Skates had three preview performances before the pandemic shut everything down.  If that wasn't enough, their original home, the Royal George was sold.  Skates is the first major production in the newly-renovated Studebaker Theater. 
Note: Guests must show proof of vaccination before entering the theater.  Guests are required to wear masks while inside the building. 
Skates runs through June 26th at the Studebaker Theatre inside the Fine Arts Building, 410 S. Michigan Ave., Chicago.  Best parking option is the Grant Park South Garage, entrance between Ida B. Wells Drive & Van Buren.  I scored a spot for $13.90 through SpotHero.  
Running time is 2 hours, 15 minutes with an intermission.  Performances are Tuesdays at 7:30 pm; Wednesdays at 1:30 & 7:30 pm; Fridays at 8:00 pm; Saturdays at 2:00 & 8:00 pm; Sundays at 1:30 & 7:30 pm.  Tickets range from $26-$99.  FYI 312-753-3210 or www.fineartsbuilding.com/events/skates