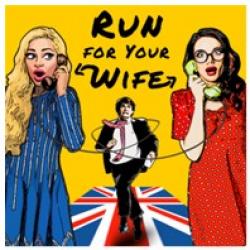 **** Recommended **** The Drama Group in Chicago Heights is celebrating their 90th season, definitely a major milestone.  As if that's not enough for a party, this is their 20th year exchanging productions with the Stables Theatre from Hastings, England.  So, for the first time on an American stage, the Stables Theatre production of Run for Your Wife, a really funny farce by Ray Cooney.  3 ½ Spotlights
Run for Your Wife had all the elements of a successful farce: multiple doors, ridiculous plot, over-the-top situation, mistaken identities, double entendres, rapid-fire delivery, bawdy language and physical humor – and the talented Stables cast made the most of it.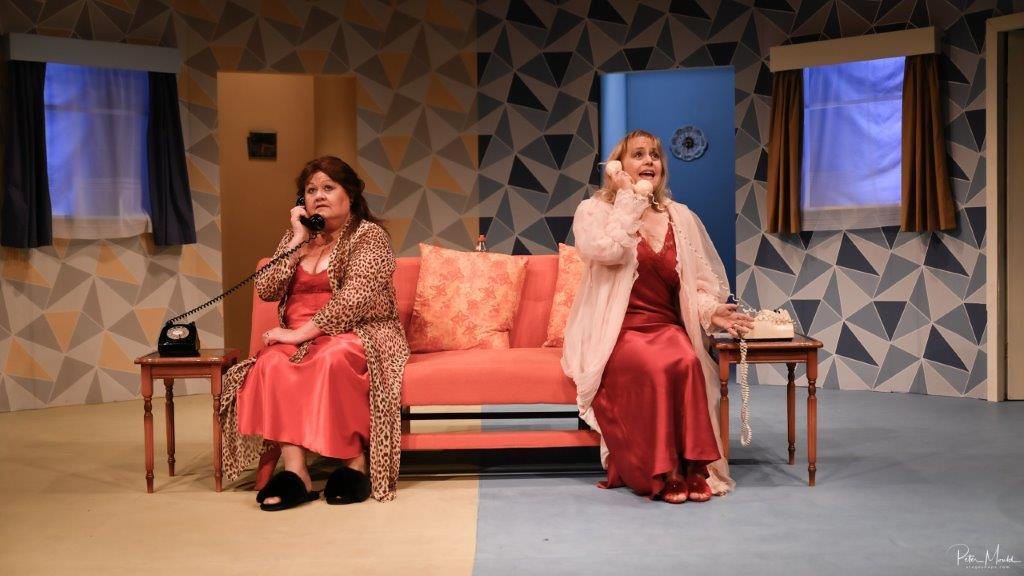 Run for Your Wife is set in the '70s, in two flats (apartments) with identical floor plans in two London suburbs, Wimbledon and Streatham.   On stage, the set is divided down the middle.  On one side, the wallpaper is blue with beige trim and curtains, on the other, orange paper, blue trim and curtains.  There's just one sofa, but two phones – beige on one side (to match the trim), black on the other.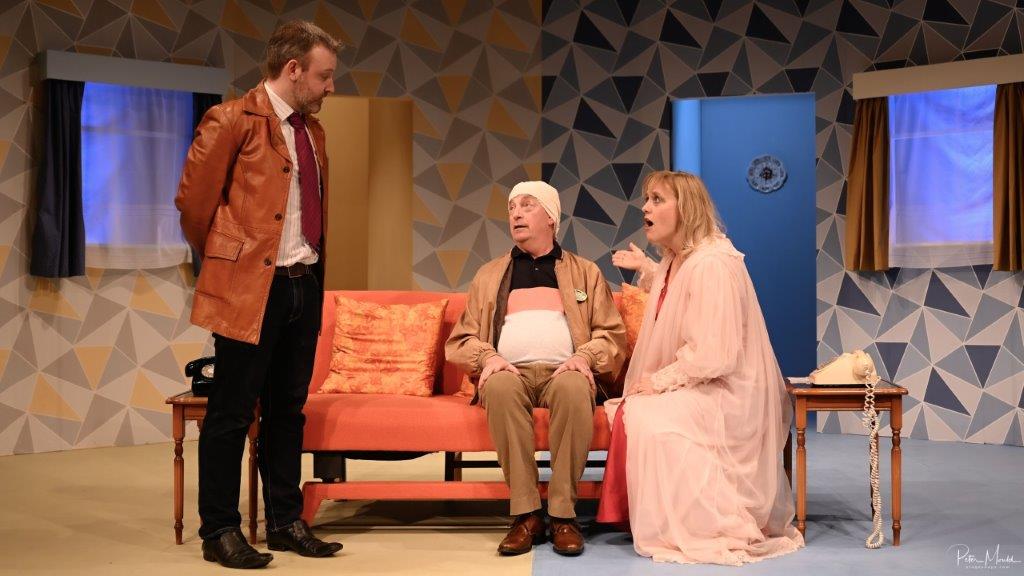 As the lights come up, two women in nightwear, one blonde, one brunette, both looking worried, are pacing around their flats, checking watches frequently.  Suddenly, they both go to their phones and call the police, each to report her husband, John Smith missing.  Their addresses are different, but their descriptions match perfectly.  They even give certain bits of information – he's a taxi driver with a very precise schedule – simultaneously.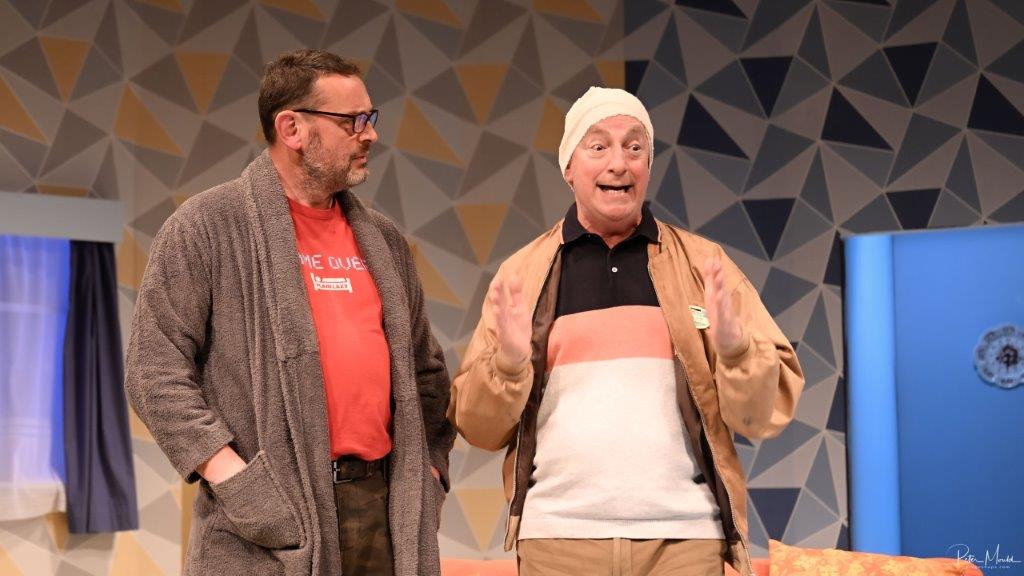 When the door on the blue side opens, two men enter.  One, with a bandaged head, is clearly John Smith (Glen Marks), considering that the blonde woman, Mary (Vivienne Pattison) rushes over to fuss over him.  The other turns out to be a policeman called Porterhouse (Alan Haynes), who explains that Mr. Smith was hit over the head with a handbag, causing a concussion, which caused him to spend the night in the hospital.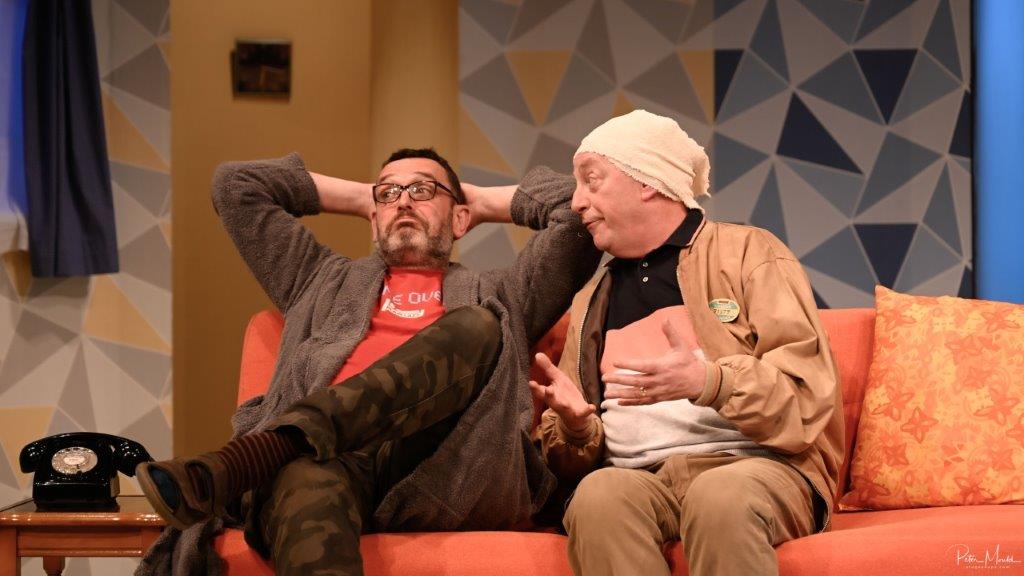 While Mary fusses. John lolls on the sofa.  By the way, Glen Marks has the best googly eyes, which he uses to look suitably concussed.  Porterhouse concludes by saying that there's only one question left – why the hospital had an address in Streatham rather than Wimbledon.  Porterhouse also mentions that he's become a human interest story, so a photographer might come by to take his picture.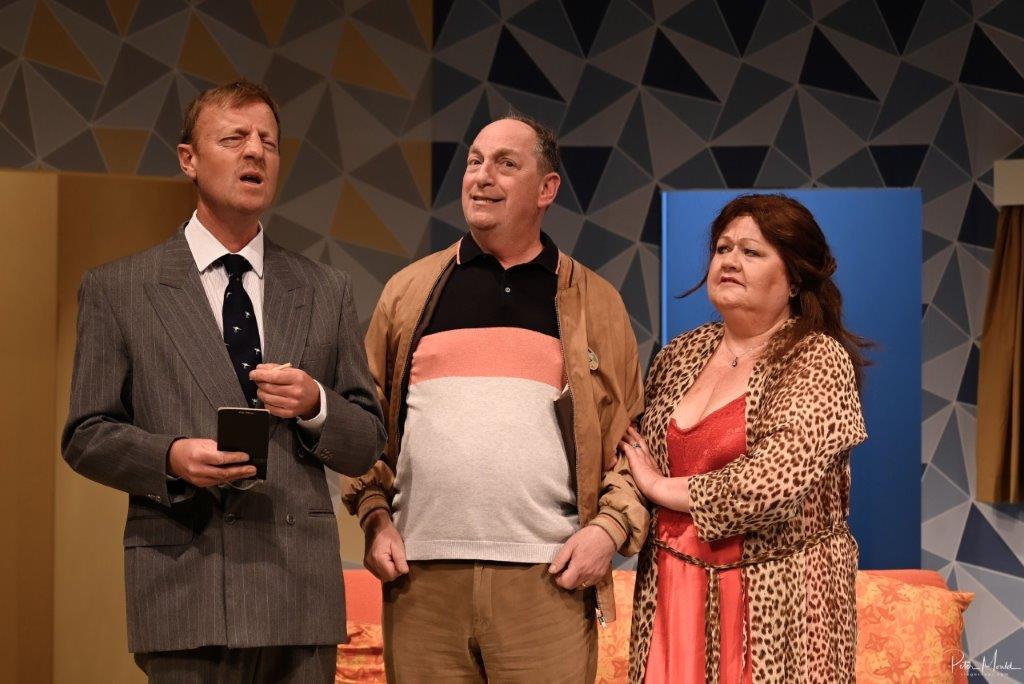 Meanwhile, John's checking his watch whenever Mary turns her back.  When his friend Stanley (Gavin Nevett), comes in, he quickly explains his problem – he's married to Mary and lives with her in Wimbledon, but he's also married to Barbara (Pauline McLaughlin) and lives with her in Streatham.  His strict scheduling of work shifts allows him to spend time with both wives.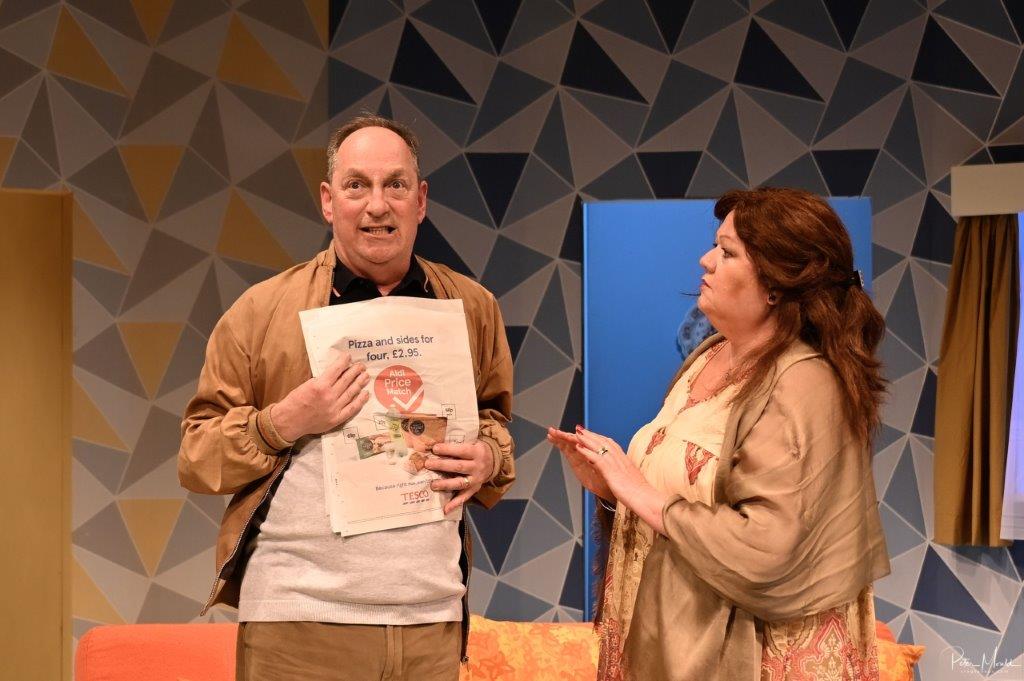 John calls Barbara from Mary's apartment to explain why he's late – his taxi broke down in the country and he's calling from a farm.  When Barbara hears Stanley starts talking the background, he tells her that that's the farmer, Gardner.  He promises to be home soon.  Meanwhile, a photographer pops in and snaps a compromising shot of John and Mary.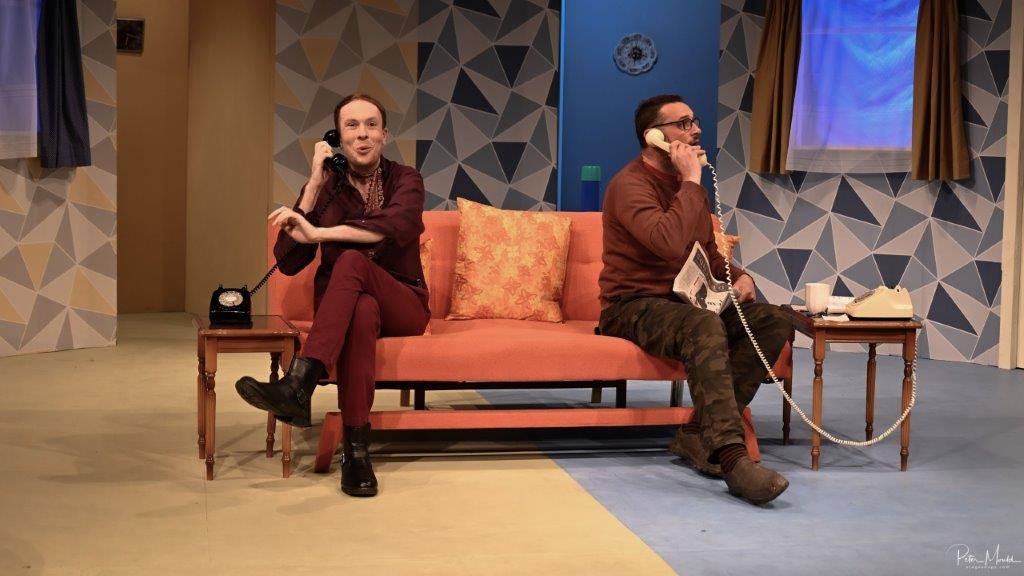 When John goes home to Barbara in Streatham, a policeman called Troughton (Dan Palmer) calls to investigate his disappearance.  John tells him the country story, but when Troughton asks why the Wimbledon hospital had the Streatham address he makes up a story about another John Smith and a big coincidence.  Later, Barbara's new, obviously gay, upstairs neighbor, Bobby (Richard Smith), borrows some milk.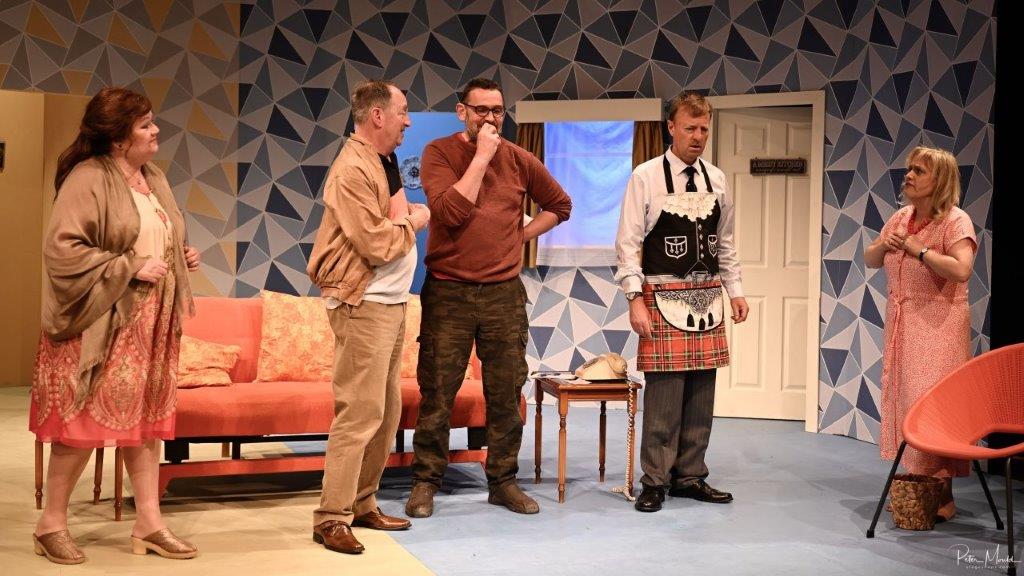 As the story moves along, there are some truly funny bits.  For example, Mary loses it, throwing an amazing hissy fit and beating Stanley with a newspaper.  In another, John eats the newspaper to keep Barbara from seeing it.  Then there's the 2 gallons of red paint spilled upstairs, not to mention Porterhouse's apron.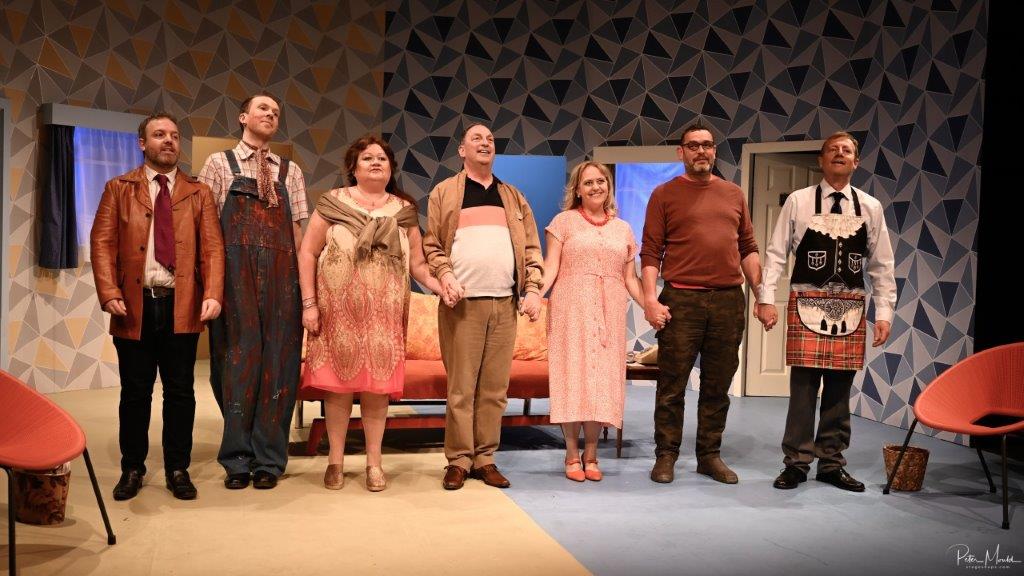 The Stables Theatre production of Run for Your Wife ran through June 19th. 
Note: Guests are required to wear masks while inside the building. 
Next up at The Drama Group, a free staged reading of Greater Tuna July 16th at 7:30 pm, followed by Leading Ladies August 5th through 14th.  The Drama Group is located at 330 W 202nd Street, Chicago Heights.  FYI (708) 755-3444 or www.dramagroup.org.