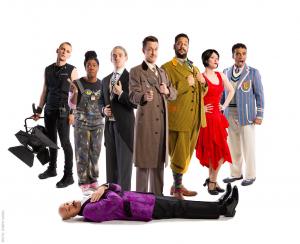 **** Highly Recommended **** The Play that Goes Wrong is one of the funniest plays I've ever seen.  I can't remember when I laughed so much.  The laughter, which started well before the show began, continued until the very end.  If you're feeling blue, The Play that Goes Wrong will chase those blues away!  Don't miss it!  4 BIG Spotlights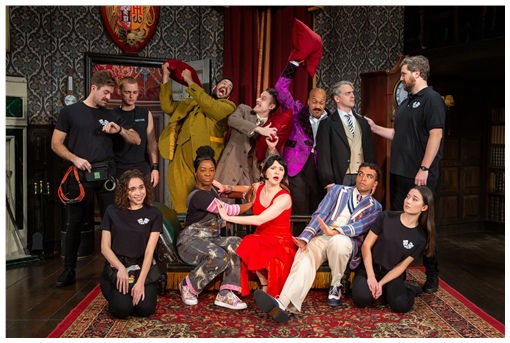 Just a note: before I started reviewing professional theater, I spent at least ten years reviewing community theater.  While most plays were well done, there were some that … enough said!  I think I laughed so hard at this play because I've seen, first-hand, many of the disasters that befell this company, although rarely in the same play.  You have to admire this hapless cast – at the same time you're laughing at them.  They just keep on keeping on while everything around them quite literally falls apart.
The comedy starts well before scheduled curtain time.  Someone (it turns out that her name is Annie) wanders through the audience asking if anyone has seen a dog.  On stage, the crew is scurrying about, finishing the set.  When Annie needs some help, she drafts a man from the audience, pulling him up to the stage where she has him holding the fireplace mantel in place while she runs for a tool.  Meanwhile, Trevor asks him to hold the door closed with one hand, the mantel with the other.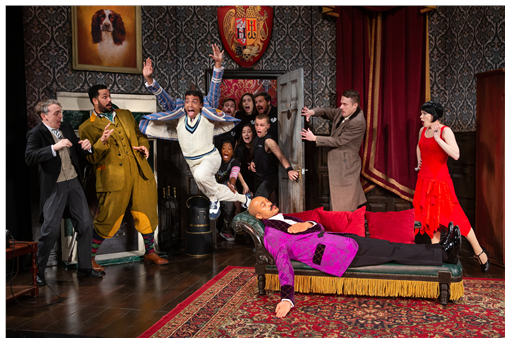 Since this is a play within a play, I won't even try to give every actor's name as they come up in the story because their characters are all playing characters.  Here's a list instead: Trevor Watson, lighting & sound operator (Colton Adams); Chris Bean/Inspector Carter (Matt Mueller); Jonathan Harris/Charles Haversham (Joseph Anthony Byrd); Robert Grove/Thomas Colleymoore (Jonah D. Winston); Dennis Tyde/Perkins (Michael Kurowski); Sandra Wilkinson/Florence Colleymoore (Kelly O'Sullivan); Max Bennett/Cecil Haversham/Arthur the Gardener (Jarred Webb) and Annie Twilloil, stage manager/stand-in (Ernaisja Curry).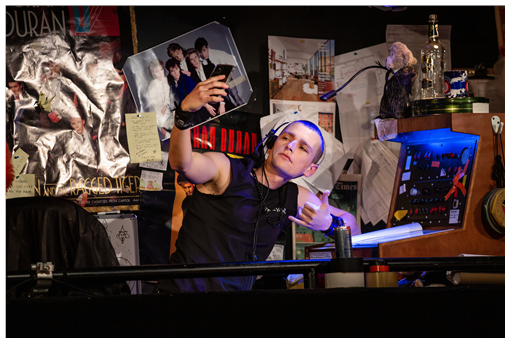 After Trevor, the stagehand, takes a seat at a control panel in a tiny balcony just off stage, Chris strolls on stage to announce that the Cornley University Drama Society is proud to be staging a play called Murder at Havisham Manor, which he's proud to be directing.  After giving a bit of company history – and some difficulties they might have had in the past, he mentions that this play might be a teeny bit ambitious for them but he's sure they're up to the challenge!   
The lights come up early, then go dark again.  The lights come up again revealing the body of a man in a burgundy velvet smoking jacket lying on a chaise, his arm dangling to the floor.  When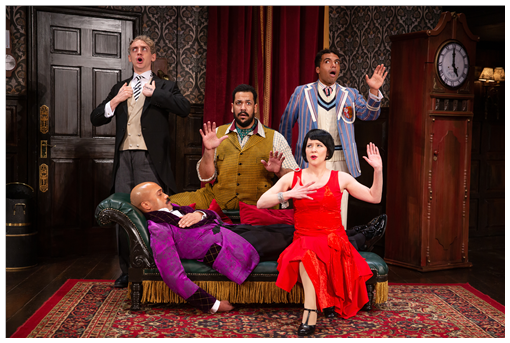 Perkins, the butler, enters the room, he assumes that his employer, Charles Haversham, is dead and summons his fiancée, Florence Colleymoore, his brother, Cecil Haversham and her brother, Thomas Colleymoore.  Since the death might be murder, they call the police.     
The play is hilarious, what with actors overacting, mispronouncing words – often written on an actor's hand, multiple pratfalls, spit takes, and collapsing sets – and then you have to figure out whodunit.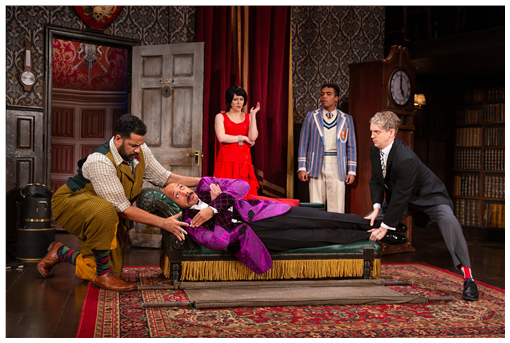 Some of my favorite disasters:
When the play starts, the door wouldn't open, so the cast walked around the wall.  Desperate to make her entrance, Sandra climbs through the window.
The body surreptitiously moves his hand under the chaise after several people stepped on his fingers.
Perkins and Colleymoore roll the dead body off the chaise onto a stretcher but the cloth rips out.  They pick up the two long sticks, and walk away.  The body lays on the floor for a few seconds, then covers himself with the stretcher fabric, and unobtrusively (LOL) crawls off stage.
When the butler tries to put candlesticks on a non-existent mantle, a stagehand pushes her hands through the sconces and holds them in place. 
Trevor misses several sound and light cues leaving the actors repeating lines louder and louder.
Perkins lights a cigarette, throws the match into a convenient coal hod igniting a fire.  Stage manager runs on with a fire extinguisher.
A door slams into Sandra, knocking her out.  The crew picks her up and tries to carry her limp body through the window. 
Annie puts Sandra's dress on over her jeans, and reads her part.  When Sandra comes back on stage in her underwear, ready to act, Annie decides she's going to keep the part.   
People hide or are hidden in the grandfather clock, but disappear – like magic show!
The column holding up the upstairs study collapses leaving Chris and Colleymoore scrambling to hold onto the sliding furniture.
Note: Guests must show proof of vaccination with photo ID before entering the theater.  Guests are required to wear masks while inside the building.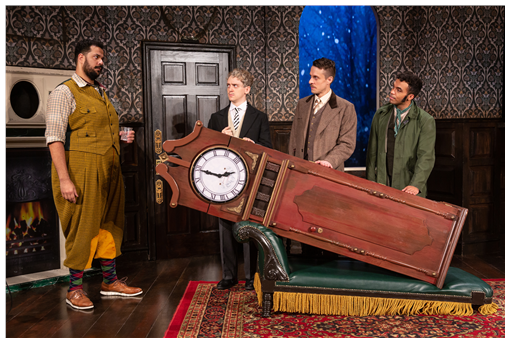 The Play that Goes Wrong runs through January 30th at Broadway In Chicago's Broadway Playhouse at Water Tower Place, 175 E. Chestnut St., Chicago.  Parking is available at a reduced rate with a validation, available at the box office or from an usher.    Running time is 2 hours with an intermission. 
Performances are: Tuesday through Friday at 7:30 pm (except December 24th), Saturdays at 2:00 & 8:00 pm; Sundays at 2:00 pm.  In addition, there are Wednesday matinees at 2:00 pm on December 22nd, 29th, January 5th, 12th and 26th; and Sunday evening performances at 7:30 pm on December 26th, January 2nd and 23rd; also a performance on Monday, December 27th at 7:30 pm and a matinee on Friday, December 24th at 2:00 pm.  There will be no shows on Christmas Day, December 25th and New Year's Day, January 1st. 
Tickets start at $30.  FYI www.BroadwayInChicago.com.