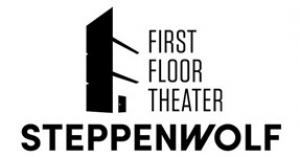 "Plano" is set in a small town in northern Texas, roughly 20 to 30 miles from the city of Plano. However, when the characters talk about going to Plano, they infer that it is a bad thing and a highly undesirable place to visit. As in, "he went to Plano" is equated with he went to hell.
Three sisters all live within close proximity to one another. Anne (Elizabeth Birnkrant) is involved with a man named John - also called Juan (Chris Acevedo) - who may be a Mexican immigrant or a U.S. citizen. She met him at a local grocer, but can't remember which one. John/Juan may also be gay. Anne is not sure of th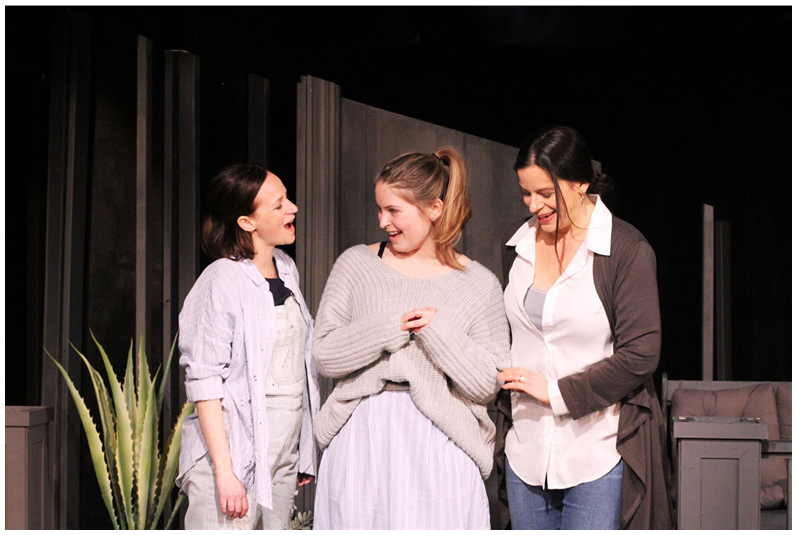 at. One thing that she is sure of is the fact that she is pregnant with his child. At the beginning of the play she is gathering to share her joyous news with her other two sisters: practical Genevieve (Ashley Neal) and the youngest sister Isabel (Amanda Fink).
All three women have major issues in their lives. Besides Anne's quandary regarding John/Juan's sexuality, her home has also been infested with slugs. Genevieve is married to Steve (Andrew Cutler) but he seems to have good qualities and bad qualities so there is Steve #1 and Steve #2 (both played winsomely by Cutler). It is Isabel who seems to be plagued the most from a troubled childhood and she is constantly physically unwell. She suffers from visions of a Faceless Ghost (Andrew Lund dressed in blazing white sweatshirt and bleached denim jeans while wearing a plastic silver android/alien mask) whom she believes is God. Once the women's mother arrives, aptly named Mary (Janice O'Neil), the tone shifts into neo-classical Greek tragedy, with Mary becoming a pseudo modern day Medea.
Arbery's script joyfully warps the concept of time. There are numerous instances when one of the sisters will say something along the lines of "We'll talk about that later" and then -- after a two or three second beat -- proclaims "It's later, let's talk about that now." In this way, Anne and John/Juan's son grows from a tiny infant into an active toddler in the course of the play's 90-minute duration.
Also at play here is the immensely misunderstood power of subconscious thought. Characters speak and even act out their deepest and darkest secrets without realizing that they have made those feelings known. In such a way, one of the Steves ends up being killed and the three sisters have to question themselves later if it actually took place in reality and is he really buried in the backyard. Childhood abuse and trauma are hinted at, but Arbery has used some beautiful imagery (namely a red satin ribbon descending a staircase and a small mystical box which Mary won't open to show her
daughters because it contains miniature replicas of them as youngsters) that border on magic realism.
Birnkrant once again proves to be a fearless actor as she attacks the role of Anne. She was so memorable in "How I Learned to Drive" at Artistic Home a few seasons ago and she is building upon that foundation in creating the most sympathetic of the sisters. Acevedo brings a steamy swagger to the role of John/Juan and his line dancing skills alone punch up the sexiness quotient.
"Plano" may not be a perfectly complete script and its extremely peculiar style clearly is not for everyone. There is very slight character development and by the ending things have looped back to the exact beginning. Maybe that's entirely the point. We, the audience members, are actually trapped in Plano -- and not the city itself but the purgatorial metaphor. Perhaps that's where the part about this being a dark comedy comes in.
_____________________________________________________________________
"
Plano" continues to March 28, 2020
Location: Steppenwolf's 1700 Theatre, 1700 North Halsted Street, Chicago, IL
Curtain Times: Thursdays, Fridays and Saturdays at 8:00 PM; Sundays at 3:30 PM
Please note: There will be added performances on Monday, March 16 at 8:00 PM, Monday, March 23 at 8:00 PM and Saturday, March 28 at 3:30 PM
Tickets: $25 to $35. Students are $20. Industry $15. Tickets are currently available at www.steppenwolf.org or by calling (312) 335-1650
Running time is exactly 90 minutes with no intermission