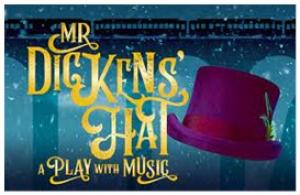 **** Highly Recommended **** Mr. Dickens' Hat, A Play with Music, is definitely not what I expected.  I thought maybe it would be another holiday story, maybe with a Dickens theme.  As soon as I saw the 'steam punk' set, I knew this would be something unique – and it is.  Mr. Dickens' Hat is actually about a hat that did belong to Mr. Dickens, a hat that's been on an adventure or two.  I really enjoyed Mr. Dickens Hat, and I think you will too.  4 Spotlights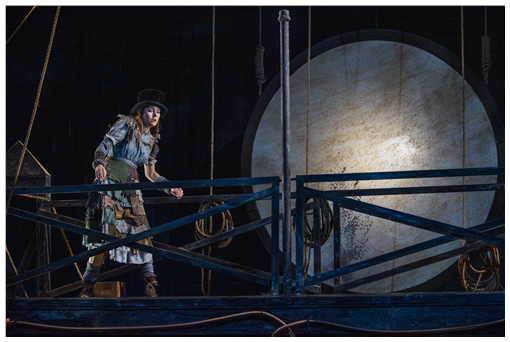 At first sight, the set looks like a wharf or a warehouse somewhere, with stacks of cartons and boxes all lined up under a trestle type structure.  As the lights go up, actors step in and start moving boxes, completely rearranging the clutter.  Over the course of the play, that structure becomes a bridge over the Thames/over a railroad, a train station and a hat shop.   
This cast truly is an ensemble.  Kit (Cordelia Dewdney) tells the story, although everyone in the cast can and does inject an aside to the audience.  By the way, those asides are often references to things they're using, that will actually be invented in the future.  Everyone plays multiple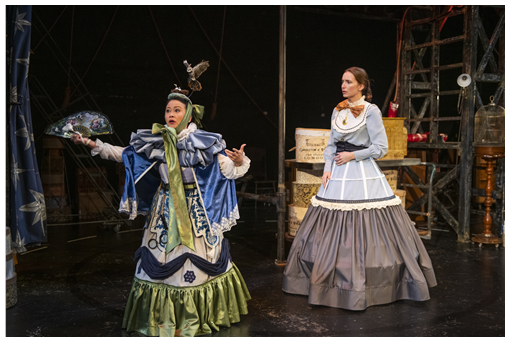 characters.  Costumes are makeshift – a hoop without a skirt, an elaborate hat, a top hat, an apron, a long scarf and so on – with quick changes the norm.    
In a steam punk version of Victorian London, there's a unique hat shop which carries hats for both ladies and gentlemen.  When Mrs. Prattle (Kasey Foster), the milliner, fell in love with Mr. Garbleton (Mark David Kaplan), gentlemen's hat maker, they combined their shops by knocking down the wall in the middle.  In pride of place sits Mr. Dickens' hat, the very hat which Mr.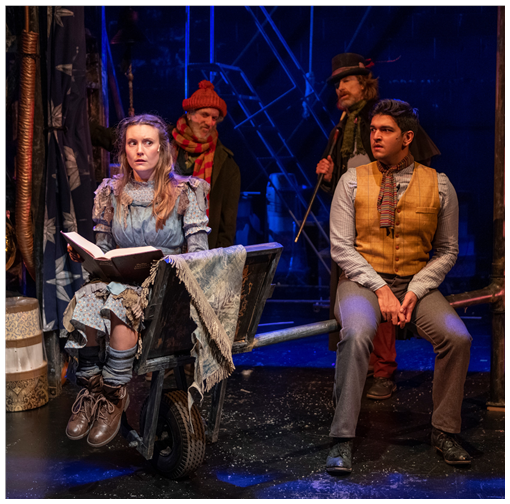 Dickens used to carry water to the victims of a train wreck (truth, not fiction). 
Kit and Father (Nick Sandys) are confined to debtors' prison.  Fleece (Sandys), the prison warden, 'allows' Kit to work in the shop so she could pay off her father's debts.  Although she's supposed to be in the prison at night, she's figured out how to sneak out by crossing a railroad bridge over the Thames.
Lady Plume (Christine Bunuan), Mrs. Prattle's best customer, has an audience with the queen, so she needs a special hat.  Unfortunately, Mr. Garbleton mixed up the hat boxes, which could be a disaster for Mrs. Prattle.
Mr. Garbleton and Mrs. Prattle leave Ned (Ruchir Khazanchi) and Kit in charge of the shop while they go off to get married.  Mrs. Prattle's wedding hat, a swan, complete with feathers, long neck, beak and all,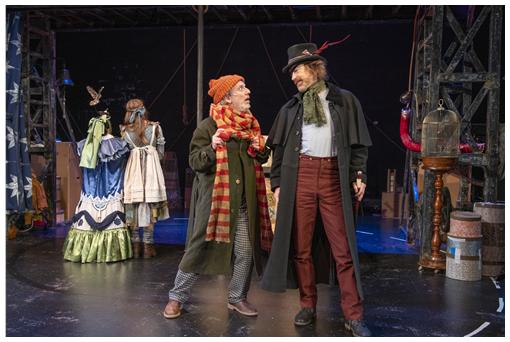 has to be seen to be believed!   
Fleece (Sandys) and his underling, Gnat (Kaplan), think Mr. Dickens' hat is worth a lot of money so they decide to steal it.  Kit happens to be in the shop when they break in.  She grabs the hat and flees, just ahead of Fleece (a villain who admits he's a villain.  After chasing her all over London, Fleece grabs the hat as she runs out on that trestle bridge. 
You can imagine what happens next - or you can get tickets to see Mr. Dickens' Hat.  I think you'll enjoy it as much as I did.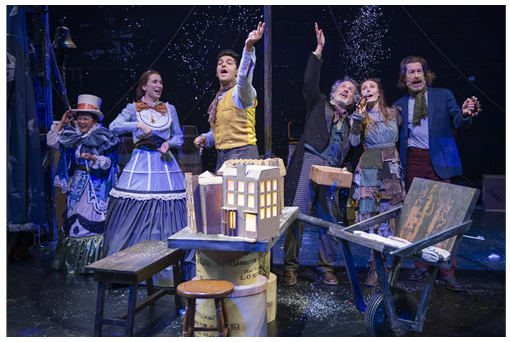 Note: Guests must show proof of vaccination with photo ID before entering the theater.  Guests are required to wear masks while inside the building.
Mr. Dickens' Hat runs through January 2nd at Northlight Theatre, 9501 Skokie Blvd, Skokie.  Parking is free.  Running time is 90 minutes, no intermission.  Performances are: Tuesdays at 7:30 pm (except December 28th); Wednesdays at 1:00 & 7:30 pm; Thursdays at 7:30 pm; Fridays at 8:00 pm; Saturdays at 2:30 pm (except January 1st) & 8:00 pm; Sundays at 2:30 pm; with an additional matinee on December 24th at 2:30 pm and an extra evening performance on December 26th at 8:00 pm.  There will be no performances on December 25th.  Tickets range from $30-$89.  FYI (847) 673-6300 or www.northlight.org.