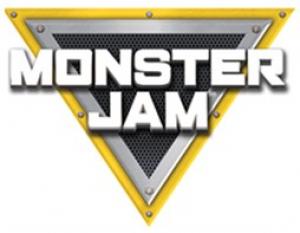 The evening started with a nice salute to the Grave Digger Monster Truck. This year commemorates it's 40th Anniversary as a member of the Monster Jam assemblage. My attending crew for the event are ages 11, 6 and 4 and everyone had a blast. Definitely mark this as a family friendly event.
The evening ran on the normal lineup; four segments (Racing Bracket, 2 Wheel Challenge, Donut Challenge, Freestyle Challenge) where the driver's earn points to be declared the evening winner and work towards the year's highest accumulated score for the World Finals Competition.  Three of the four segments are judged by the audience with an easy-to-use website.  
Team members from FMX made a guest appearance performing amazing aerial acrobats on dirt bikes.  The audience votes for best performance in this bonus segment as well.  My crew loved this segment, they all wanted to see flips and they got flips!  The FMX team performed quite a few dirt bike flips and we also got to witness a Monster Truck flip, my middle's favorite truck Max-D! The entire Monster Jam team works hard to provide a fun, friendly and safe evening.