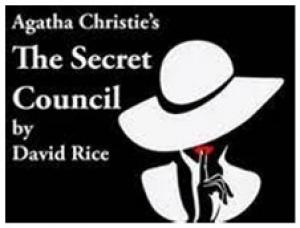 **** Recommended **** I don't mind admitting that I am an Agatha Christie fan, so I was eager to see First Folio's production, The Secret Council, based on Christie's second book, The Secret Adversary, which introduced Tommy and Tuppence aka Thomas Beresford and Prudence Cowley to the reading public.  David Rice's adaptation was kind of campy, a little melodramatic, and definitely played for laughs and it was a lot of fun.  4 Spotlights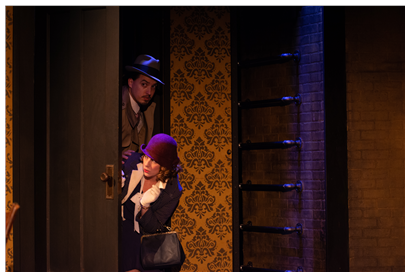 Thomas "Tommy" Beresford (Andrés Enriquez) fought in the Great War (World War I) and was wounded twice.  Prudence "Tuppence" Cowley (Melanie Keller) served in the Voluntary Aid Detachment.  When these friends from childhood met up after the war, they were both unemployed.  Needing money and looking for adventure, they agreed to start a business they called The Young Adventurers. 
Tuppence is imaginative, intuitive and impulsive, while Tommy is much more thoughtful and methodical.  Together they are unstoppable!   It isn't too long after Tuppence used the street address of their local pub for their business that they get their first opportunity.  They were hired by a Mr. Carter, from British intelligence, to search for Jane Finn, who survived the sinking of the Lusitania, only to turn up missing – along with some top-secret documents.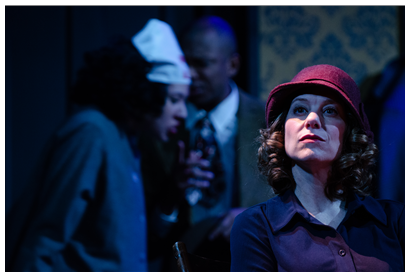 While looking for the missing woman, they run across the name, Rosey Bottoms.  Just mentioning her name draws a reaction from all their suspects who turn out to be involved in the Secret Council, a Bolshevik conspiracy up to no good.  There's a sexy spy, a bunch of foreign agents who use numbers to identify themselves, and even an American detective.  They find one suspect dead, then another.  When Tommy impersonates Number 4 and is taken captive, Tuppence must rescue him – getting a chance to use her fighting skills!   In the end, Tommy and Tuppence decide they're not just partners in business, they're madly in love!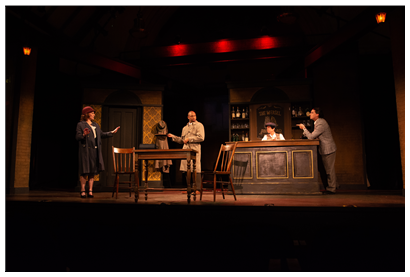 Joe Foust, Elizabeth Ledo, James Lewis, and Tina Muñoz Pandya play all the rest of the characters – bartenders, sexy spies, secret agents, thugs and so on with ingenious and fast costume changes and different accents.  It was fun identifying who was who.  All four were members of the Secret Council.  Joe Foust ended up dead at least twice, while Tina Muñoz Pandya was the sexy spy and James Lewis the American detective.  Elizabeth Ledo was Albert, the lift boy, and the bartender.  The final question – who was the woman in the kimono? 
Tommy and Tuppence track their suspects to a variety of locations across London.  Kudos to Set Designer Angela Weber Miller on the attractive and versatile set which utilized several detachable rolling pieces – particularly a couple of doors, a bar/sideboard, and a highboy/bar shelfing piece.  Whenever there was a loc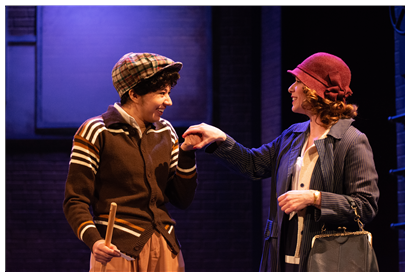 ation change, the entire cast, often wearing trench coats (they're spies, after all), helped roll them into place.   
If you're an Agatha Christie purist, this might not be the show for you.  In fact, my friend Karen was disappointed because it wasn't at all like a television adaptation she'd seen recently.  She thought they'd left out a lot and she thought they wasted a lot of time rolling doors and set pieces around the stage.  She did agree that all the important plot points were there, as was that certain joie de vivre that defines Tuppence and Tommy.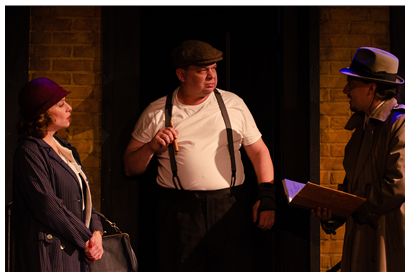 I think the thing to remember when seeing an adaptation of a book for the stage is that it can't possibly include everything in the book (or in the TV show).  The playwright selects the plot points he/she thinks are most essential and then builds his play around that.  In addition, if there are a lot of locations – as there are in any Christie mystery – which necessitate scene changes, the playwright and the set designer have to figure out a way to make that happen.  In this case, rolling doors and a couple of set pieces into different spots on stage all signified different locations.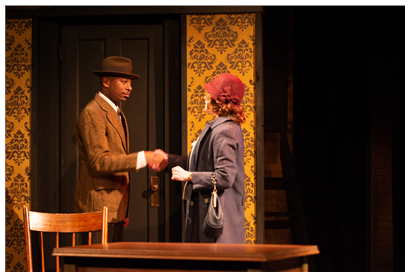 Note: Guests must show proof of vaccination before entering the theater.  Guests are required to wear masks while inside the building.
First Folio Theatre's production of The Secret Council runs through February 27th at the Mayslake Peabody Estate, 1717 31st St., off Rt. 83, Oak Brook.  Parking is free.  Running time is 2 hours with an intermission.  Performances times are Wednesdays at 8:00 pm; Thursdays at 3:00 and 8:00 pm; Fridays at 8:00 pm; Saturdays at 4:00 and 8:00 pm; Sundays at 3:00 pm.  Tickets range from $44-$59.  FYI (630) 986-8067 or www.firstfolio.org.