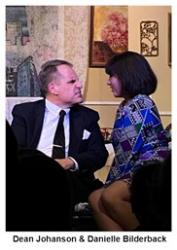 When the lights come up, we see a beautiful set constructed by Floyd Colosky and dressed by David Mikolajczyk.
The play has 3 acts and is presented with a brief intermission between each act. In Act One we get to meet Barney Cashman who is played perfectly by Dean Johanson. He captures Barney's insecurities and frustrations with the right comic touch throughout the evening.  In this act we also meet Elaine Navazio, a woman who knows whhe wants and when she wants it, even though she is having a coughing fit and demanding a cigarette at the same time. A recent newcomer to Footlight, Danielle Bilderback tackles this role with comedy magic. She delivers a top notch performance.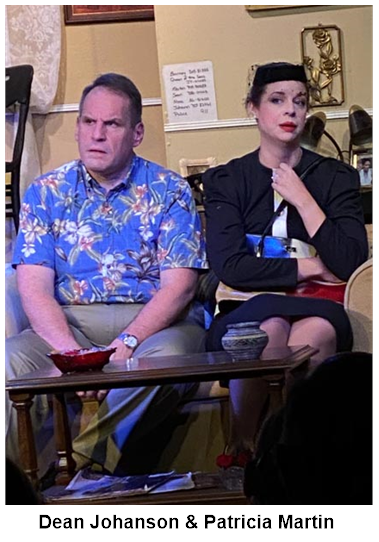 In the second act, we meet lucky lady #2, Bobbi Michelle played by Footlight regular, Alayna Lauritsen. This gal is fast talking and has more problems that anyone should have. We never are sure if these problems exist or not . Alayna captures all her idiosyncrasies with just the right of ditzyness while never letting poor Barney get a word in.
The third act brings us Jeanette Fisher, a family friend so depressed one wonders why she showed up for this discretion at all. Patricia Martin gives it her all and delivers a wonderful performance while clutching to her pocketbook and last hope for some sort of decency. She is hysterical.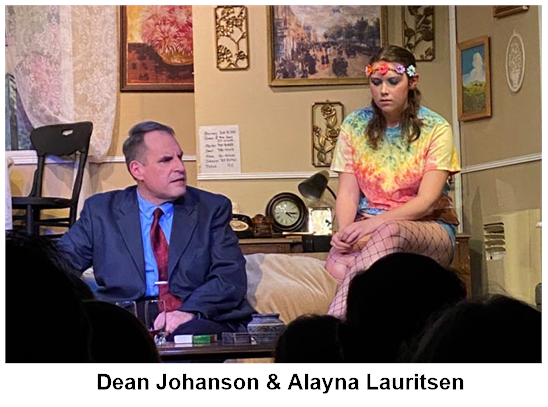 These four cast actors, expertly directed by Tony J Thomas and his assistant David Mikolajczyk, are up to their A game. I would be amiss if I did not give kudos on the costuming by Laura Meyer, Lighting and Sound by Tony Thomas and the hair and make-up done by Veronica Thomas.
The Footlight Theatre is a small and intimate venue with only 80 seats so make your reservation early so you don't miss out on this gem of a show. 
Footlight Theatre is located at 1705 Franklin Street in the bustling down-town area of Michigan City. To make reservations call their hot-line at (219) 874-4035 or go on-line and click reservations at www.footlightplayers.org.  The playdates are November 1st through the 3rd and 7th throuigh the 10th. Ticket prices are $15.00 with a discounted price of $10.-00- on the Thursday performance.  Curtain time is 7:30 Thursday through Saturday and a matinee at 2:00 on Sundays. Make that call now, you don't want to miss this comedic masterpiece.!!