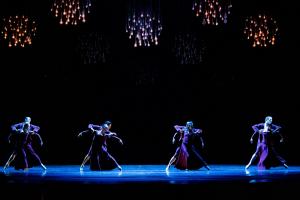 When I'm jotting down ideas for a review, I often add words I might want to use.  In the case of the Joffrey, one of my favorite words is exquisite, but since I'd also added exhilarating and expressive, I thought I'd add a list all the 'ex' words which apply to this performance.  That list includes exquisite, exhilarating, expressive, extraordinary, exciting, excellent, exuberant, explosive, extravagant.  Watch for them throughout this review.     
Choreographer Andrew McNicol said, "The title "Yonder Blue" relates to people and nature, the human and the physical, internal and external, the real and imagined."  He also said, "You can never really find yourself 'yonder,' once you arrive you become here, and so 'yonder' recedes forever back into the imaginary horizon."
"Yonder Blue" is an extraordinary experience for an audience member.  To me, the use of a blue background indicated the sky, which is both 'yonder' and vast.  Peter Gregson's expressive music suggested that ever-changing yonder vastness.  The dancers, wearing minimalist blue costumes, seemed to be trying to sling themselves (or their partners) into the sky.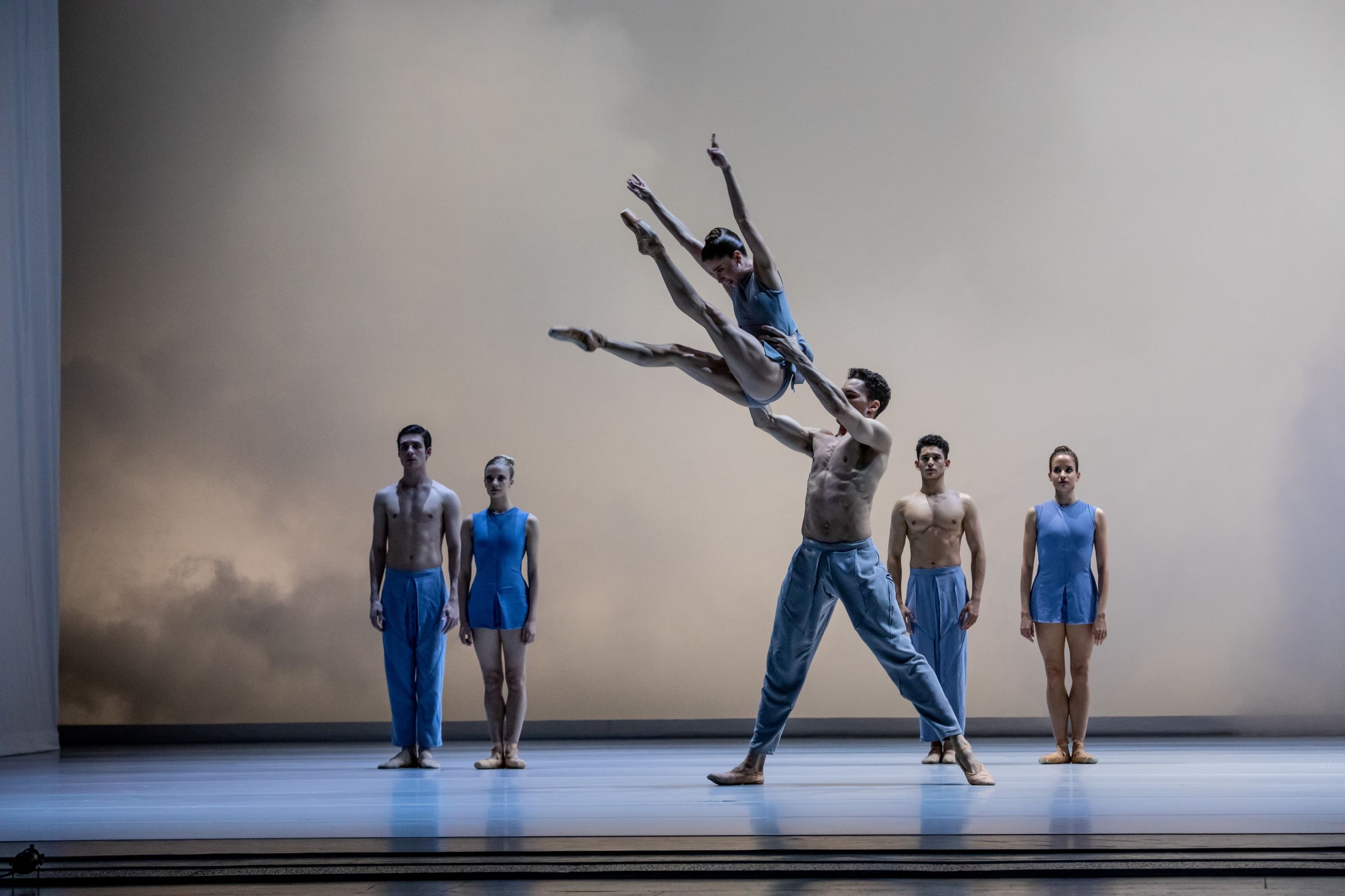 I'm not sure how it is even possible to reach the extraordinary lift and elevation illustrated in the above photo.  Two pairings, Victoria Jaiani – Rory Hohenstein and  Amanda Assucena - Greig Matthews, made it look easy.  Also appearing in "Yonder Blue" opening night: Brooke Linford, Valentino Moneglia Zamora; Christine Rocas, Edson Barbosa; Jeraldine Mendoza, Dylan Gutierrez; Anais Bueno, Alberto Velazquez; Leticia Stock, Xavier Núñez; Anna Gerberich, and Stefan Goncalvez.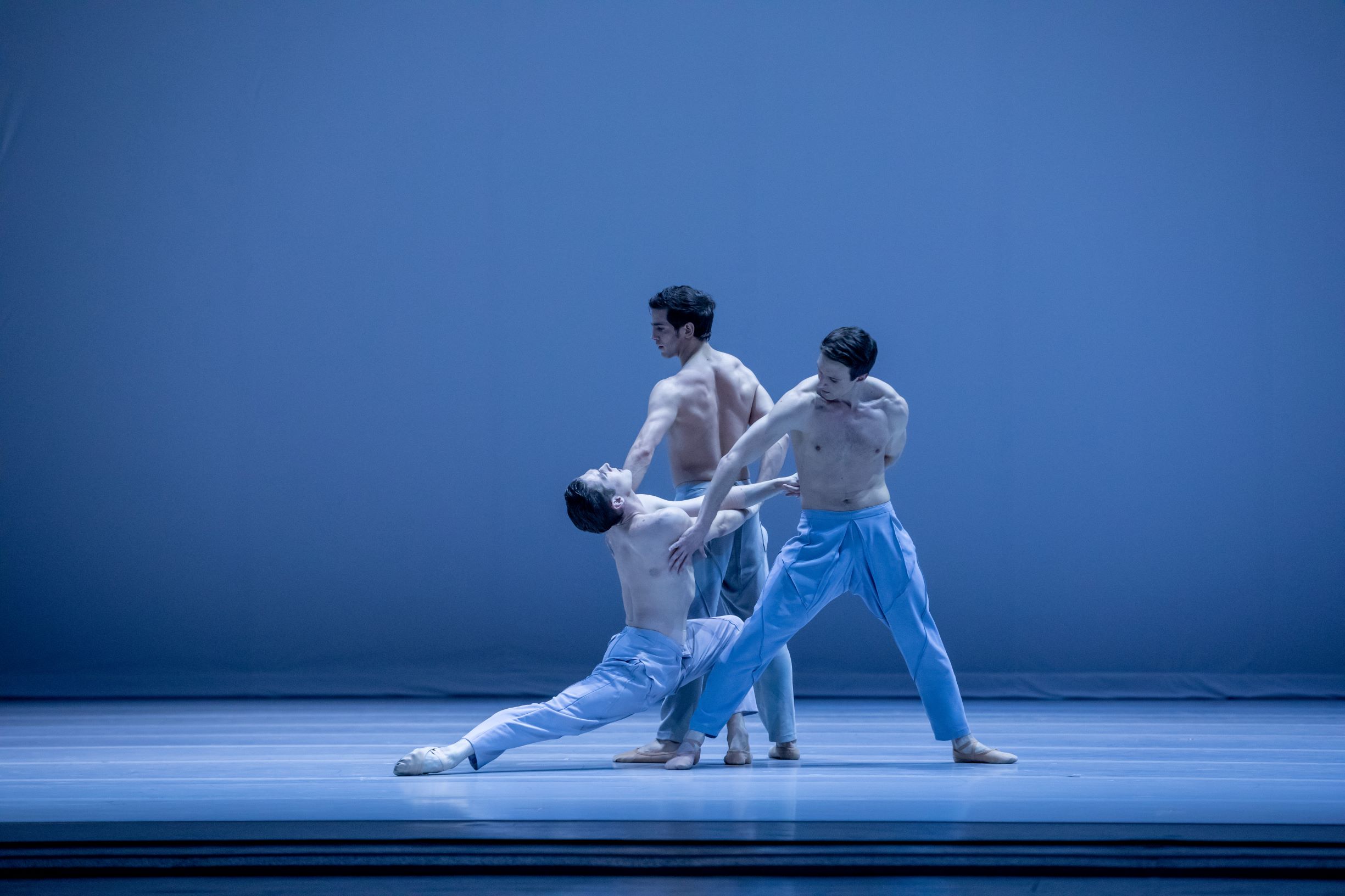 Liam Scarlett's "Vespertine", is dark and moody, and due to the baroque qualities of the music, reminiscent of an exquisite stylized minuet danced in a regency ballroom with several huge, extravagant chandeliers overhead.   I wish there'd been a teensy bit more light onstage so we could better see the dancers.  I think some of the mood was lost because it was difficult to see the movement.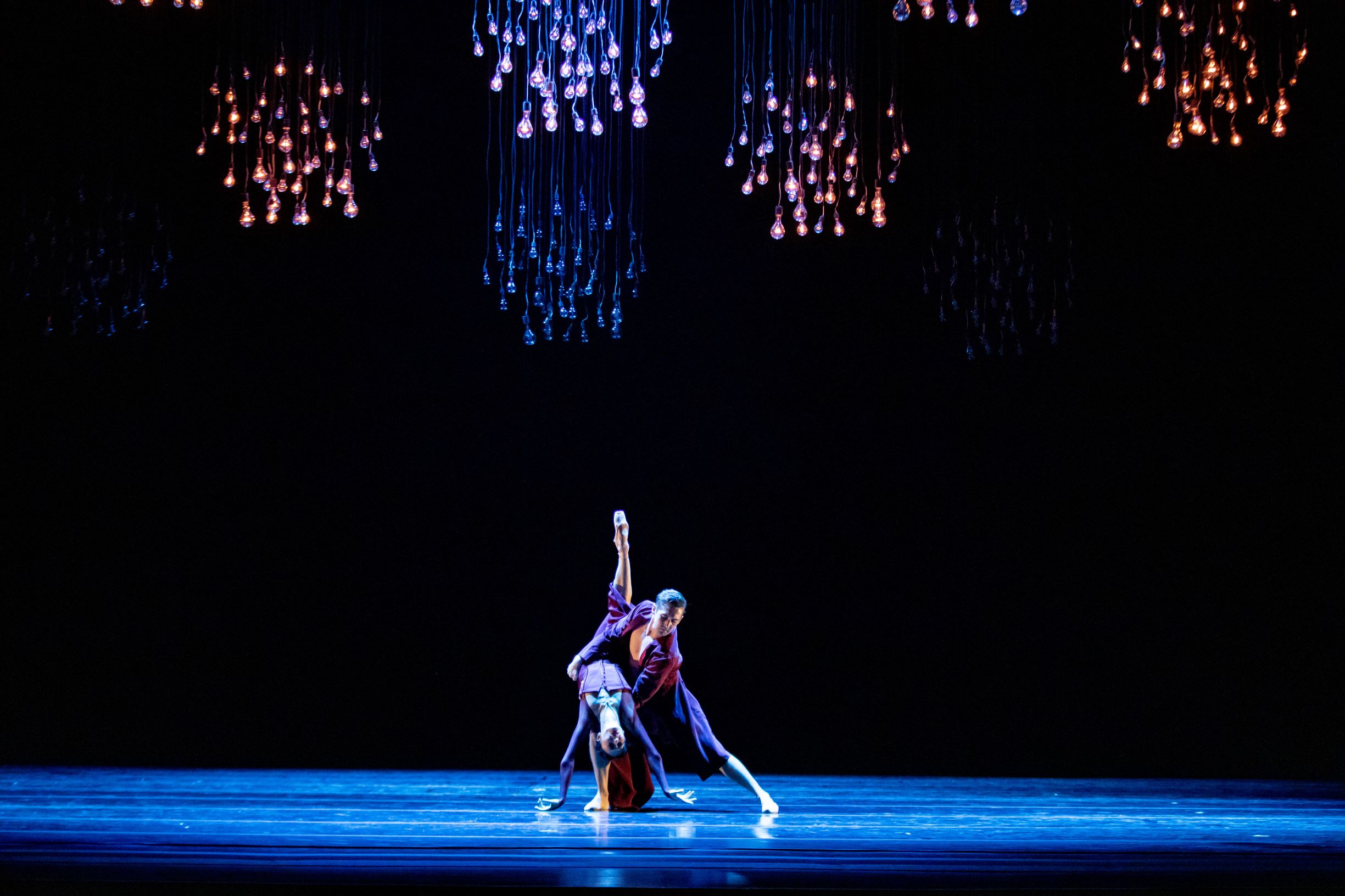 Wearing long, deep red, gown-ish costumes, ballerinas Victoria Jaiani and Amanda Assucena return, this time partnered with Alberto Velazquez and Edson Barbosa, who wore knee breeches and chest-revealing frock coats.  The ensemble, Anais Bueno, Cara Marie Gary, Anna Gerberich, Yuka Iwai, Fernando Duarte, Stefan Goncalvez, Hansol Jeong and Graham Maverick, started the performance in deep red costumes also, but stripped them off to reveal incredibly sexy, figure-hugging nude costumes.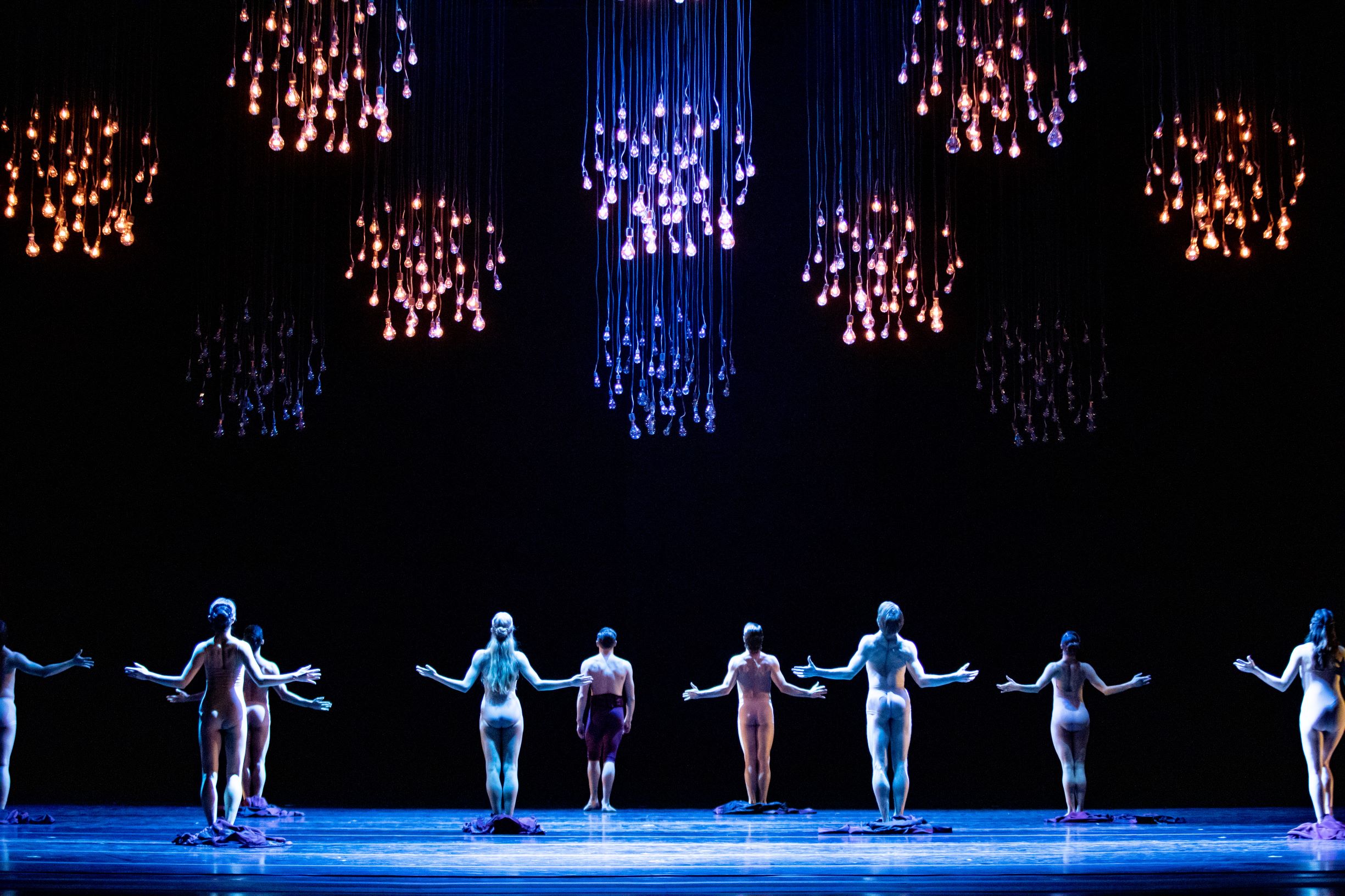 The final piece of the evening, "Home", choreographed by Andrea Walker, is about belonging.  It centers on one man, an outsider, Fernando Duarte.  Although you never really know why he feels different, Walker's expressive choreography makes it obvious that he doesn't fit in.  He's standing still when everyone else is walking, if he's walking, he seems to be going in the wrong direction.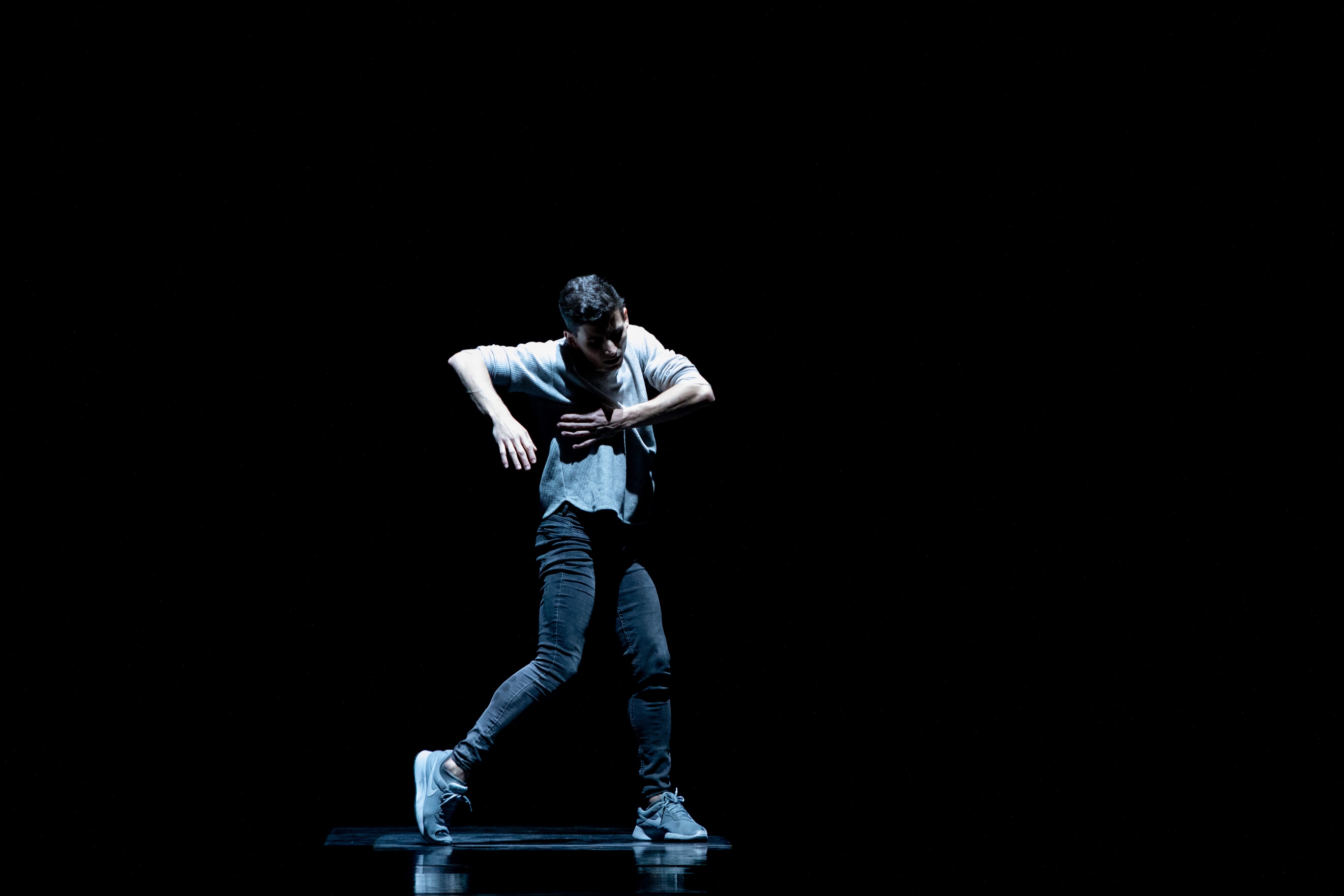 It isn't until he meets a man, Fabrice Calmels, someone who could be a connection, a hookup, a lover, or a friend, that that he begins to feel comfortable.   
Meanwhile, Walker's choreography for the ensemble, is exuberant, explosive and exhilarating, much more like hip hop than ballet.  Sometimes their movements seem randomized, as when they are rapidly striding across the stage.  Other times, like when they're all sitting on the stage, their movements rapid and perfectly synchronized.   
The ensemble includes Valeria Chaykina, Nicole Ciapponi, Lucia Connolly, Yumi Kanazawa, Brooke Linford, Julia Rust, Joanna Wozniak, Derrick Agnoletti, Edson Barbosa, Evan Boersma, Stefan Goncalvez, Luis Eduardo Gonzalez, Hansol Jeong, Graham Maverick, Xavier Núñez, Aaron Renteria and Valentino Moneglia Zamora.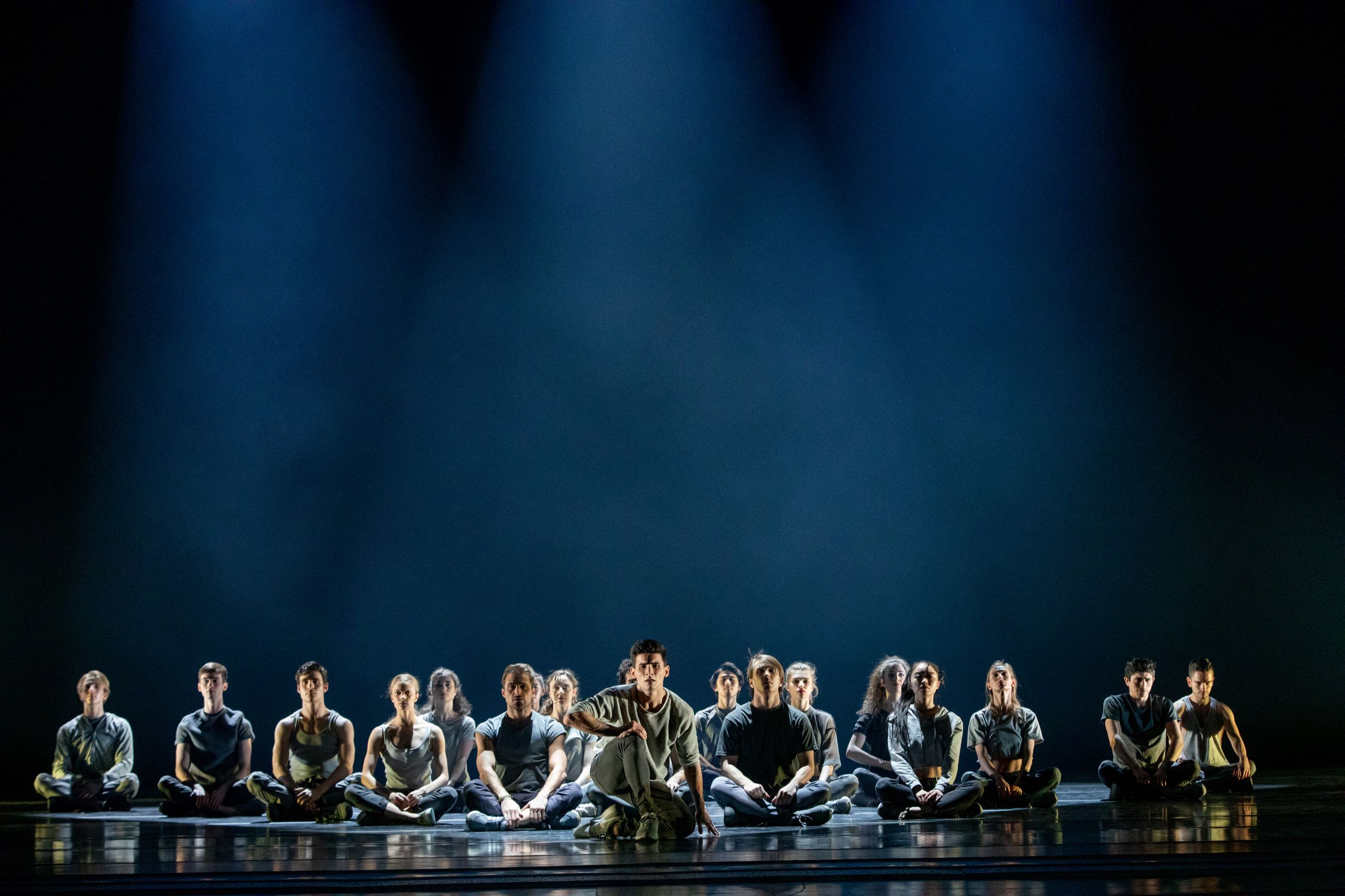 "Across the Pond" runs through May 5th at the at the Auditorium Theatre of Roosevelt University, 50 E. Congress Parkway, Chicago. Remaining performances are Friday, May 3rd at 7:30 pm, Saturday, May 4th at 2:00 pm and 7:30 pm, Sunday, May 5th at 2:00 pm. Tickets range from $35-$179. The best parking option I've found is Loop Auto Parks, 524 S Wabash (under the El) at $20; $16 with $4 coupon available at www.auditoriumtheatre.org/plan-your-visit/parking-and-directions/.  FYI (312) 386-8905 or www.joffrey.org.