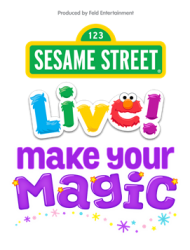 As the curtain goes up, Elmo is trying to learn a magic trick, but he just can't do it.  Then he meets Justin, a real magician who's come to Sesame street to do a magic show.   Justin encourages Elmo to practice and work hard. 
Big Bird, Elmo and Justin learn about the magic of shadows.  Although Big Bird's shadow does exactly what he does, Elmo and Justin's shadows do whatever they want. After another number, which encouraged the kids to stand up and dance – intermission. 
In Act II, the Count made his first appearance, counting everything he could find.  Cookie Monster was looking for his favorite treat when Justin gave him an empty cookie sheet, covered it with a red cloth, whipped it off and said the magic words – sesa-you, sesa-me – and uncovered a batch of cookies.  Gonger and Cookie watched Justin do another trick, which revealed a giant cookie. 
Justin explained how a caterpillar becomes a butterfly to Abby Cadabby.  Since she was impatient for a butterfly to emerge from four hanging chrysalises, but Justin told her to be patient – leading to another song and dance as well as the Count's return to count the four chrysalises. 
When Grover was painting a flower, he had red, yellow and blue paint, but no green.  Another song about the primary colors explained how yellow and blue combine make green, red and yellow make orange and red and blue make purple. 
The show closed with Justin's magic show, for which he donned a bright red jacket.  Finally Elmo did his trick – and it worked. 
Since the younger members of my family have outgrown "Sesame Street Live", I invited my niece/goddaughter, Becka, and her three rug rats, Parker, Winston and Maeve.  The drive from northwest Indiana was miserable, with rain and horrible traffic delays.  In fact, we were a few minutes late, with kids in desperate need of a bathroom stop.  We were not the only late arrivals, but the theater took it all in stride.   
As we drove home, Becka said that the Sesame Street producers knew their stuff.  They know their audience, and keep doing the things that work.  Bring in favorite Muppet characters, Elmo, Big Bird, Cookie Monster, and more.  Keep the concepts simple, short and repetitive. 
Parker, at age nine, was a little old for Sesame Street, but he loved watching the lighting techs (who were right behind us) work their magic.  Winston, at four, really like the show, although he refused to dance or clap.  Maeve, at almost two, was kind of afraid of the dark, but loved dancing in her mother's lap.  All three asked for one of the bubble toys, but their mom said they had plenty of toys at home.  Just a note here – if you're buying, expect to spend, the prices are pretty steep.   
Take your little ones to "Sesame Street Live! Make Your Magic" at the Rosemont Theatre, 5400 N River Rd, Rosemont.  Parking is $15.  Running time is one hour, 30 minutes, with an intermission.  Remaining performances: October 12th at 10:30 am, 2:30 pm and 6:00 pm; October 13th at 10:30 am, 2:30 pm and 6:00 pm.  Tickets start at $15.  Buy tickets at www.sesamestreetlive.com, www.ticketmaster.com or at the Rosemont Theatre Box Office.