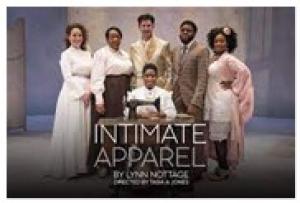 **** Recommended **** In order to survive, humans need connections with other humans – friends, lovers, mates.  Northlight Theatre's production of Lynn Nottage's play, Intimate Apparel is a thoughtful story about a lonely black woman who desperately wants an intimate connection with someone.  It is a good play, well-acted and beautifully staged but somewhat repetitious.  In fact, I found myself zoning out a couple of times during the first act.  3 ½ Spotlights    
In 1905, women's fashions had evolved from the Victorian bustle to the Edwardian blouson top with nipped-in waist and flared skirt, often adorned with ruffles, shirring or a tiny train.  In order to attain that look, women's undergarments, the intimate apparel of the title, had to include a corset.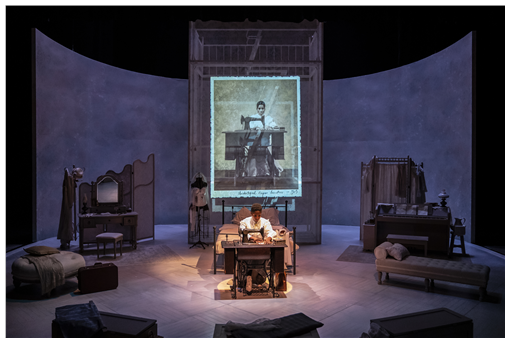 Esther (Mildred Marie Langford), a daughter of slaves, who came North for a better life, blessed the day she learned to sew intimate apparel for her ladies.  While she is busy creating beautiful undergarments including exquisitely embroidered corsets out of the finest fabrics, she longs for more. 
Her landlady, Mrs. Dickson (Felicia P. Fields), urges her to get out and enjoy life.  She replies that men never notice her since she's 35 years-old and rather plain.  Then she gets a letter, which Mrs. Dickson reads for her.  When it turns out to be from a stranger, a man working in Panama, Mrs. D. warns her not to answer it.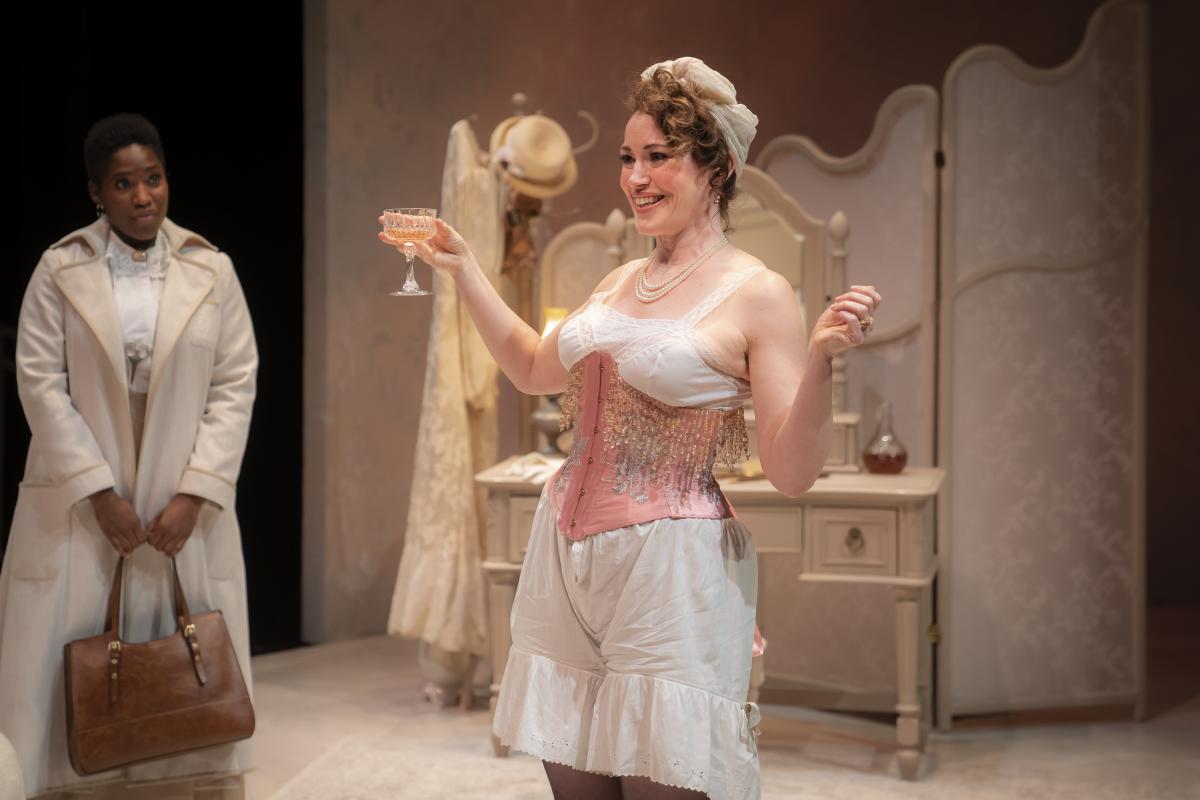 One of her ladies, Mrs. Van Buren, is a wealthy socialite neglected by her husband who desperately wants a baby, confides in Esther while trying on the exquisite corsets she's sewn for her.  In a conversation, Esther mentions the letter and Mrs. Van Buren offers to write a response for her.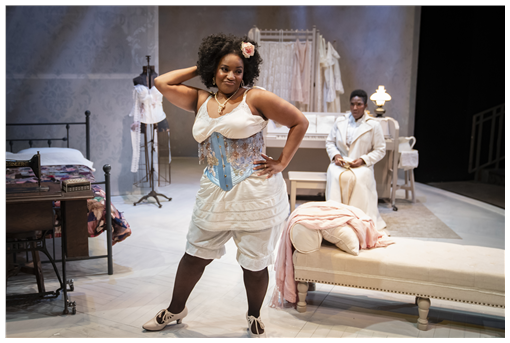 Another of her ladies, Mayme (Rashada Dawan), a prostitute and piano player with a past, is resigned to her life today.  Whatever happened in her past, she knows it's never going to be more than this for her.  She's delighted with the corset Esther has sewn for her – just like the ones the society ladies wear.   
Esther buys her fabric from Mr. Marks (Sean Fortunato), a Jewish merchant.  As they bond over silk and satin, they grow closer but they both know this is going nowhere.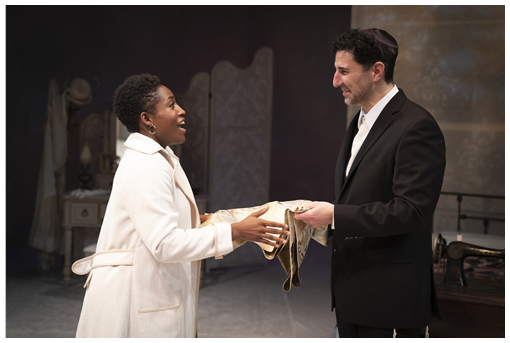 When a letter from the man in Panama proposes marriage, Esther wants to accept.  Mrs. Dickson is against it, telling her in no uncertain terms what she thinks of men.  After Esther accepts the proposal, she visits Mr. Marks to buy fabric for a wedding dress.  As a wedding gift, he gave her a length of exquisite white silk.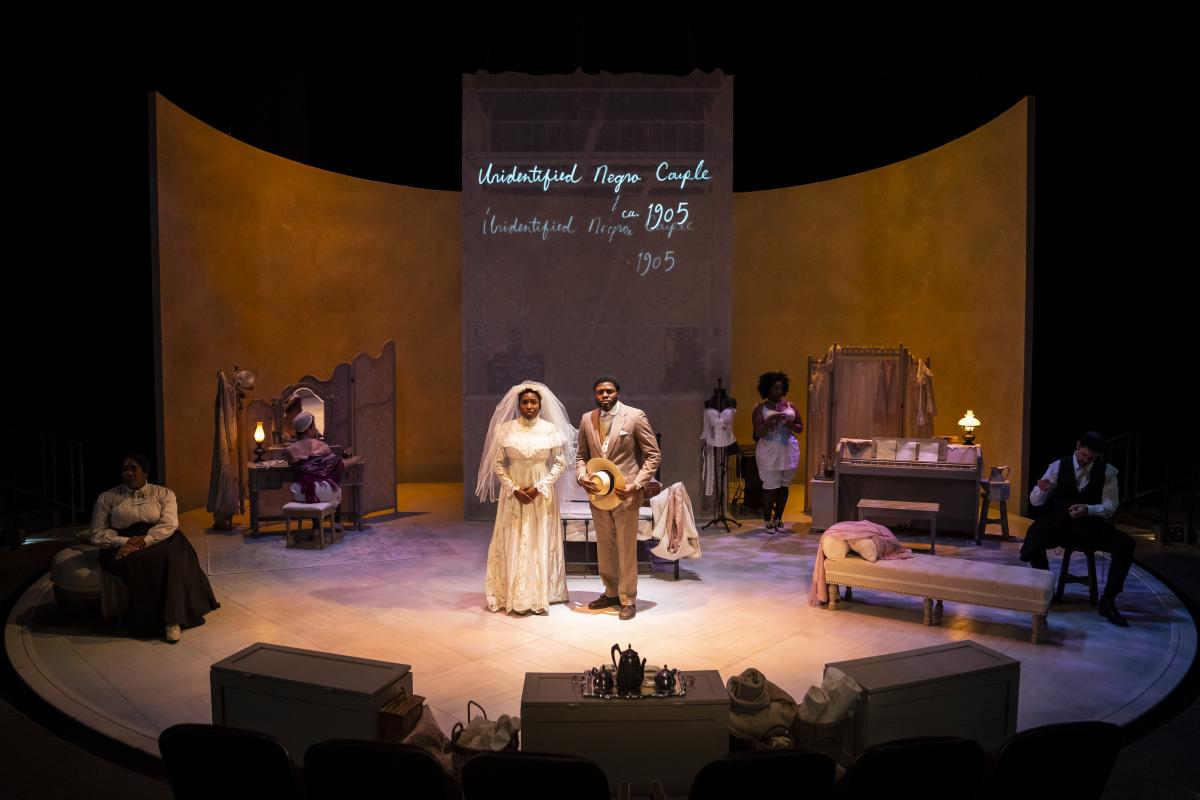 When George (Yao Dogbe until May 1st) arrives, they marry but apparently Esther doesn't measure up to George's expectations.  He wants her to give him money for whatever he wants to do, she is saving for her dream – a beauty salon. 
One by one the people in Esther's life disappoint her with their behavior.  Devastated but stoic, she returns Mrs. Dickson and her sewing machine.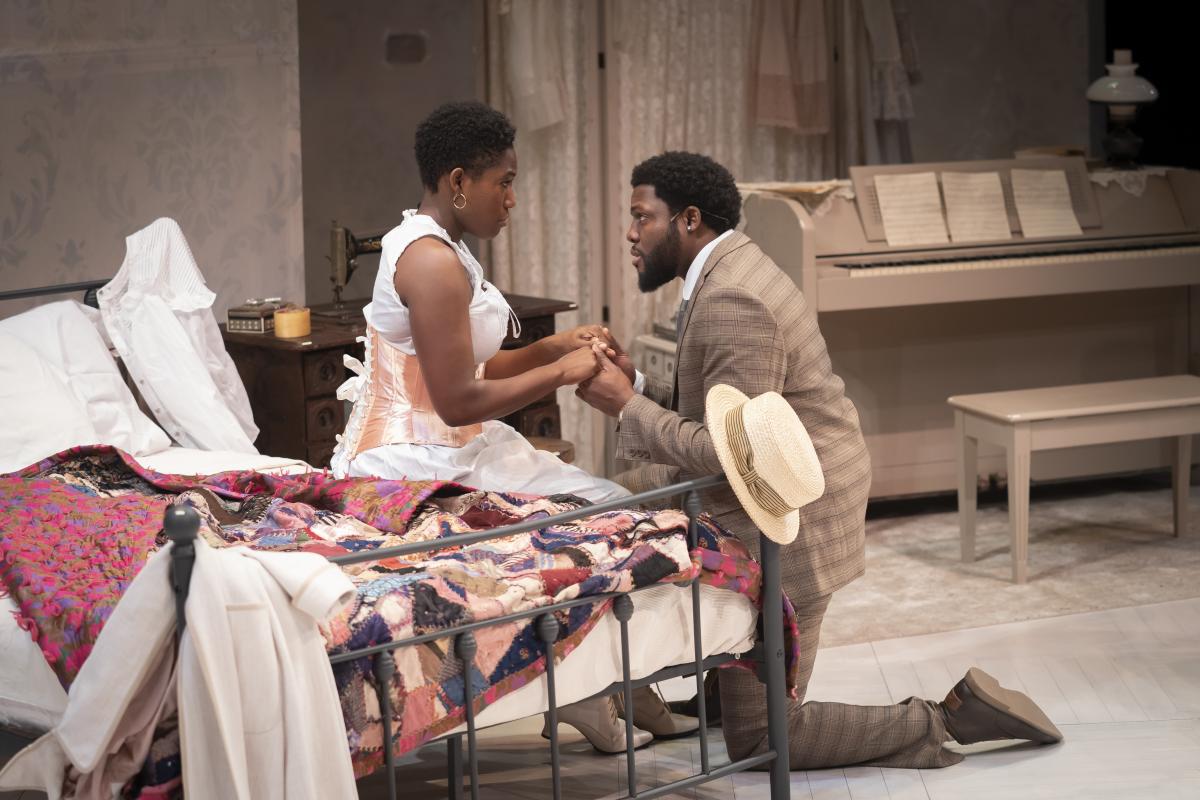 Scott Penner's set is a soft feminine pink, with Mrs. Van Buren's boudoir to the left, Mayme's piano and chaise to the right, with Esther's sewing machine and brass bed covered with a handmade quilt (repository of her life savings) in the center.  At the very front of the stage are a series of boxes/trunks filled with Mr. Marks' fabrics.  Behind the bed, there's a tower of sorts, which becomes transparent revealing George reciting the letter he's sending.  Photographs of important events, such as her wedding, are projected on that tower.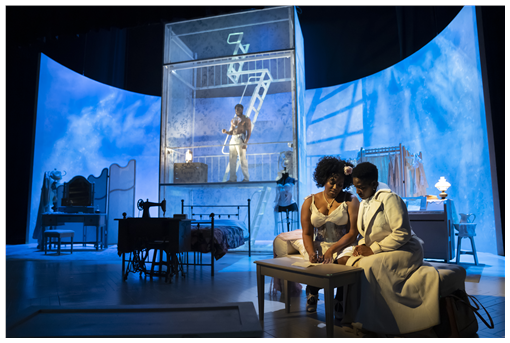 Kudos to Costume Designer, Raquel Adorno, for the Edwardian costumes, especially the exquisite embroidered corsets.
Note: Guests must show proof of vaccination before entering the theater.  Guests are required to wear masks while inside the building. 
Northlight Theatre's production of Intimate Apparel runs through May 15th at the North Shore Center for the Performing Arts, 9501 Skokie Blvd., Skokie.  Parking is free.  Running time is 2 hours, 30 minutes, with an intermission.
Performances are Wednesdays at 1:00 & 7:30 pm; Thursdays at 7:30 pm; Fridays at 8:00 pm; Saturdays at 2:30 and 8:00 pm; Sundays at 2:30 pm.  There will an extra performance on Tuesday, May 3rd, at 7:30 pm and Sunday May 15th at 7:00 pm.  Tickets range from $30-$89.  FYI (847) 673-6300 or www.northlight.org.