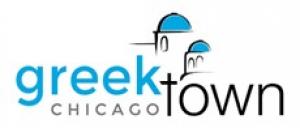 Greektown Chicago is proud to present its new outdoor art exhibit Hello Helios: The warming suns of Chicago's Greektown, with 24 vibrant three-dimensional artworks lining Halsted Street from Monroe to Van Buren Streets, opening on Saturday, June 5, 2021 and running through spring 2022.
Painted by a diverse group of Chicago artists and named for Helios, the god of the sun in Greek mythology, the 24 sun sculpture editions celebrate the sun and light up the start of summer in Chicago. Many works in the exhibit draw inspiration from related mythologies, including those in the Greek, Aztec, Yoruba, Japanese and Native American cultures. Hello Helios is sponsored by Greektown SSA #16, the neighborhood's business improvement district, and produced by the Greektown Arts Committee in partnership with the Chicago Greektown Educational Foundation.

Detail views of works by James Mesplé, Takashi Shallow, Rebecca Zaragoza and Vasiliki Valkanas for Greektown's Hello Helios public art exhibit
"Greece is a land of sun and water, with an average of 250 sunny days per year, and we are bringing some of that Mediterranean sunshine to Chicago," says Greektown Arts Chair and SSA Commissioner Eve Moran. "After a difficult pandemic year that many of us spent primarily indoors, this exhibit encourages everyone to come out and enjoy the outdoor art in Greektown, grab an alfresco dinner or drinks on a patio in our neighborhood, and be newly energized. Here comes the sun!"
Along with a diverse group of professional and emerging Chicago artists, the following eight Chicagoland Greek schools are participating in the Hello Helios exhibit: St. George Greek Orthodox School, St. Demetrios SOLON Greek School, St John's Guardian Angels Greek School, Plato Academy, Pythagoras Greek School, St. Demetrios Greek School, Koraes Elementary School and Holy Wisdom Greek School.
More details and sculpture locations will be announced in June. Visit greektownchicago.org for more information.
Hello Helios sculpture titles and details
Three Sisters by Le'Ana Asher 
Asher, a Native American Anishinaabe/Ojibwe artist from the Keweenaw Bay Indian Community, creates a visual narrative of the Three Sisters story found, in some form, among most every American Indian Nation. The plant sisters (corn, beans, squash or melon and sometimes a fourth sister, the sunflower) work together and in a natural way to provide healthy growth, long-term soil fertility and the essential nutrients for a well-balanced diet. While each sister is different and unique, it's when they work together that they are at their strongest.
There are Many God in The Skies by Juan A. Cano
Cano, a contemporary graffiti artist from Logan Square known for his "shattered glass" style, creates an artwork inspired by the continuation of life. He honors the spiritual beliefs and deities of different cultures that are brought together and reflected as heated light.
OSHUN by Malika Jackson
Oshun is the goddess of love and abundance. Often seen as the Aphrodite of the Orishas, Oshun is called upon for guidance in love and desire and, as importantly, to support those who are going through a period of growth and transition.
The Journey of Sol by Tyrue Slang Jones
Most of the historical poetical dramatists wrote of Apollo and Helios in reference to the Sun in Greek mythology. Jones, an internationally renowned graffiti artist, wanted to take a fresh new approach and create a visual story/storyboard of the God Helios as a Goddess named Sol which is the Roman equivalent for the Sun. Using traditional mythology and adding a contemporary twist in style, Jones tells his adaptation of the story.
A Neon Sun Sign by Victoria Martin
Inspired by the idea of the sun being a rare G-2 Yellow-Green Star, Martin uses fluorescent yellow in this artwork. But, bowing to more traditional experience, the artist includes orange as this is the color most visible through the atmosphere during sunrise and sunset.
Sun and Moon by James McNeill Mesplé
In this artwork, Helios (the Sun) is flanked by his two sisters, Eos (the Dawn) and Artemis (the Moon) as they follow each other in a perpetual procession across the sky. Inspiration for this artwork comes from an ancient Greek coin featuring Helios (400-333 B.C.) and the artist's recent reading of Sunflowers, The Secret History by Joe Pappalardo. Further, a large statue of Artemis (the Moon) sits beside Mesplé's desk at the back of his studio and served as his muse.
Helios the Sun Shining in the Sky by Molly McGrath
The inspiration for Molly's art came from a dream she had about Helios, the Sun god, flying over Greektown on South Halsted Street, over the CTA Blue Line train station to Forest Park, the trains, train tracks and platform—and the CTA #8 bus stop on Halsted.
Aureole of Helios by Patricia Owsiany
The classical Greeks considered Helios a minor god, but pulling his chariot from the East to the West every day is no minor feat. In this piece, Owsiany focuses on using hyper-warm colors to represents his aureole, which is the seat of his power. She styles the horses Helios used to reflect the sculpture and the paintings of the ancients.
Eye of Hours by Terry Poulos
Poulos exhibits the concept of warped time at relativistic, luminal velocities through the imagery of a harmonic oscillating photon pendulum. Featured visual elements in his work include the light spectrum, melting clock, solar eclipse, a homage to Dali's "Persistence of Memory," a sun dial, Tower of the Winds, Stonehenge, Mayan calendar, Egyptian obelisk, solar deity Ra, Horus, Archimedes' "death ray" and a depiction of the ancient Helios statue.
Tower of the Son by Takashi Shallow
The mother Amaterasu declared, "I am this child's sun."
The father Helios proclaimed the same. 
The two argued. And while they argued, the disconnected spots of rouge turned to solid stripes. Soft cheeks turned to stone. The flares receded into a perfect circle. 
The baby wondered: "Why does the sun always fight with itself about where its ashes will go?"
Medusa and the Sun by Vicky Tesmer
On one side of the sculpture edition, Tesmer features Medusa, described in Greek mythology as having living snakes in place of hair. The myth goes that whoever looks at her will turn to stone. On the other side of her piece, Tesmer highlights the beauty of the Sun—god of light and life.
Helios/Thalassa by Diane Thodos
The two Greek words meaning "Sun/Sea" show the bond between these two things both in the ancient world and today. Thodos depicts fish, squid, and octopi inspired by Minoan murals and ceramics showing bountiful and lively sea life. The Mediterranean Sea and its life-giving force is inseparable from the bright Mediterranean sun, two of the most indelible forces that travelers seek out when visiting Greece today.
Sun, Sun, Sun by Vasiliki Valkanas
Science is constantly exploring the significance of the sun. Countless societies personify the sun in their mythology, tradition, and religion. And, in children's drawings, a smiling yellow sun is a constant character. In this piece, Valkanas captures the multitude of ways that the sun inspires people's imaginations, culture, and ideas.
Clytie by Miss Alex White
The Greek word for sunflower is ηλιάνθου (heliánthou), from the words for sun and flower. Greek mythology tells the tale of how the sea nymph Clytie was transformed into the sunflower, or heliotrope, which continuously turns its head to look wistfully at Apollo's chariot of the sun. The Clytie artwork blends colors of the sky and sea into a bold, stenciled work reminiscent of retro, botanical wallpaper.
Helios over Rhodes by Kiki Whitehead
Whitehead, a first generation Greek American, drew inspiration for her art piece from Helios (Helius), the Titan god of the sun, a guardian of oaths, and the god of sight. She explains that the worship of Helios was most important in Rhodes. This is the island Helios chose as his gift from Zeus. Greek mythology is one of Whitehead's favorite subjects making this project a pleasure to work on.
Our Healing Power by Rebecca Zaragoza  
Ancient cultures around the world celebrated the sun as the giver of energy and warmth for all living things. People, plants, and animals thrive because of its rays. The sun was of great importance to the ancient Aztecs and among their deities was the sun god "Tonatiuh." One of the most renowned representations of Tonatiuh appears on the famous Aztec calendar stone or Sun Stone that was uncovered in 1790 and now resides in the National Museum of Anthropology in Mexico City. Zaragoza's interpretation celebrates the sun's influence on time, life, and the human spirit.
Artist bios
Le'Ana Asher is a Chicago-based visual artist, creative entrepreneur, and mother of two. Asher is a Native American Anishinaabe/Ojibwe from the Keweenaw Bay Indian Community. She earned a BFA degree from Eastern Michigan University. In 2018, Western art collector magazine featured her as an Emerging Artist/Editor's choice. Asher is known for her primarily figurative paintings that focus on contemporary dancers and regalia in Native American culture. Her works can be found in private collections across the United States and Canada. Learn more at leanaasher.com.
Juan A. Cano is a contemporary graffiti artist from Logan Square. He is well-known for his "shattered glass" style. Cano participates in several art exhibitions each year, and is an Art Philanthropist to charitable causes. Assisting him with this project is Leyla Cano, age 9, an aspiring artist following in her father's footsteps. Instagram: @Juan_A_Cano
Malika Jackson has exhibited her sculptures and paintings in galleries, festivals, in both solo and group shows, and her work is in the homes of collectors throughout the country. She recently was among a group of artists who received the SPARK AWARD in 2020. Jackson has curated and coordinated Cultural Connection Marketplace for 22 years, taught in the Chicago Public Schools, and continues working to educate the future generation. She is a graduate of the School of the Art Institute of Chicago, where she received her BFA and MFA. Learn more at www.MalikaJackson.net.
Tyrue Slang Jones is considered one of the most diverse contemporary urban artist of the last four decades. His influence has grown to be undeniably permanent in the world of muralist, graffiti/street art as well as commercial and contemporary art throughout the globe. Pushing the boundaries of traditional graffiti letterforms, to meshing technically refined fine art with expressive rhythmic characters, it has gained the attention of the public, patrons and private collectors. Learn more at slangism.com.
Victoria Martin—an artist at DA VICCI STUDIO—holds a BA in Art Education and an MFA in Performance from the School of the Art Institute of Chicago. Since 1997 she has exhibited large-scale mystical painting throughout Chicago. In 2012, she started to create Synesthesia Action Paintings. Martin engages with Jazz, New Music, or Baroque, to depict the music performed live and on-site at venues such as Jazz Showcase, The Cliff Dwellers and Ganz Hall. While other artists do action painting (drawing musicians), very few visualize the music so this DA VICCI style is a new and different genre. Learn more at www.etsy.com/shop/DaVICCIStudio.
James McNeill Mesplé creates his contemporary classics with intense colors and figurative compositions. Both his canvases and works on paper are in numerous public and private collections. Mesplé studied with Fred Shane at the University of Missouri and connected with Thomas Hart Benton, who introduced him to the "mixed technique" of egg tempera and oil, which he continues to use today. He further studied with Karl Wirsum at the School of the Art Institute of Chicago. Mesplé developed a keen interest in classical mythology during summers spent with his half-Osage grandfather, who shared with him many Native American tales of nature and animals. Learn more at www.j2gallery.com.
Molly McGrath has an extensive body of work: collages, children's (and other) album covers, drawings of Chicago transit system signs, fiber art, painted bottles, portraits of dolls–and Sesame Street memorabilia. Her work directly responds to her environment, with her everyday experiences becoming her starting point. She is an artist at "Project Onward," a Bridgeport studio that employs artists with special needs dealing with developmental disabilities and mental illness. Learn more at www.projectonward.org.
Patricia Owsiany received a BFA from Southern Illinois University, and has had several solo exhibits in Chicago and was featured in group shows in New York and Chicago. Her main body of work is in portraiture. Currently, Owsiany is creating large-scale paintings of Sumo wrestlers.
Terry Poulos is a polymath artist at Scientiquity ® whose works center on science and archaeology. His numismatic Net Zero Coin is in the collection of four museums and his art has been exhibited at the National Hellenic Museum. Terry is writing a book about a 'theory of everything' and will be publishing conjectures concerning fractal geometry and Number Theory. Learn more at www.Scientiquity.com.
Takashi Shallow is part of the artist collective Percent along with Mieko Vasilou and Alexander Hayashi. They navigate the collision of form and identity together. The nail that sticks out has potential to become something different. Learn more at www.takashishallow.com.
Vicky Tesmer's art has been exhibited locally, nationally and on an international scale, e.g. Cairo and Luxor, Egypt; Bochum, Germany. Her work is an ongoing dialogue between society and the artist's inner world that travels through time/space and form/function. Her 2019/2020 solo exhibition at the Chicago Cultural Center was met with great reviews. Coming in 2021/22 her works can be found in the Anthropologie stores and catalogues for purchase. Learn more at www.vickytesmer.com.
Diane Thodos has a 40-year career in painting and printmaking that emphasizes both abstract expressionism and German expressionism. This comes from her study with Jackson Pollock's teacher Stanley William Hayter, and study of the Speck's German Expressionist print collection at the Milwaukee Art Museum over a 20-year period. Thodos is a 2002 Pollack-Krasner Grant recipient, has exhibited internationally, and has work in the collections of the Milwaukee Museum of Art, The David and Alfred Smart Museum, the State of Illinois Museum in Chicago, The Illinois Holocaust Museum and The Block Museum of Northwestern University, among many others. Learn more at www.dianethodos.com.
Vasiliki Valkanas works in both traditional mediums and graphic design. She enjoys challenging herself with a wide range of styles, subjects, and mediums. Vasiliki has had the joy of working with Greektown Chicago, The National Hellenic Museum, Northwestern University, and many growing businesses throughout Illinois. Learn more at www.valkanasv.com.
Miss Alex White is a Greek American artist and musician from West Rogers Park. She is well-known for her guitar work in the rock'n'roll band White Mystery as well as her pop-art sensibility that spans painting, sculpture, film, design and video games. Alex began creating public art in the Gallery 37 furniture program and has contributed many pieces to the Greektown community. Learn more at www.whitemystery.com.
Kiki Whitehead is a first generation Greek American. Her parents immigrated to Canada before coming to the United States in the 1960's. She is most recently recognized as the National Chairman of the United Hellenic Voters of America (UHVA), a non-partisan political organization representing the Greek American community where she resides over an Executive Board. Kiki recently illustrated two children's book "How Does My Mama Know?" and "Ollie Under It." With a book of her own on the way, Kiki hopes to continue this work into her twilight years. She is currently the Marketing Director for Olympik Signs, Inc., one of the largest sign companies in the Chicago area. But her greatest achievement will always be her beautiful blended family.
Rebecca Zaragoza is a freelance artist and author. She engages with various art forms and string words together to color the world. Sometimes she uses discarded items to help keep them from landfills. Renewing, reusing and recycling can contribute in making the world cleaner and perhaps a shade sunnier. Zaragoza engages in art because it's a challenge that soothes her mind with an end result that brightens the world. She takes every opportunity to ignite the light and believe everyone can do this, too.
Sun sculpture design/build by Eve Moran and Connie Hinkle, The Greektown Arts Committee.
About Greektown Chicago
Greektown is a dining, nightlife and cultural district located on the Near West Side of Chicago. A popular destination for tourists and Chicago residents alike, Greektown offers the best sampling of Greek heritage outside of Athens—from authentic restaurants, cafes and shops to the National Hellenic Museum and annual Taste of Greektown festival. Greektown Special Service Area #16 is the business improvement district for the neighborhood, administered by sole service provider the West Central Association and guided by a volunteer commission of local business owners, property owners and residents. For more information, visit greektownchicago.org.