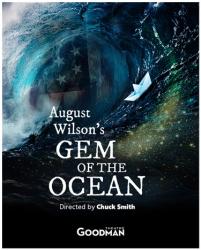 **** Highly Recommended **** Goodman Theatre's lyrical production of August Wilson's Gem of the Ocean was a profoundly moving history lesson.  In most of Wilson's Pittsburgh cycle, the characters are dealing with life the best they can.  In this play which is set in the 1900s, echoes of the Civil War overlay the ordinary difficulties of everyday live.  Gem of the Ocean is a long play – just over three hours – but it's so engrossing I never noticed.  Kudos to the cast, the acting is absolutely superb!   4 Spotlights 
Here's a curious factoid – Gem of the Ocean is the first play in August Wilson's Pittsburgh cycle but it's the last one he wrote.  It premiered at the Goodman Theatre in 2003. 
Eli (A. C. Smith) lives with and protects Aunt Ester (Lisa Gaye Dixon), whose house is known as a sanctuary to people seeking her services as a 'washer of souls'.  Black Mary (Sydney Charles), who moved in five years ago, generally takes care of the house and Aunt Ester.  Rutherford Selig (Gary Houston), an itinerant peddler trusted by Aunt Ester is trying to sell Black Mary a new frying pan. 
Citizen Barlow (Sharif Atkins) left Alabama looking for a better life, but the only work he can find in Pittsburgh is in the mill, where the bosses underpay the workers, then overcharge them for food and a place to sleep.  Workers end up owing the mill more than they can ever earn. 
Although Eli told him Aunt Ester wouldn't see him until Tuesday, it took a reprimand from Aunt Ester herself before he'd leave. Then he hung around outside waiting for Tuesday.  Eli got tired of the kid
hanging around so he hired him to work on a stone wall he's building in the garden. 
The villain in Gem of the Ocean would be Black Mary's brother, Caesar Wilks (Kelvin Roston, Jr.), a narrow, self-righteous policeman.  He believes in shooting first, asking questions later.  Instead of 'getting religion', he got law – and a gun!    
Today he's on a rant because the Negro mill workers are agitated and refusing to work because of an incident – a man accused of stealing a barrel of nails insisted he was innocent, threw himself in the river and drowned. 
Solly Two Kings (James A. Williams), Eli's good friend is sweet on Aunt Ester.  He was a slave who escaped and got all the way to Canada but just couldn't stay there.  When he returned to America, he became a conductor on the Underground Railroad.  I thought the scene where Solly and Eli shared a flask with Citizen while reminiscing about their feats of derring-do, was one of the most powerful moments in the play.
The central scene in Gem of the Ocean is Citizen's soul-washing journey to the "City of Bones", with Aunt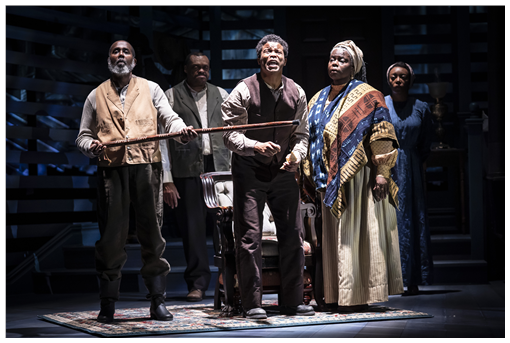 Ester conducting the ritual backed up by Eli, Solly and Black Mary.    
Note: Guests must show proof of vaccination before entering the theater.  Guests are required to wear masks while inside the building. 
Gem of the Ocean runs through February 27th at the Goodman Theatre,170 N. Dearborn, Chicago.  Most reasonable parking option for the Goodman is the Government Center garage on Lake between LaSalle and Dearborn, online advance payment
at www.interparkonline.com/goodmantheatre. 
Running time is 3 hours and 15 minutes with an intermission.  Performances are Wednesdays at 7:30 pm, Thursdays at 2:00 (except February 10th) & 7:30 pm; Fridays at 8:00 pm; Saturdays at 2:00 and 8:00 pm; Sundays at 2:00 pm.  There is an additional performance on Tuesday, February 15th at 7:30 pm. 
Accessible & Special Performances: Touch Tour, February 19th at 12:30 pm; Audio Described Performance, October 16th at 2:00 pm; ASL Interpreted Performance, February 25th at 8:00 pm; Open Captioned Performance, February 25th at 2:00 pm.  Tickets $25-$89.  FYI (312) 443-3800 or www.goodmantheatre.org/Gem.