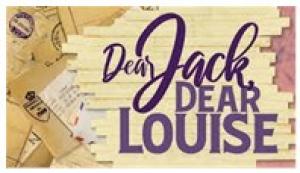 **** Highly Recommended **** Northlight Theatre's production of Dear Jack, Dear Louise is one of the best plays I've seen this year!  Advance reading about the play intrigued me, but I wasn't sure how the concept would translate to the stage.  I didn't want to see a clone of Love Letters - two people dispassionately reading side by side.    I'm happy to say that Ken Ludwig's tribute to his parents is a fully realized play which is nostalgic, deeply personal yet historically resonant.  4 BIG Spotlights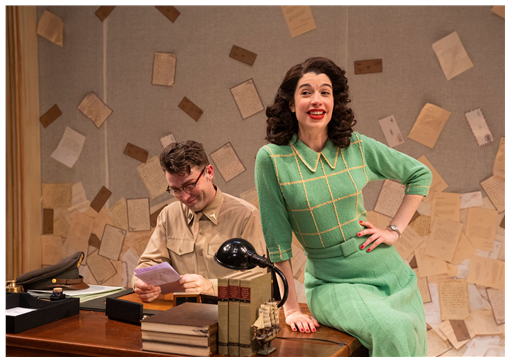 Kudos to Yeaji Kim for the interesting set!  As you're getting seated, you'll notice the impressive backdrop covered with hundreds of letters and envelops, sparse near the top, more and more as you look down, ending in piles at the floor.  In front of that, to the West (left), a desk and a foot locker; to the East (right), a chaise, a vanity, a standing trunk with a screen behind.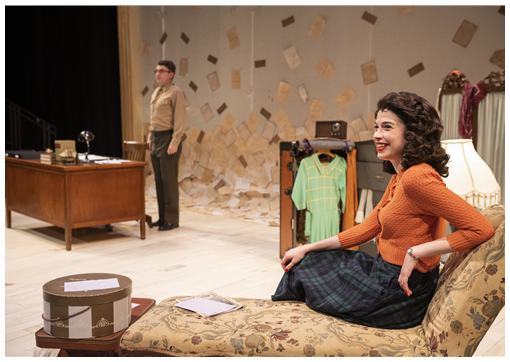 Sometime in 1943, Captain Jack Ludwig (Casey Hoekstra), who was stationed in Medford, Oregon, sat down at that businesslike desk to write a letter, but not just any old letter, this one is addressed to a girl he's never met.  In rather stilted language, he introduced himself and explained that his father (who knew her father) suggested he write to her.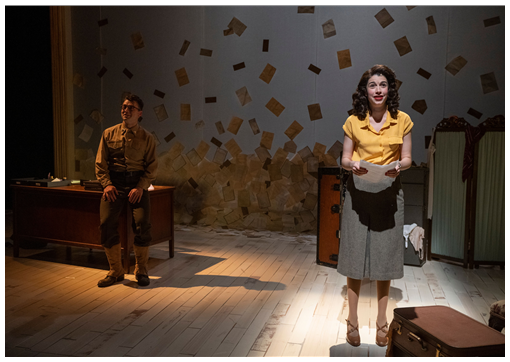 When Louise Rabiner (Sarah Price) replied to his letter, she told him a little bit about her life as an aspiring actress/dancer in New York, then asked him to tell her about himself.  His answer – a list of bald facts about his life.  Her reply – you can do better!  When he mentioned that he was a doctor, she asked if he knew how many mothers told their daughters to marry doctors!  While these two people were getting on with their separate lives, they were sharing more of their hopes and dreams with each other.
In New York, Louise was living in a tiny walk-up with a roommate, taking dancing and acting lessons and going to auditions.  Jack encouraged her acting career, cheering her successes, commiserating when she didn't get a part.  There were intermittent interruptions from the war when Jack was airlifted to a carrier somewhere in the Pacific to care for wounded from a big battle, causing him to go incommunicado. 
After they'd been writing for a while, they wanted to meet, but Jack couldn't get a leave.  In fact, the one leave he was able to arrange was cancelled for this very reason.  When Jack was going to be in New York for a conference, they planned to meet but Louise had was cast in a Broadway tour, which meant 20 weeks on the road.          
I think the thing I liked most about Dear Jack, Dear Louise was the staging.  Jack and Louise might have been on the same stage, but they were clearly in separate spheres.  They might have looked toward the other's sphere in response to a letter, but they never made eye contact.  Even when they both sat on the foot locker at the same time, they were sitting back to back, and never interacting directly.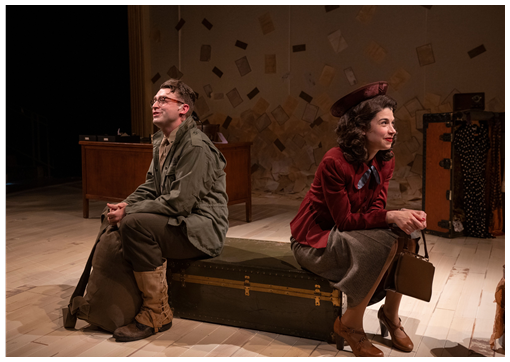 On a personal note, Jack and Louise discussed October 9th, 1943 as the day they would meet in New York.  That was an important date for me, as that's the day my parents, Bill and Judy Lannin got married. 
Note: Guests are required to wear masks while inside the theater. 
Northlight Theatre's production of Dear Jack, Dear Louise runs through August 7th at the North Shore Center for the Performing Arts, 9501 Skokie Blvd., Skokie.  Parking is free.  Running time is one hour, 45 minutes, with an intermission.
Performances are Tuesday at 7:30 pm (July 26th only); Wednesdays at 1:00 & 7:30 pm; Thursdays at 7:30 pm; Fridays at 8:00 pm; Saturdays at 2:30 and 8:00 pm; Sundays at 2:30 pm; and 7:00 (July 24th only).  Tickets range from $30-$89.  FYI (847) 673-6300 or www.northlight.org.