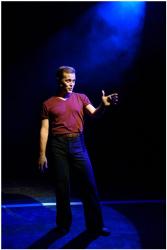 The book of "A Chorus Line" is very simple but the story of these dancers' lives is far more complex. Essentially, a large group of dancers gather in an empty theater, on an unadorned stage, to audition for a handful of roles to become members of the chorus of a new Broadway musical. Zach (Richard Strimer) is the director/choreographer of this latest creation who is putting these dancers through their paces. As he has narrowed the field down to just 17 individuals, who all form a single elongated line across the lip of the stage, each prospective hopeful eventually bares their soul (in song format or prolonged confessionals) and we learn their pain, their dreams, their past traumas and triumphs as well as their true vocation to this distinct but difficult art form.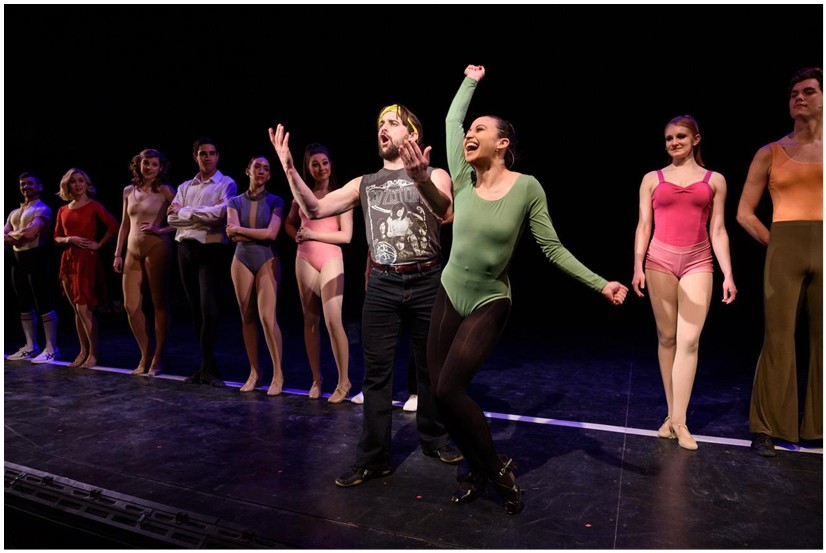 Didier has successfully gotten to the emotional core of this Pulitzer Prize-winning script and this "A Chorus Line" has a heck of a lot of heart. This entire ensemble is very strong, both vocally and athletically, but there are some knockout dramatic performances as well. Erica Evans is spot-on as Sheila Bryant, the cynical yet defiant veteran who is a classically trained ballet dancer and, at an age which is nearing her early 30's, desperately realizes that her opportunities may be quickly fading. Evans anchors a beautiful rendition of "At the Ballet" while supported by the vocal powerhouse Aalon Smith as Maggie and Liz Conway as Bebe. These three harmonize ravishingly well together and take this familiar musical number to soaring heights and in unexpected directions. Credit goes to Music Director Linda Madonia for her surprisingly fresh orchestrations. Also stellar is the inventive and energetic choreography of Christopher Chase Carter, which may be at its most exemplary during the extended musical number "Hello Twelve, Hello Thirteen, Hello Love" which features numerous character's backstories in a frenzied, fragmented collage that culminates in Terrell Armstrong as Ritchie showcasing his supremely acrobatic dance skills.
Perhaps the most pivotal role in "A Chorus Line" is that of Cassie, a very talented dancer who was a featured performer in several previous Broadway shows and also Zach's ex-girlfriend. It's undeniable that Cassie is too talented of a dancer to be merely in the chorus, but she has recently returned from a stint in Hollywood trying to make it in the movies and just wants her "chance to dance" once again on Broadway, even if it means starting all over again from the bottom. Most productions of "A Chorus Line" will have a Cassie who is technically a flawless dancer as her big solo musical number ("The Music and the Mirror") is big, bold and demanding. What you lose, many times because of that, is the joy in this character. Thankfully, Laura Savage not only has the acting chops for her hot-blooded showdown with Zach, but she also completely nails her characterization and her dancing. She makes her Cassie very human and, during her centerpiece dancing in front of the mirrors, you will see something lacking in most other portrayals -- Savage is actually smiling throughout.
The most refreshing aspect of Porchlight's "A Chorus Line" is the fact that it features two performers who have both been in the chorus of numerous musicals on local stages for many, many years and now they can proudly step into the spotlight as stars of this one. Adrienne Velasco-Storrs is plucky as the tough, Puerto Rican Diane Morales, who renders a comedic yet tragic quality to her "Nothing" and leads the company into a thrilling "What I Did for Love." But it is Alejandro Fonseca who is a divine revelation as Paul. Here is an actor who has paid his dues in countless musicals, always a strong presence within the chorus in any show that he may be dancing in. What a great pleasure it is to finally hear him sing, with such a strong and clear voice! His monologue, considered by many to be the biggest challenge for any actor in this monumental show, was devastating and heartbreaking.
___________________________________________________________________
"A Chorus Line" has been extended through May 31st
The Ruth Page Center for the Arts, 1016 North Dearborn Street, Chicago, IL
The regular run performance schedule is:
Thursdays at 7:30 PM *
Fridays at 8:00 PM
Saturdays at 4:00 and 8:00 PM
Sundays at 2:00 PM (May 5, May 12, May 19 and May 26)
Sunday at 6:00 PM (May 26 has a 2:00 PM and a 6:00 PM performance)
with added performances:
Wednesday, May 1 and May 29 at 7:30 PM
Tuesday, May 28 at 7:30 PM
* Thursday, May 9 and May 16 have both 1:30 and 7:30 PM performances
Open Caption Performance: Saturday, May 4 at 4:00 PM
Ticket Price: $39 to $66
Website: PorchlightMusicTheatre.org
Running time is approximately 2 hours without an intermission