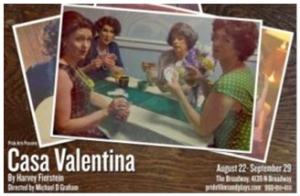 Very much like the prolific Spanish filmmaker Pedro Almodovar, Fierstein's work has shifted from the outrageously flamboyant and campy humor of his early successes (the Tony Award-winning "Torch Song Trilogy" and the book of the musical "La Cage aux Folles") to more serious and introspective works such as
the book of the musical "Newsies" as well as his 2014 play "Casa Valentina," which is receiving its Chicago premiere at Pride Films and Plays. The dominant theme that runs throw nearly all of Fierstein's accomplishments is men in drag, of which "Casa Valentina" is no exception.
George (Patrick Byrnes) and his wife Rita (Nicholia Q. Aguirre) own a small resort in the Catskill Mountains of New York state. By 1962, the year in which "Casa Valentina" is set, the advent of air conditioning window units has caused many of George and Rita's former guests to spend the summers in the city, no longer requiring the cool mountain breezes as a respite from the heat. With such a drastic downturn in business, George and Rita are suffering financially. But they do have determination and so they soon turn their bungalow colony into a
premier destination for a very specific type of customer — namely men who self-identify as heterosexual but enjoy dressing in women's clothing.
Into this welcoming enclave enters the newbie Jonathan (Micah Kronlokken), a newlywed man who covertly discovered an ad for the resort in a magazine that he hid from his unsuspecting bride. Jonathan's female alter-ego Miranda quickly undergoes a make-over by the other members who are staying with George and Rita. They include the jovial Bessie (Michael Hagedorn), the butch college co-ed Gloria (Josh Marshall) and the slightly older Terry (Kingsley Day). Soon Charlotte (Danne W. Taylor) arrives from Washington D.C. with news that she plans on making their little sorority legitimate on a national level, which causes many of them to become nervous as that would require them to list their actual full names.
Thrown into the mix is a local judge (Robert Koon) who passes as Amy and who is giving George, now transformed into Valentina, some sage legal advice. Seems that some compromising photographs have turned up, pictures of men in unflattering positions and including nudity but with their eyes obscured by thick black bars as was so common when J. Edgar Hoover was director of the FBI. Questioning just who those photos were intended for adds a heightened level of mistrust to
the group, as does the possibility that George may have had a sexual dalliance with one of the men as recently as within the past year.
For a play whose main theme is understanding and acceptance of one's authentic identity, Fierstein doesn't seem to have a firm grip on what exactly he wants this work's identity to be. Sometimes "Casa Valentina" comes off as a staid queer 
history lesson, a la Jon Marans' "The Temperamentals" about the formation of The Mattachine Society. At other times it feels almost like a whodunit as the fox in the henhouse adventure shifts suspicion for one character to the next. At its best, under Michael D. Graham's sensitive direction, it is a portrait of a fully functional if slightly unconventional marriage, one in which a selfless wife all but loses herself for the benefit of her man. While it could use a solid jolt of that trademark Fierstein humor, one thing is quite certain: there is so much going on at the "Casa Valentina" that you are guaranteed to have some lengthy discussions long after the play's conclusion.
________________________________________________________________
"Casa Valentina" runs through September 29, 2019
Pride Arts Center — The Broadway, 4139 North Broadway, Chicago, IL
Thursdays  7:30 p.m.
Fridays 7:30 p.m.
Saturdays  7:30 p.m.
Sundays at 5:00 PM
Premium reserved seats are $40, reserved seats are $30, student/senior/military $25 (not valid on Saturdays)
Tickets available by phone at 866-811-4111 or 773-857-0222 or online at www.pridefilmsandplays.com
Running time is approximately 2 hours and 10 minutes with one intermission.