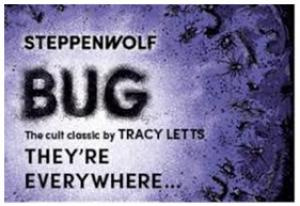 Aggie aka Agnes White (Carrie Coon) is content to be living in a seedy motel somewhere in Oklahoma.  Even though it's just the one room, it's all hers.  She's got a job, she's got some money saved and her abusive ex-husband is in jail. 
One day, her friend, R.C. (Jennifer Engstrom), shows up with a guy in tow.  He's quiet, doesn't say much, content to watch them snort their lines of cocaine.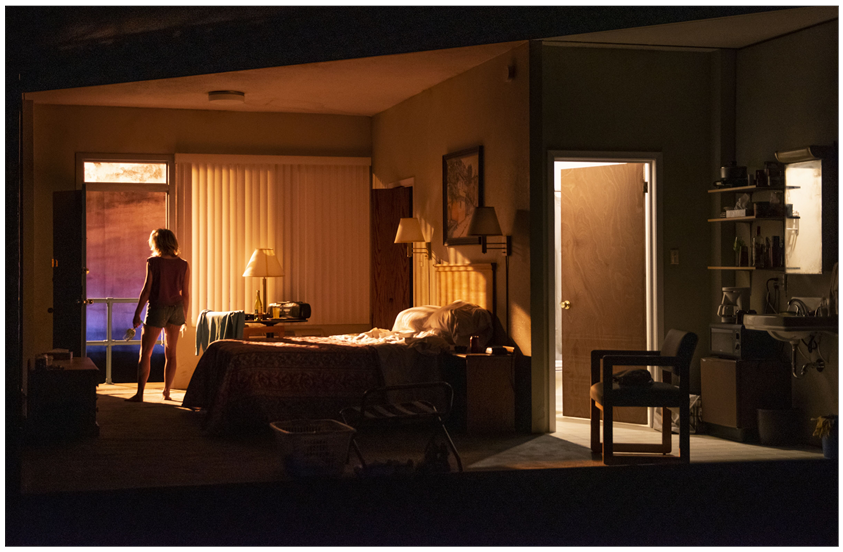 After R.C. leaves, he just stays.  Eventually Aggie asks his name, her responds Peter Evans (Namir Smallwood). 
When her ex-husband, Jerry Goss (Steve Key), breaks into the room and helps himself to her cash, Peter still doesn't say anything.  After she throws Jerry out, Aggie offers Peter a drink and one thing leads to another. 
The next morning, Peter introduces Aggie to his 'bugs'.  He believes that he was kept in  confinement as a government guinea pig, a test monkey for some diabolical medical experiments.  He seems perfectly sane as he explains that the government put bugs in his blood – and that he'd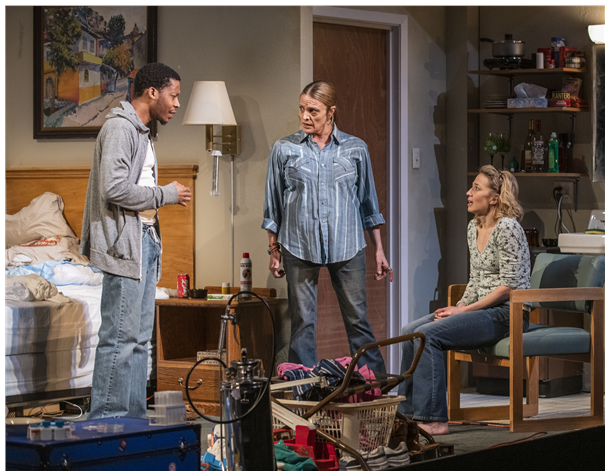 shared them with Aggie when they had sex. 
R.C. takes Aggie to the doctor to get a blood test.  As Aggie is explaining that to Peter, he totally loses his cool because the doctors are in on the conspiracy.  When R.C. tries to get Aggie to leave she totally goes over to the dark (Peter's) side and throws her now ex-friend out. 
As Peter's paranoia grows, he'll do almost anything to protect himself, especially from Dr. Sweet (Randall Arney). 
Kudos to Scenic Designer Takeshi Kata does some incredible things to that motel room
A warning:  This is definitely an adults-only play.  There's a lot of full-frontal nudity – both male and female.  The "F" bomb is dropped about every third sentence.  The characters were constantly doing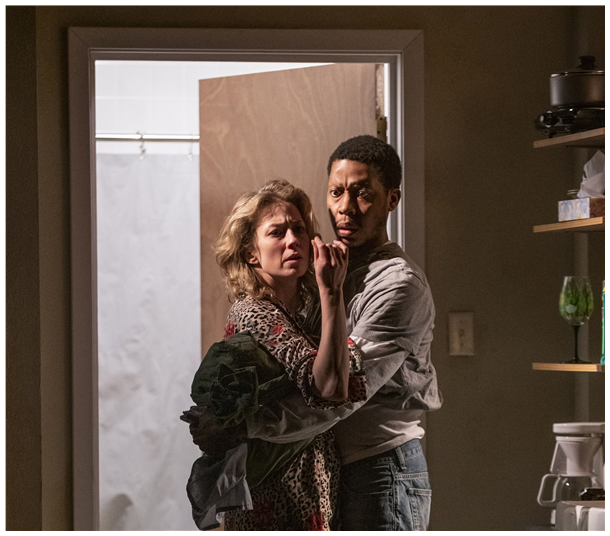 drugs – either smoking crack or snorting lines of cocaine.    
"Bug" runs through March 15th in the Downstairs Theatre, Steppenwolf Theatre, 1650 N. Halsted, Chicago.  Paid parking ($15 or $17, cash or card) is available in the Steppenwolf Garage (1624 N. Halsted); valet parking ($15 cash) is also available. 
Running time is 2 hours with an intermission.  Performances are Tuesday through Friday at 7:30 pm; Saturday and Sunday at 3:00 and 7:30 pm.  Tickets range from $20-$125.  FYI (312) 335-1650 or www.steppenwolf.org.