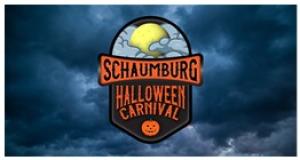 Taking place right next to Schaumburg's own Wintrust Field, Duff Entertainment is teaming up with The Schaumburg Boomers to bring you - The Schaumburg Halloween Carnival!
This exciting fest is 2 full weekends (Oct 21-23 & Oct 28-30) of nostalgic family fun with a modern spin - A Classic Halloween Carnival, jam packed with rides and tasty treats, surrounded by local merchants, family fall themed arts and crafts, beer garden, and much much more!
🎃Those bringing children to the carnival will be pleased to learn that Trick-or-Treat will be hosted by all vendors each day of the carnival!
🎃Children will be provided with a special trick-or-treat bag and can collect goodies from each vendor. Additionally, families are encouraged to stop by the face-painting booth and crafts tent to participate in free "make and take" kids crafts, such as DIY Halloween mason jar luminaries.
🎃For Chicagoland families seeking screaming good fun, the carnival will feature popular rides from Fantasy Amusement Company, like the: Matterhorn, Pharaohs Fury, OMG 360, Krazy Kabin, Combo cars, Carrousel, Rockstar, Tilt-a-Whirl, Luna Wheel, Dizzy dragon, Tractor, Zero Gravity, Sizzler & Ballistic. 
🎃Carnival ride wristbands can be purchased in affordable bundles each day:
Friday Night | $30
Wristband good for unlimited rides 5pm-10pm
Sale stops at 9:15pm
Saturday Daytime | $25
Wristband good for unlimited rides 1pm-5pm
Sale stops at 4:15pm
Saturday Night | $30
Wristband good for unlimited rides 5pm-10pm
Sale stops at 9:15pm
Sunday Daytime | $25
Wristband good for unlimited rides 1pm-5pm
Sale stops at 4:15pm
Sunday Night | $20
Wristband good for unlimited rides 5pm-8pm
Sale stops at 7:15pm
🎃Dates
First Weekend
Friday, October 21
5pm - 10pm
Saturday, October 22
1pm - 10pm
Sunday, October 23
1pm - 8pm
---------------------------------

Second Weekend
Friday, October 28
5pm - 10pm
Saturday, October 29
1pm - 10pm
Sunday, October 30
1pm - 8pm