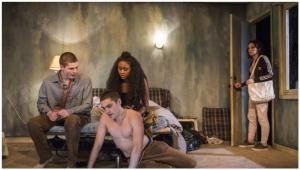 Sixteen-year-old Hench (Reed Lancaster) lives with his thirteen-year-old brother Bobbie (Jesse Aaronson) in a grungy tenement flat in rough and tumble Feltham, which is nearly 30 miles west of London. Their mother Maggie (Tiffany Bedwell) has abandoned the two boys in the subsidized housing estate to go live with her current boyfriend Alan.
With no means for generating any income, the brothers are forced to steal food from the corner market in order to be able to eat. Also, the very meager amount of money that they do have they don't want to waste on doing a load of laundry, so they wear the same grimy pair of jeans or sweatpants continuously and alternate sharing a single soiled T-shirt if they must cover up their torso in order to go outdoors.
The other creature sharing their flat is a dog named Taliban who remains confined to a room and never taken out for a walk. When Bobbie describes how they came up with the dog's name the sheer ignorance of these two brothers may cause you to cringe. With very little mental stimulation or common interests that would lead to bonding conversations the brothers tend to spend a lot of time physically wrestling with one another in an attempt to replicate affection or -- oddly -- respect. But they are both wrestling with some pretty heavy personal problems as well. Hench has repeated nightmares in which he is thrashing in his sleep and often wets the bed. Bobbie is clearly devastated by his mother's desertion and the fact that he never knew his father.
When Maggie does show up to check in on the boys, she is so drunk that it is they who need to take care of her. Both boys, who happen to have different fathers who were both absent from their lives, want to believe Maggie when she tells each of them, confidentially, that their father died heroically saving a young girl from drowning in the local pond. In all reality, it is suggested that at least one of their fathers died from an intravenous drug overdose.
Entering their dismal world is Jennifer (Netta Walker), an older teen who lives across the thoroughfare and whose unit is visible from Hench and Bobbie's window. The two boys spy on her and it seems that Hench may have a sexual attraction towards her. Jen is a pet-lover who recently relocated from her native Wales to live with distant relatives on the estate. She hears the dog constantly barking but realizes that they never take it out for a walk. Becoming the dog's sole caregiver, Jen also eventually becomes a surrogate mother to the boys as well and they form a non-traditional family unit, even sharing a fancy dinner around a make-shift dining room table. But lacking the proper tools to enter and foster mature adult interpersonal relationships, both Hench's and Bobbie's brash and loutish behavior causes a highly destructive result. When Bobbie acts upon his burgeoning but confusing sexual desires the violent deed shatters the hopeful and idyllic familial bond that these three were just starting to create.
There is a sentimental duality to the title of Jordan's play. Yen is the nickname that Jen's now- deceased father used to call her when she was a small child, since it rhymes with her name. Eventually, Jen allows Hench to call her Yen, once he has earned her trust. In turn, he lets her call him by his birth name, which is Paul. But "yen" also has a more archaic meaning -- a strong desire or craving. All four of these lost souls are desperately longing to love and to be loved. That's what makes this "Yen" such a heart-wrenching tragedy.
__________________________________________________________________
"Yen" runs through May 5, 2019 at Raven Theatre West Stage, 6157 North Clark Street (at Granville), Chicago
Curtain Times: Thursdays, Fridays and Saturdays at 8:00 PM, Sundays at 3:30 PM.
Tickets: $46 ($43 if purchased online). Seniors/teachers $41 ($38 if purchased online). Students/active military and veterans $15. Every Thursday is "Under 30 Thursday," when patrons under age 30 can purchase tickets for $15. Single tickets and subscriptions for the 2018-2019 Season are currently available at www.raventheatre.com or by calling (773) 338-2177.
Touch Tour/Open Captioned performance: Sunday, April 21 at 3:30 PM. Touch tour begins at 2:15 PM.
Group Tickets: Groups of 10 or more are $30 per person for Thursday and Friday performances and $35 per person for Saturday and Sunday performances. Student groups are $15 per person.
Plan Your Visit: Free parking is provided in a lot adjacent to the theater. Additional street parking is available. Nearest El station is the Granville Red Line. Buses: #22 (Clark), #36 (Broadway), #151 (Sheridan), #155 (Devon) and #84 (Peterson).
Running Time: 2 hours and 15 minutes with one 15-minute intermission.