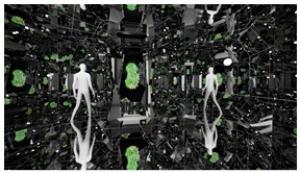 In recent months, Non-fungible tokens (NFTs) have rushed the cryptocurrency scene and taken the art world by storm. This new way of buying and selling digital art using blockchain technology has disrupted the art market and created overnight sensations out of formerly obscure artists such as Mike Winkelmann, also known as Beeple, who recently sold a collage of his digital works for the staggering sum of $69.3 million. Another rising artist in the new media art world, Adrian Stein, unveiled what he describes as the world's first immersive NFT installation in Chicago's contemporary art gallery ARTSPACE 8. 
"Quantum Mirror," a 300-square-foot immersive installation, is an environment where the digital and physical worlds of art merge and multiply in a kaleidoscopic array created by over 150 mirrored surfaces. In-person visitors can see their own reflection infinitely juxtaposed alongside Stein's digital works of human figures, which will be screened within the mirrored installation and accompanied by resonate soundtracks.
Stein's digital art, available as NFTs that can be acquired via online marketplace Mintable, are displayed on screens in the center of the installation, representing the original copy of each NFT. These images are then reproduced within the geometrically mirrored walls, representing how NFTs exist online: they commonly have a single "original" with the ability to be infinitely duplicated. The installation acts as a physical representation of our virtual environment, using light and reflections to visualize how human consciousness and the economy have become entangled in a network of blockchains and social media. 
Speaking to humanity's deep dependence on technology, the installation lays inactive without its virtual core, in the same way as modern consciousness would be paralyzed without virtual connection - representing how everyday human life has crossed over to become a spectrum between raw humanity and cyborg consciousness. 
"This work is meant to continue the conversation that Yayoi Kuzama began with her infinity rooms, by recontextualizing it into the digital world of artists like Beeple" said artist Adrian Stein. "As Kuzama's work encourages the viewer to contemplate their place in the never-ending cosmos, "Quantum Mirror" encourages the viewer to contemplate their digital existence within the never-ending world online."
The installation is viewable at ARTSPACE 8 on the third floor of 900 N. Michigan, starting March 20 through late April and viewable Monday through Saturday from 12:30 - 5:30pm at no charge. Online registration is required through the website at looneystein.com, allowing ten people in the gallery at a time while following COVID-19 safety guidelines. More of Stein's artwork can be viewed on Instagram @Looneystein. 
ABOUT ADRIAN STEIN
Guatemalan-born, Chicago-based new media artist Adrian Stein seeks to understand how humans view themselves through the many mirrors viewed in everyday life which reveal the borders, glass walls, and masks built between one another in the process.
By representing the human form as a prismatic lens in constant shift, dynamically morphed and affected by the medium it is inhabiting, Stein's work engages the concept that different states of consciousness give rise to different views of the self, elaborating on how perceived identities can create a hybrid existence that merges both virtual and physical personas. 
Through the use of colloquial digital languages and visual commonalities, he seeks to create an aesthetic medium to reveal how his own duality as a Guatemalan-born American has given rise to a hybrid identity, forcing him to exist in both places at the same time. 
ABOUT ARTSPACE 8
The 14,000 square foot gallery is located in Chicago's Gold Coast neighborhood, specializing in contemporary fine art showing a number of paintings, prints, sculpture, and works on paper from emerging and established artists, based both locally and abroad. ARTSPACE 8 prides itself on taking a democratic approach to its affluent surroundings, engaging experienced collectors and the masses alike in the viewing and collecting of intriguing artworks through highly-curated exhibitions and events.