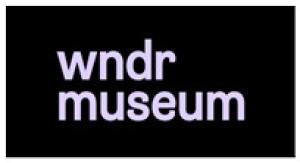 WNDR Museum, Chicago's original immersive art and technology experience, today announced it has partnered with designer, educator and entrepreneur Jason Mayden to present a digital version of his Boys Break Too exhibition in Chicago on Wednesday, Nov. 15, beginning with an interactive conversation with Mayden at 12 p.m. Part of a partnership to exhibit the work at three locations nationwide, Mayden brought his work to WNDR Museum San Diego last month, and is slated to appear at WNDR Museum Seattle on Dec. 6. Tickets are free and available now at wndrmuseum.com. Mayden's digital works will be on view at WNDR Museum Chicago through Wednesday, Nov. 22.
Boys Break Too is an art exhibition featuring seven original pieces, digital collectibles and commemorative merchandise exploring intergenerational trauma and the emotional suppression that Black male masculinity faces as a means of survival. The goal of the exhibition is to spark constructive conversations that promote collective healing and raise awareness about mental health resources.
"One of our key pillars at WNDR Museum is the promotion of mental health awareness and resources, so this exhibition and partnership could not have come more naturally," said David Allen, Creative Director at WNDR Studios. "We're incredibly grateful to have the opportunity to shine a spotlight on the mental health issues facing young people today, and our sincerest hope is that we play a meaningful part in reshaping the conversation around these issues and offer an opportunity for collective growth and healing through art."
"Through the intersection of design and empathy, we embark on a mission to transcend the silent struggles men endure. Tackling anxiety and intergenerational trauma is no solitary journey; it is a collective, courageous conversation where healing transpires through the therapeutic brushstrokes of art," said Mayden. "Our work is dedicated to crafting spaces where men can unapologetically express, explore, and ultimately, liberate themselves from the hidden pains, constructing a future where vulnerability becomes our collective strength."
Currently serving as CEO and Co-Founder of design and strategy consultancy Trillicon Valley, Mayden previously worked as the Senior Global Design Director for Jordan Brand and President of Fear of God Athletics, a partnership between Jerry Lorenzo's Fear of God and sportswear giant Adidas. In addition to Trillicon Valley, Mayden is an accomplished author, having released A Kids Book About Design, intended to empower kids to share their ideas, and The Speed of Grace, which guides the reader through the behaviors and principles he used to pursue creative, physical, professional, personal and emotional growth.
Guests of Boys Break Too at each WNDR Museum location will be eligible for exclusive digital collectibles on Lockerverse, a community platform that enables fans to unlock content and experiences from creators that define the culture. Each digital collectible will feature one of Mayden's iconic designs from the Boys Break Too exhibition, meticulously crafted to capture the essence of the original artwork displayed at WNDR Museum locations. Collectors, art enthusiasts, and fans of Jason Mayden's work can join his community on Lockerverse and visit www.lockerverse.com to learn more.
Following the Chicago exhibition, Mayden will bring his digital artworks to WNDR Museum Seattle on Wednesday, Dec. 6, also kicking off with a special event featuring an in-person conversation with Mayden.
WNDR Museum was voted one of the top ten immersive art experiences in the country by USA Today's 2022 and 2023 Reader Polls. Follow WNDR Museum on Instagram, Facebook, Twitter and TikTok using #wndrmuseum or visit www.wndrmuseum.com.
About WNDR Museum
WNDR Museum is Chicago's original immersive art and technology experience located in the city's West Loop neighborhood at 1130 W. Monroe St. with additional locations now open in San Diego, Seattle and soon to open in Boston, and more to be announced. Filled with interactive artworks by cutting edge artists, collectives, technologists, designers and makers, WNDR disrupts and redefines the traditional museum experience. As guests travel through WNDR Museum, they are taken on a multi-dimensional journey in which they serve as an extension of each creator by interacting with various installations. Open seven days a week, WNDR Museum was voted one of the top ten immersive art experiences in the country by USA Today's 2022 and 2023 Reader Polls. For more information, visit WNDRmuseum.com.