*** Recommended *** Chicago Shakespeare's World Stage has finally returned!  The first World Stage production since 2019, Wise Children's epic production of Wuthering Heights, adapted and directed by Emma Rice, comes from Great Britain.  Although this production does convey the melancholy, brooding mood of Emily Brontë's novel, I found it to be really heavy going.  It's impossible to empathize with any of these characters.  Worse yet, at nearly three hours, it was way too long for American audiences.  3 Spotlights
Since so much of Wuthering Heights takes place outdoors on the moors of Yorkshire, Rice decided to make the Moors, as kind of a Greek chorus, a major character in her adaptation.  At first I thought this was a really good idea - but they were singing and dancing so often the Moors moved into the position of main character.  By the way, every time they sang/danced, the same flight of birds was projected flying across the sky.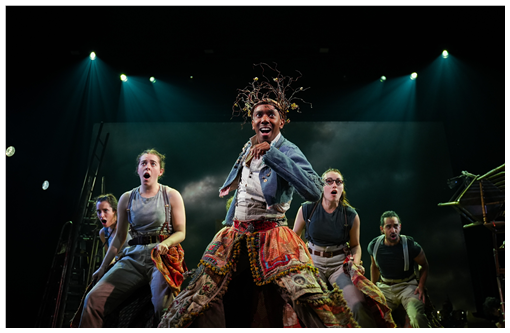 This adaptation does follow the novel in that it starts when Mr. Lockwood (Sam Archer), the new tenant at Thrushcross Grange decides to pay a call on his landlord, Heathcliff (Liam Tamne), at Wuthering Heights, where no one is friendly or hospitable, instead they're downright rude.  Unable to return home because of a snowstorm, he reads the diary of Catherine Earnshaw, then has a nightmare in which her ghost haunts him.  After he returned home, Zillah (Stephanie Elstob) told him about the family at Wuthering Heights.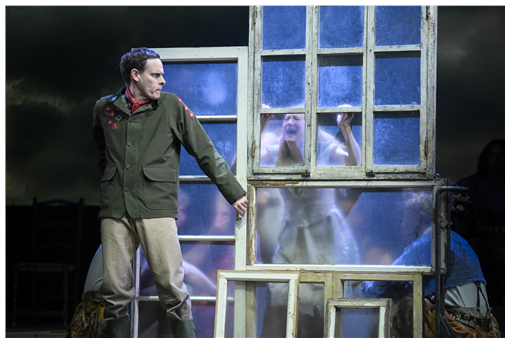 Mr. Earnshaw (TJ Holmes), the owner of Wuthering Heights, had two children, Hindley (Tama Phethean).  After a trip to Liverpool, he brought an orphaned boy, Heathcliff, home with him.  His children reacted differently – Hindley hated Heathcliff, Catherine (Katy Ellis) was friendly.  When Hindley inherited, he brought his new wife, Frances (Eleanor Sutton) home, and told Heathcliff he could stay but as a servant. After giving birth to a boy named Hareton (Tama Phethean), Frances died.     
Edgar Linton (Sam Archer) and his sister Isabella (Georgia Bruce), who live at Thrushcross Grange, are frenemies to Catherine and Heathcliff. Even though she loved Heathcliff, she decided not to marry him because of his low social status, then agreed to marry Edgar.  Heathcliff left in a huff; Catherine married Edgar; three years later Heathcliff came back a wealthy man.  And that's just the first act!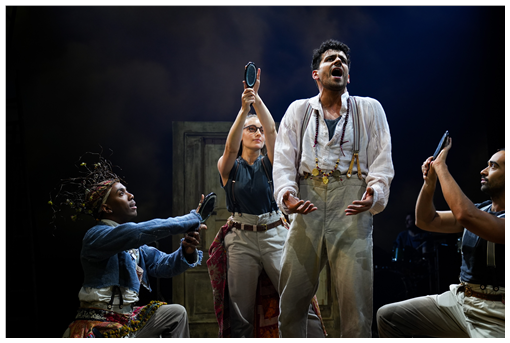 Whenever one of the characters dies – and most of them do die – the Moors hold up small slate boards inscribed with the names of the dead.  
Also appearing in this ensemble cast: Robert (Ricardo Castro), Dr. Kenneth (TJ Holmes) and the Leader of the Yorkshire Moors (Jordan Laviniere).  The rest of the Moors: Ricardo Castro, TJ Holmes, Stephanie Elstob, Tama Phethean and Eleanor Sutton. 
Original music was written by Ian Ross.  The band includes Sid Goldsmith, Pat Moran (Music Director), Vincent De Jesus with Lloyd Gorman, TJ Holmes.  Note: Guests are encouraged but not required to wear masks while inside the building. 
Wuthering Heights runs through February 19th in the Yard at Chicago Shakespeare Theatre on Navy Pier, Chicago.  Parking in CST's designated area in the Navy Pier Garage is available at a 40% discount with validation from CST.  Running time is 2 hours, 50 minutes, including an intermission. 
Performances are Wednesdays at 1:00 & 7:30 pm; Thursdays & Fridays at 7:30 pm; Saturdays at 3:00 & 8:00 pm; Sundays at 2:00 pm with additional performances on Tuesdays, May 17th & 24th at 7:30 pm.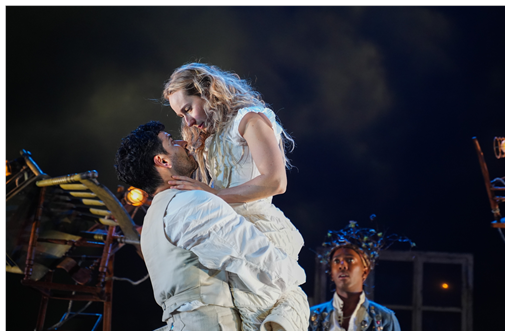 Accessible performances:
Audio-described Performance, Sunday, February 12th at 2:00 pm
Open-captioned Performance, Wednesday, February 15th at 1:00 and & 7:30 pm;
ASL Duo-interpreted, Friday, February 17th at 7:30 pm; 
Tickets range from $59-$106.  FYI (312) 595-5600 or www.chicagoshakes.com/qchristmas.