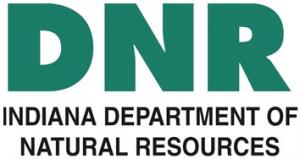 Deer firearms season opened Nov. 13 – are you ready?
It's what you've been waiting for - deer firearms season opened Nov. 13 and runs through Nov. 28. Remember, the deer firearms license allows a hunter to take one buck. Hunters can harvest an antlerless deer with a firearm during this season if they possess a deer bundle license, bonus antlerless license, deer reduction zone license (in a deer reduction zone), resident youth consolidated hunting and trapping license, or comprehensive lifetime hunting license. Antlerless deer taken with a firearm during firearms season would count toward the bonus antlerless quota, unless you are hunting in a deer reduction zone with the appropriate license and count the deer toward the deer reduction zone bag limit. Bonus antlerless deer cannot be taken on all DNR properties; find information about restrictions. Bonus antlerless deer cannot be taken in Benton or Tipton counties until Nov. 25. Firearms regulations differ from public land to private land - be sure to read through these before venturing out. 
Questions about Indiana's deer seasons and regulations can be directed to the Indiana Deer Hotline at INDeerHotline@dnr.IN.gov or 812-334-3795, 8:30 a.m. to 4 p.m. ET, Monday through Friday.
Buy licenses early and buy now – the rut is nearly here
Don't risk delays due to technical difficulties or long lines at your local retailer. Plan to buy your deer hunting license early. If you plan to buy online, check that you can log into your Access Indiana account. Always check your license for accuracy before your hunt.
Interested in harvesting multiple deer or hunting across multiple seasons? Consider buying a deer license bundle, which allows you to harvest up to three deer (only one may be antlered) during Archery, Firearms, and Muzzleloader seasons.
Find more information about deer licenses, seasons, and regulations on our website. Remember, the resident youth consolidated hunt/trap license includes all deer hunting privileges.
What's in your blind bag?
Fall hunting often involves waiting in a hunting blind, and packing a blind bag provides an opportunity to make your time in the field more comfortable and safer. Blind bag contents vary from hunter to hunter, and there is no end to the combinations of gear you can bring with you. Eventually, everyone will find what works best for them. Choices also change throughout the season depending on conditions. Whether you're hunting for turkey, waterfowl, or deer this fall, here is a basic list of items that will be useful from the start of the season until the end.
Photo courtesy of John Ruiz Jr. 
Free youth hunting days, Nov. 27-28
Know a kid who's interested in hunting, but not sure when the best time is to start mentoring them? Take advantage of free youth hunting days, which occur twice annually in the fall. The second set of dates this year falls on Nov. 27-28, the weekend after Thanksgiving. Several seasons are open. Any resident age 17 or younger on the date of the hunt, accompanied by an adult with a hunting license (at least 18 years of age), can take any legal game in season during this special weekend. Learn more about requirements and other youth hunt opportunities online.
Reminder: check in your deer, wild turkey, or river otter
The Indiana CheckIN Game system allows hunters and trappers to check in their harvested game from any device connected to the internet. You will receive a confirmation number that must be written down on a temporary transportation tag for the harvested game species (turkey, deer). Be sure to check your information is accurate before submitting. Deer and wild turkeys must be checked in within 48 hours of harvest; river otters must be checked in within 24 hours of harvest. Have your Customer ID and harvest information ready. Remember, you don't need to log in to your account to check in game for this fall – you can do so by clicking CheckIN Game and entering your Customer ID number and date of birth.
Hunters still have the option of visiting traditional check stations, where a confirmation number will be provided for you to place on your temporary transportation tag. There is also a phone-in option at 1-800-419-1326; however, there is a $3 charge for this service (payable by Visa or MasterCard only).
CheckIN Game data filters into real-time harvest tables available on the DNR website. Check harvest numbers for white-tailed deer, wild turkey, and river otter, updated daily during open seasons.
Checking your zero
Making sure your gun or bow is shooting where it should is an important part of the hunting process. Not only does it help make the equipment safer to use and more effective for harvest, but it can also save you ammunition in the field. Adjusting your sight can be a relatively simple process and helps you ensure a quicker and more ethical harvest. Check out this detailed step-by-step video on how to sight in a rifle or shotgun.
Shooting ranges for both archery and firearms can be found across the state, and many of our Fish & Wildlife areas offer services for both. For more information on DNR properties with shooting ranges, visit our website.
Don't forget to test your deer for CWD for free
Firearms season is just around the corner, and the rut is taking off. Indiana DNR is interested in obtaining samples from hunter-harvested deer to test for chronic wasting disease (CWD). Hunters may voluntarily submit samples for free testing at select Fish & Wildlife areas (FWAs) and state fish hatcheries (SFHs) throughout the hunting season. Deer heads can be dropped into designated coolers at select FWAs and SFHs, or hunters may make an appointment to have their harvested deer sampled by a biologist during office hours. Tongue tags will also be available for hunters who wish to have their deer's head mounted and sampled for CWD – just follow the guidance provided at designated coolers or given by DNR staff. Testing results will available online.
Hunting and trapping seasons in November
Hunting
Deer Firearms: Nov. 13 – Nov. 28
Dove: Nov. 1 – Nov. 21
Pheasant (Cock only): Nov. 1 – Dec.15
Rabbit: Nov. 1 – Feb. 28, 2022
Raccoon, Opossum: Nov. 8 - Jan. 31, 2022
Quail:
– (north of Interstate 74): Nov. 1 – Dec. 15
– (south of Interstate 74): Nov. 1 – Jan. 10, 2022
Canada Geese:
– North Zone: Nov. 20 – Feb. 13, 2022
– Central Zone: Open until Nov. 7, reopens Nov. 20 – Feb. 13, 2022
– South Zone: Nov. 6 – 21, Nov. 27 – Feb. 13, 2022 
Ducks, Coots, & Mergansers:
– North Zone: Open until Dec. 12
– Central Zone: Open until Nov. 7, reopens Nov. 20 – Jan. 9, 2022
– South Zone: Nov. 6 – 7, Nov. 27 – Jan. 23, 2022
Trapping
Beaver: Nov. 15 – March 15, 2022
Mink, Muskrat, Weasel: Nov. 15 – Jan. 31, 2022
Raccoon, Opossum: Nov. 8 – Jan. 31, 2022
River Otter: Nov. 15 – March 15, 2022 (or until quota is met)
Can't find your hunter education card?
If you lost your hunter education card, you can order a replacement online.
Be sure to enter your hunter education card into your online account before purchasing a license or give it to the retailer when you purchase your license at a store.
Hunter education class information is available on our website.
Don't forget to pack a first aid kit for your hunting dog
November is an exciting time for hunting dogs, but their hunting adventures can cause cuts, scrapes, and insect stings. Be prepared by packing a first-aid kit for your furry companion with some of these helpful items:
A variety of bandages: Bring non-sticky medical pads for direct placement on wounds and other types of gauze to hold the pads in place, like roll cotton gauze, vet wrap, and sticky bandage tape. Gauze squares can clean wounds, eyes, and paw pads. Clinging gauze can also be used to wrap a wound or function as a sling or a muzzle. Be sure to talk to your veterinarian for best practices about wrapping a wound.
Wound cleansing: Use baby wipes to clean around wounds. Saline solution can clean out wounds and flush debris from your dog's eye. 
Nylon dog muzzle and extra leash: If your dog gets hurt, it may try to bite you when you are dressing a wound. A dog muzzle protects both of you and will help stop the dog from licking a fresh wound. An extra leash can also be used as a tourniquet for serious injuries.
Diphenhydramine Antihistamine (Benadryl): In case of a sting, serious swelling, or hives, most veterinarians recommend 1 milligram of diphenhydramine per pound (weight of dog). Talk to your veterinarian for specific amounts.
Other tools: A pair of bandage scissors with a blunt end allows you to trim close to the dog's skin without cutting the dog. Tweezers or hemostats are helpful for pulling out thorns or other stuck objects.
Remember to always consult your veterinarian for specific advice on what to carry in the field and call them immediately in serious situations (poisoning, severe injuries). Be prepared and we hope you and your best friend have a great hunting season!
Fish are still biting in late fall
Late fall is here, and the fish are still biting. Fish are especially active in the afternoon and early evening this time of year as they eat aggressively to prepare for winter. Look for baitfish (like minnows and shad) being chased near the surface, along the shore, and up creeks. Check for underwater cover where predator fish can ambush prey. As winter approaches, water will continue to cool and fish patterns will most likely change. Start by working shallow water and at the surface with larger lures. Be prepared to downsize lures, switch to deeper-diving lures, or change the speed that you are reeling in if you aren't getting bites.
Here are some lures to try in late fall:
inline spinners – 1/8 oz.; colors: chartreuse (yellow-green) and white/silver
crankbaits – Iipless and lipped (shallow, mid-depth, and deep running); colors: shad, bluegill, and chartreuse
spinner baits with willow leaf blades – 1/4 oz. and 1/2 oz.; colors: white and chartreuse
crappie jigs – 1/16 oz. "crappie" jig heads with white and chartreuse curly tail grubs, 2" soft baits with single tapered tail, and 1.5" tube jigs with tentacle tails
bass jigs – mushroom-style jig heads (1/16 oz. with size 2 hook and 1/8 oz. with 2/0 hook) with 3-4" dark-colored soft plastic
Wondering when to use which fishing lure? See our website.
Lake trout fishing is heating up on Lake Michigan
Beginning in late October, Lake Michigan's native lake trout venture into shallower water seeking food and places to spawn. The fish congregate near rocky structures and offer excellent fishing opportunities for both shore and boat anglers. When the water temperatures drop below 50 degrees, shoreline anglers should cast blade baits, spinners, and spoons from the Michigan City Pier and Portage Lakefront Park to attract these large fish. Boaters can also enjoy reliable action, especially off the Port of Indiana submerged reef in Burns Harbor or along the break walls in East Chicago's Pastrick Marina, Hammond's Hammond Marina, and Michigan City's Washington Park.
Lake trout average 6-10 pounds but can tip the scales at 15 pounds or more. Use a medium or heavy action spinning or bait-cast rod spooled with 10- or 12-pound test line to compensate for these heavy fish. Rod action refers to how much the rod flexes when there's something on the hook – heavy action provides a stiffer rod. Anglers can increase their success by either jigging with blade baits and tube jigs or slowly trolling near the bottom of the lake. Downriggers, which are devices attached to the boat that use weights to fish at specific depths, are popular when targeting lake trout this time of year. If you prefer to catch-and-release, the cold water creates better opportunities for successful release; however, keep in mind that smaller lake trout are excellent table fare.
Anglers need a valid fishing license and trout/salmon stamp to fish for lake trout. Buy online or purchase yours at a local retailer today.
Fish for stocked rainbow trout this fall
Fisheries and hatcheries staff recently stocked more than 2,000 trout in seven lakes statewide. Annually, DNR stocks more than 55,000 rainbow trout averaging 10 inches – delivered to 16 streams and more than 20 lakes, ponds, and impoundments in 17 different counties. Fish are stocked in the spring (March and April) and again in the fall (October), but time of stocking varies by lake. Learn more about our trout stocking plans on our website.
Rainbow trout can be caught using many different techniques. In general, using light tackle with a light to ultra-light rod combined with light line ranging from 2-6 pounds strength awards anglers with success. Rainbow trout forage on aquatic insects but will also take advantage of any insects that fall into the water, smaller fish, and crayfish. Hatchery-raised fish are accustomed to finding food on the surface, so lures shaped like dough or a pellet may also attract fish to bite. Anglers can also fish the bottom or use a bobber. For those not interested in using live bait, try artificial lures such as inline spinners, jigs, spoons, and plastic worms.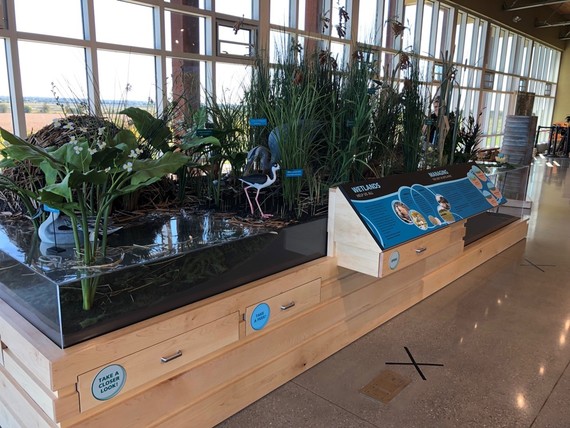 New additions to the Goose Pond FWA Visitor Center
Come explore the new interpretive exhibits at Goose Pond Fish & Wildlife Area (FWA). Installation was recently completed, and new additions include a display about wetland habitats, information about migratory birds, and exciting interactive features that highlight other wildlife you can find at the property. An accessible trail is currently in development; in the meantime, visitors can enjoy the mowed path around the building.
The visitor center is located at 13540 W 400 S in Linton, IN and is open from 9 a.m. to 5 p.m. Monday through Saturday and from noon to 5 p.m. on Sunday.
Witness a natural wonder at Jasper-Pulaski FWA
Fall migration is underway for sandhill cranes, and these charismatic birds are gathering en masse at Jasper-Pulaski Fish & Wildlife Area (FWA). Experience the sights and sounds of flocks numbering in the thousands from the property's viewing platform, accessible for all ages and abilities. Time your visit when numbers are high by checking our website, which is updated weekly with crane numbers.
A $50 donation is equivalent to a handcrafted least tern decoy, used to attract these rare birds to safe nesting islands.
Give back to wildlife for Giving Tuesday
What do least terns, hellbenders, lake sturgeon, and Indiana bats all have in common? These imperiled species are all supported by the Indiana Nongame Wildlife Fund. Your donation can fund projects such as the creation of protective barriers for nesting, state-endangered least terns.
Want to learn more about efforts to conserve Indiana's imperiled species? Subscribe to Nongame Wildlife Fund News.
Recent news releases
Donation funds fishing and access improvements at Blue Grass FWA
DNR stocking 2,155 rainbow trout this fall
Upcoming events
More
The Indiana Natural Resources Foundation celebrates and preserves Indiana's natural legacy by raising funds to support the Indiana Department of Natural Resources (DNR) and its programs. Together, we have helped expand public lands, restore wildlife habitat, and create outdoor educational and recreational opportunities for Hoosiers.
About Fish and Wildlife Management in Indiana 
Fish and wildlife management and public access are funded by fishing and hunting license revenue and also through the Wildlife and Sport Fish Restoration Programs administered by the U.S. Fish & Wildlife Service. These programs collect excise taxes on sporting arms and ammunition, archery equipment, fishing equipment, and motor boat fuels. The money is distributed among state fish and wildlife agencies based on land size and the number of licensed anglers and hunters in each state. Find out more information about fish and wildlife management in Indiana at Wildlife.IN.gov.