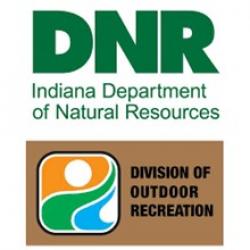 There is still time to take a turkey!
Remember that spring wild turkey season continues through May 15. To participate, hunters need a valid turkey hunting license and game bird habitat stamp. Each hunter can take one bearded or male turkey during the spring season.
Find the Where to Hunt Map, regulations, spring harvest data, processing videos, and more on our website.
Next Free Fishing Days are coming up
Each year, Indiana offers four Free Fishing Days to provide Indiana residents the opportunity to cast a line without the need for a fishing license. The next opportunity is June 4-5. Free Fishing Days are a great chance to try fishing for the first time, reactivate your fishing hobby, or simply spend time by the water with a fishing buddy. Check out the Where to Fish page to view the many free public access fishing spots throughout Indiana. If this will be your first time fishing, check out our fishing tips and videos!
DNR needs volunteer paddlers to collect wildlife data
"So many paddles and a story with every one. One reason I love paddling is there is a story around every bend."  -Paddlecraft Wildlife Index Volunteer
Indiana paddlers have a unique opportunity to observe wildlife while enjoying Indiana's water resources. Indiana DNR would like more information about the wildlife that spend time around Indiana's waterways and asks paddlers for help. Volunteer paddlers can sign up to complete paddling trip postcards documenting the wildlife they observe while floating from June 1 to July 31. Volunteers will be mailed a packet upon signup.  Previous volunteers will be mailed a new packet and do not need to sign up again. The information collected will allow wildlife managers to estimate changes in key wildlife populations over time.

Prevent the spread of invasive plants
As the weather warms, many people take to the woods and trails to pursue turkeys, forage for wild edibles, or add new species to their bird lists. While most of these activities are seemingly low in impact to the environment, they can be a major contributor to the spread of invasive plant species. Invasive species are those that are not native to the area in question and have caused or are likely to cause environmental, human health, or financial harm.
Mud on boots, plant material in the cuffs of pants, and burrs on your clothes or pet's hair are ways that plants, including invasive species, move around. Prevent the spread of invasive species by removing plants, seeds, and mud from your boots, gear, pets, and vehicles before entering the recreation site. Repeat these steps before you hop in your vehicle to go home. Taking these small extra steps will help our wildlife and their native habitats thrive.
Above: bush honeysuckle dominates the understory of an Indiana forest

Rainbow trout
Inland stream trout season is open
The Division of Fish & Wildlife recently stocked nearly 22,000 trout in 16 streams across Indiana. These trout averaged 11 inches in length and came from Curtis Creek Trout Rearing Station. Inland stream trout season opened on Saturday, April 30. Find a stocked trout fishing location by looking at the second page of this stocking plan.
Anglers over 18 must purchase a valid fishing license and trout/salmon stamp. Read about bag limits and fishing tips before you cast a line!

Field to fork: making the most of your turkey harvest
Spring wild turkey season runs through May 15. As you prepare for the season's end, you may be looking forward to various ways to prepare  your bird. Check out this episode of CookIN' Gone Wild for a delicious white bean and turkey casserole recipe to help you enjoy your harvest to the fullest. 
Central stoneroller
What fish is this?
With around 200 different species of fish swimming in Indiana waters, even the experienced angler can occasionally net or hook into something that leaves them scratching their head.  Don't be kept wondering – snap a picture and email it to fishid@dnr.IN.gov. Along with the photo, include the name of the body of water where it was caught, location (address, closest bridge, or other landmark), and date it was caught.  A biologist will get back to you with an identification.  Not only will you learn about the fish that you caught, you might also be providing valuable distribution information for the species to the DNR. See a complete list of all Indiana fish species here.
The Natural Resources Commission (NRC) meets at Turkey Run State Park
The NRC will meet at the Turkey Run State Park Inn on May 17 at 6:30 p.m. ET for its next bi-monthly meeting. The agenda will be posted before the meeting. To receive future NRC updates, subscribe to its email list.
Donors share their "why"
2022 marks the 40th anniversary of the Nongame Wildlife Fund, and to celebrate we are sharing 40 stories that feature our projects, donors, partners, and volunteers. Go to the story map online to meet Jim, Nancy, Steve, Anne-Marie, Nathan and Janet to hear their reasons for donating to the Nongame Wildlife Fund.
Left: Nancy T shares why she donates
Recent news releases
2022-23 Migratory bird hunting seasons announced
Division of Fish & Wildlife awards top performers
Avian influenza found in raptors and water birds, not wild turkeys
DNR floats new survey technique for lake users
Inland stream trout opens Saturday
Upcoming events
More
The Indiana Natural Resources Foundation celebrates and preserves Indiana's natural legacy by raising funds to support the Indiana Department of Natural Resources (DNR) and its programs. Together, we have helped expand public lands, restore wildlife habitat, and create outdoor educational and recreational opportunities for Hoosiers.
About Fish and Wildlife Management in Indiana 
Fish and wildlife management and public access are funded by fishing and hunting license revenue and also through the Wildlife and Sport Fish Restoration Programs administered by the U.S. Fish & Wildlife Service. These programs collect excise taxes on sporting arms and ammunition, archery equipment, fishing equipment, and motor boat fuels. The money is distributed among state fish and wildlife agencies based on land size and the number of licensed anglers and hunters in each state. Find out more information about fish and wildlife management in Indiana at Wildlife.IN.gov.