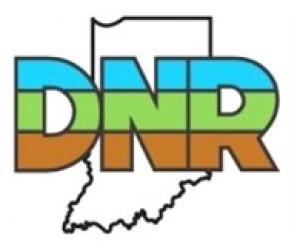 Connect with the Division of Fish & Wildlife at the fair
Multiple programs will be offered at the Natural Resources Building during the Indiana State Fair. Be sure to check out the final session from our "Ask a biologist" event series tonight, Aug. 5, when our mammalogist, Brad, will identify local mammal tracks from 5–7 p.m.
Along with this event, see the Cikana Fish Hatchery staff caring daily for the live fish that arrive on Aug. 10 and will be on display for the rest of the fair. Each day at 1–2 p.m. after the fish arrive, a hatchery biologist will roam the floor to answer questions about our hatchery programs or any fish you see around the building. We hope to see you there!
Come fish with us at the State Fair Fishin' Pond
The State Fair Fishin' Pond is open and ready for you! Since 2006, the Fishin' Pond has been a place children age 5-17 learn how to fish free of charge at the fair. Stop by the pond with your children on Thursdays, Saturdays, and Sundays from 10 a.m.–1 p.m. and 4­–7 p.m. The DNR provides all equipment.  
Help us share the beloved pastime of fishing with a new generation. We look forward to fishin' with you!
New Hunting & Trapping Guide Now Available
As hunting season quickly approaches, DNR is happy to provide you with the new 2022-2023 DNR Hunting & Trapping Regulations Guide. Pick up a copy at your local retailer, the Natural Resources Building at the Indiana State Fair, a DNR property, or view the guide online.
With our new hunting guide, you'll be able to pinpoint exactly when you want to go for your next hunting adventure. Ready, set, hunt!
Report turkey brood observations this August
One month into the annual turkey brood survey, we would still love your help recording your sightings of wild turkeys with their poults, or wild turkey hens without poults. Doing so helps Indiana DNR biologists calculate the annual wild turkey Production Index, which helps guide future species management.
As we aim to reach our goal of 3,000 observations this year, we ask that you share your observations with us online at on.IN.gov/turkeybrood now and until Aug. 31. Recording observations takes less than five minutes, and no password is required. 
DNR can't create our Production Index without you. We appreciate your reports.
See the state's wildlife through your screen: Snapshot Indiana
From 2015 to 2020, volunteers from all over Indiana assisted DNR by placing trail cameras on their properties to collect valuable information about wildlife. During those five years, DNR and our volunteers collected 450,000 photos. DNR staff sifted through every one to search for detections of wildlife.
Now, Snapshot Indiana is available in the form of an interactive map for you to peruse. From American mink to gray fox, various species can be seen in different parts of the state. View the pictures from the project and find your area on the dashboard to see the wildlife living around you.
DNR property-related rule changes in effect July 20
Various DNR property-related rule changes took effect on July 20. The rule changes affect several activities and include the following:
Stands or blinds (including portable ground blinds) are allowed to be left overnight on DNR properties if the blind or stand is legibly marked with the name, address and phone number of the owner or the owner's customer identification number issued by the DNR. Please note that it is illegal to erect or hunt from a permanent tree blind on state-owned or state-leased lands. Portable tree stands may be used on state-owned or state-leased lands, and they may be left overnight only from noon Sept. 15 through Jan. 10. Please note that fasteners that penetrate a tree more than 1/2 inch are also prohibited on these lands.
Trail/game cameras can be placed on properties managed by the Division of Fish & Wildlife, as well as on state forests, and state recreation areas as long as the camera is legibly marked with the owner's name, address, and phone number or customer identification number issued by DNR. Placement of the camera must not damage a tree.
The placing of bait for wildlife is prohibited on any DNR property. Exceptions are granted for bait or food placed for wildlife management as authorized by DNR, the result of authorized agricultural operations on the property (like tenant farming), or a birdfeeder placed by a DNR employee. The definition of bait includes (1) a food that is transported to and placed for consumption, including but not limited to piles of corn and apples placed on the property; (2) prepared solids or liquids manufactured and intended for consumption by livestock, wild deer or birds including, but not limited to commercial baits and food supplements; (3) salt; and (4) mineral supplements. 
The collection of shed antlers without a permit is allowed, except on dedicated Nature Preserves.
Via a permit, magnet fishing is allowed on public waters on DNR properties as long as the magnet can be carried and retrieved by hand. Individuals will need to contact the respective property office to get a permit for magnet fishing on a DNR property.
DNR appreciates your efforts to stay safe and aware of our property rules. Adventure on!
Relax with a reel
Fishing season in Indiana is in full swing and will continue as we soon transition into fall's cooler temperatures. Many species such as bluegill, crappie, catfish, and large and smallmouth bass bite all summer long, and we don't want you to miss out on any of the fun! If you haven't gone fishing in a while, and you're looking for some time away from the stress of life, heading outdoors with a rod and a reel can help. As the year flies by, be sure to renew your annual fishing license today, and take some time for yourself in every season.
Wear It Indiana!
Your personal flotation device, that is. Your PFD. Your life jacket. No matter what you call this life-saving piece of equipment, remember to wear it while boating or swimming. Wearing a life preserver can prevent most, if not all, lives lost on the water.
Deer licenses for sale & reserved hunt applications open
Don't miss out on deer season! Purchase your 2022-2023 deer hunting license now. You can find season dates and answers to deer hunting FAQs at deer.dnr.IN.gov, and you can purchase deer licenses at an authorized retailer or at on.IN.gov/inhuntfish.
Remember: you must have an Access Indiana account before purchasing your license online – we recommend setting up or reviewing your account information ahead of time to avoid any delay.
Want to apply for a reserved hunt? Some waterfowl, deer, game bird, and pheasant applications open Aug. 22. See the full list on on.IN.gov/reservedhunt. You may submit only one application per hunt, and no changes can be made once an application is submitted. Applicants must possess a valid hunting license for the hunt for which they are applying.
National Shooting Sports Month: funding and grant awards
August is National Shooting Sports Month, and the DNR wants you to remember that shooting is more than just plinking targets. Because of the Pittman-Robertson Wildlife Restoration Act of 1937, shooting sports enthusiasts contribute to wildlife conservation with every related purchase they make. These purchases help the DNR fund shooting range management, hunter education programs, and more.
Indiana's Division of Fish & Wildlife also has a grant program that awards financial assistance to those wishing to either revitalize shooting ranges or construct new facilities. Are you interested in securing funds to support your local shooting range?
Surveying fish in our northern lakes
Since 2010, fisheries biologists have assessed fish communities, water quality, and aquatic habitat at 149 different naturally formed glacial lakes. These surveys provide fisheries biologists with important data on long-term trends in native fish populations across the region, ranging from bluegill and largemouth bass to bowfin and yellow bullhead. Since the program began, biologists have documented a total of 62 different species.
This summer, biologists are surveying 10 different lakes across eight northern Indiana counties. Each survey provides valuable information that resource managers use to not only preserve diverse native fish communities and aquatic habitat, but also provide clean water and outdoor recreation for future generations.
Squirrel season opens Aug. 15
It's that time of year again! Indiana's squirrel season opens on Aug. 15 and runs through Jan. 31, 2023. A small game hunting license is required to hunt squirrels in Indiana, and the bag limit is five fox or gray squirrels per day (total for both species) with a possession limit of 10. Squirrel hunting is an early opportunity to get out in the woods and enjoy time with friends and family, and we'd love to see you out there! Gear up and purchase your hunting license.
Pitching IN to help Indiana's Nongame Wildlife Fund
This year we are observing the 40th anniversary of the Indiana Nongame Wildlife Fund through a series of 40 stories across 12 themed months. This month, the stories highlight contributions from volunteers, landowners, and citizens across the state. From conducting wildlife surveys to protecting critical habitat, the public's support has helped Indiana's wildlife thrive.
Harvest Information Program (HIP) registration
To hunt any migratory birds in Indiana (ducks, coots, mergansers, geese, sora, snipe, woodcock, or doves), you need a Harvest Information Program (HIP) number. It's easy to register online for the 2022-23 migratory bird seasons. You can also get your HIP number by calling 866-671-4499. There's no cost for using either method.
Upcoming events
More
The Indiana Natural Resources Foundation celebrates and preserves Indiana's natural legacy by raising funds to support the Indiana Department of Natural Resources (DNR) and its programs. Together, we have helped expand public lands, restore wildlife habitat, and create outdoor educational and recreational opportunities for Hoosiers.
About Fish and Wildlife Management in Indiana 
Fish and wildlife management and public access are funded by fishing and hunting license revenue and also through the Wildlife and Sport Fish Restoration Programs administered by the U.S. Fish & Wildlife Service. These programs collect excise taxes on sporting arms and ammunition, archery equipment, fishing equipment, and motor boat fuels. The money is distributed among state fish and wildlife agencies based on land size and the number of licensed anglers and hunters in each state. Find out more information about fish and wildlife management in Indiana at Wildlife.IN.gov.