Wild Bulletin:  The inside scoop on what's outside - January 2022
Ice fishing basics: safety
Even with the proper equipment, as last month's Wild Bulletin detailed, ice fishing can be dangerous. Here are a few tips to keep you safe on the ice so your winter excursion ends in delight rather than disaster.
Before heading out, watch the weather. Warm weather can cause ice to thaw and refreeze, leading to thinner ice. Check with your local bait shop on conditions and wear many layers, including a life jacket for additional warmth and safety. Consider keeping ice picks on you, which are helpful if you fall through. Always let someone know where you'll be and when you expect to return. When you can, use the buddy system.
During this activity, it's important to keep an eye on the ice and test it before stepping onto it. Drill a hole with your auger and measure the thickness - at least four inches of ice is recommended for walking. Water visibly flowing below the ice can be a sign of a weak spot, and wind, waterfowl and beavers can also keep areas of ice thin. Wear a life jacket on the ice for extra warmth and safety. Avoid large cracks and depressions. If you're with a buddy, walk in a single file line. Larger groups should spread out while walking and fishing.
After you're finished fishing, inform the person who knew your itinerary that you're done. Get dry and stay warm!
Plan to check out the February edition of Wild Bulletin for ice fishing techniques.
Larger walleye expected to improve survival
For the first time, Indiana DNR's hatchery system was successful in producing advanced walleye fingerlings (measuring 5-7 inches) in large numbers for annual fall stockings. Hatchery biologists at Fawn River State Fish Hatchery finished stocking these larger fish alongside walleye stock (measuring 6-8 inches) purchased from a private commercial fish supplier.
Predation is a huge factor limiting walleye stocking success. Smaller fingerlings (measuring 1-2 inches) were traditionally stocked in the spring and were often eaten before they could attain a mature 14 inches. Biologists adjusted their stocking schedule to allow more time for the fish to grow in the protected hatchery system, giving them time to outgrow predators prior to stocking.
Due to a lack of suitable spawning habitat, walleye are unable to maintain their numbers naturally in many of Indiana's lakes. Stockings are required to maintain many of the fisheries Indiana's anglers enjoy. 
Find out how many and where fish were stocked online.
DNR partners with USGS to study endangered cisco
One of the lesser-known Hoosier fish is cisco (Coregonus artedi), the only cold-water fish species native to Indiana's inland glacial lakes. As early as 1900, cisco could be found in 45 different glacial lakes in the northern portion of the state, but decades of cold-water habitat loss have reduced that to seven lakes. These slender, silver-colored fish spend much of the year 75 feet below the surface but in December, cooling water temperatures signal cisco migration to traditional spawning areas in shallower water.
This year, DNR fisheries biologists collected cisco from Crooked Lake's frigid waters in partnership with researchers from the U.S. Geological Survey (USGS). The collaborative project will gather data about cisco's tolerance to water temperature changes compared to the tolerance of more northern populations elsewhere in the Midwest. This project will provide a better understanding of possible variations in thermal tolerance between cisco populations, which will help managers select appropriate populations to collect cisco from for future restoration efforts.
Public hearing and comment deadline rescheduled
The Natural Resources Commission (NRC) has given preliminary adoption to the rule changes governing fishing tournament licenses/permits, trapping wild animals, and registering to be an organ donor through the DNR's license system. The deadline for submitting comments has been rescheduled to Friday, Jan. 21. For more information about the proposed changes, visit our website. 
Public comments can be submitted online to the NRC. Click on "Comment on this Rule" next to the "Fish & Wildlife and Law Enforcement Miscellaneous Rule Amendments."
The rescheduled virtual public hearing will occur on Thursday, Jan. 20 at 7 p.m. ET. Individuals may join the hearing in two ways:
To join by phone using only audio, please dial 1-240-454-0887. When prompted, enter access code 23034329797##.
To join using video, go to this website address, enter the meeting number (2303 432 9797), and password (5RPf753W4Zp). Please note: If you have never used WebEx, we suggest that you begin the process at least 10 minutes early because you will be prompted to download WebEx before joining the meeting.
Apply for light goose hunting opportunities
The statewide light goose conservation order is open from Feb. 14 through March 31. This is a continental effort to reduce snow and Ross's goose populations by allowing hunting for these species outside of the regular season. An Indiana hunting license, Indiana waterfowl stamp privilege, and a free permit are required to participate, though a federal duck stamp and HIP registration are not necessary. The free permit and additional information are available online.
Three shooting ranges' fees increasing
Beginning in January, the fee structures for shooting ranges located at Kingsbury, J.E. Roush Lake, and Deer Creek Fish & Wildlife Areas (FWA) are changing. New prices are reflected below:
Deer Creek FWA: Rifles and pistols will be $5/day or $2/day for youth under 18. An annual pass will not be available in 2022.
J.E. Roush Lake FWA: Rifles and pistols will be $5/day. An annual pass will be available for $100. Fees for youth under 18 will be $2/day. The shotgun range will remain $5/session.
Kingsbury FWA: Rifles and pistols will be $5/day. An annual pass will be available for $100. Fees for youth under 18 will be $2/day.
Hunting and trapping seasons ending soon
Multiple hunting and trapping seasons close within the next month:
Deer Reduction Zone: Ends Jan. 31
Raccoon & Opossum (hunting, trapping): Ends Jan. 31
Gray & Fox Squirrel: Ends Jan. 31
Quail (South of I-74): Ends Jan. 10
Mink, Muskrat, & Long-tailed Weasel: Ends Jan. 31
Red & Gray Fox (trapping): Ends Jan. 31
North Zone Duck: Ends Jan. 3
Central Zone Duck: Ends Jan. 9
South Zone Duck: Ends Jan. 23
Make sure you're prepared for late season hunting
Hunting seasons are winding down, but there are still opportunities for ducks, squirrels, and rabbits. Late season hunting brings new challenges. Animals are often more wary after surviving several months of hunting pressure. Additionally, freezing temperatures, snow, and ice can make for tough conditions for the hunter. Be sure to dress appropriately. Hunt using a layering system - a moisture-wicking base layer like merino wool against your skin, a mid-layer of fleece or a down jacket to insulate and hold body heat, and a weather-resistant shell for your outer layer to protect you from wind and precipitation. Take a look at hunting seasons dates before heading out for your first hunt in 2022.
Deer hunting season ends Jan. 31
Hunters can continue to pursue deer until Jan. 31 through the deer reduction zone season. Deer reduction zones give hunters opportunities to harvest deer in defined urban areas and along portions of Indiana highways in addition to the harvests allowed by statewide bag limits elsewhere in Indiana. A map of deer reduction zones is available online.
Please note: Areas located within deer reduction zones are not necessarily open to hunting. Hunters will need to obtain permission to hunt private property located within reduction zones or contact public property management to clarify if the property allows hunting or has certain restrictions.
Photo of gray fox courtesy of the U.S. Fish and Wildlife Service.
Report gray fox sightings in Indiana
Indiana DNR's gray fox research project is ongoing and we need your help reporting sightings of live gray foxes or roadkill. Gray foxes can be identified by their brown ears and legs. A red fox will have black legs and ears. Learn more about the project and report sightings online.
Anglers taking advantage of Pisgah Lake's icy surface for some quality fishing time.
Property Spotlight: Atterbury Fish & Wildlife Area
Atterbury Fish & Wildlife Area (FWA) is one of many DNR properties open to all. With approximately 5,000 acres, it is a popular destination for outdoorsmen and women located only a half hour from the southern portion of Indianapolis. Visitors can enjoy public lands open to hunting, fishing, wildlife watching, boating or kayaking, and an excellent shooting range. Check out our video to learn more about this special property.
Coyote activity increases in wintertime
Indiana residents are more likely to see coyotes during wintertime, but sightings are no cause for alarm. They become more active during winter as young coyotes leave their families to find a new home and begin breeding. Coyotes may look larger than they are due to their thick winter coats, but the average coyote weighs only 20-30 pounds.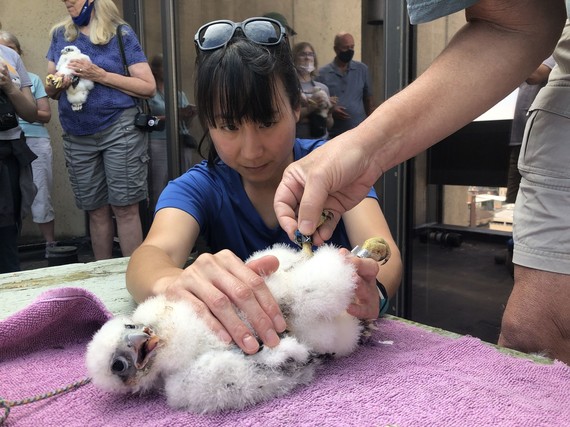 Biologists attach leg bands to peregrine falcon chicks each summer to track survival. 
40 years of nongame wildlife conservation
The Indiana Nongame Wildlife Fund turns 40 in 2022. DNR will celebrate by sharing 40 stories that highlight the accomplishments that were made possible through the generosity of donors, partners, and volunteers. Established in 1982, the dedicated fund supports nongame and endangered species conservation in Indiana. These wildlife species and their habitats are essential to our quality of life - from improving environmental health to providing opportunities to see beautiful and unique animals across the state. Don't miss upcoming stories - sign up to receive Nongame Wildlife Fund News.
NRC meets at Fort Harrison State Park
The Natural Resources Commission will conduct its regular bi-monthly meeting on Jan. 18 at Fort Harrison State Park. The agenda will be posted before the meeting.
Recent news releases
Stay safe, always assume you are on "thin ice"
Hunting, fishing, trapping license fees increase starting in 2022
Waterfowl workshop offered Jan. 25
2022 LARE application deadline is Jan. 15
Upcoming events
Find a listing of upcoming events on the DNR Calendar.
More
The Indiana Natural Resources Foundation celebrates and preserves Indiana's natural legacy by raising funds to support the Indiana Department of Natural Resources (DNR) and its programs. Together, we have helped expand public lands, restore wildlife habitat, and create outdoor educational and recreational opportunities for Hoosiers.
About Fish and Wildlife Management in Indiana 
Fish and wildlife management and public access are funded by fishing and hunting license revenue and also through the Wildlife and Sport Fish Restoration Programs administered by the U.S. Fish & Wildlife Service. These programs collect excise taxes on sporting arms and ammunition, archery equipment, fishing equipment, and motor boat fuels. The money is distributed among state fish and wildlife agencies based on land size and the number of licensed anglers and hunters in each state. Find out more information about fish and wildlife management in Indiana at Wildlife.IN.gov.