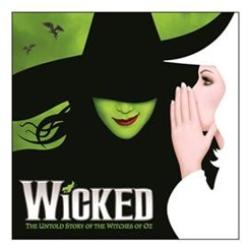 ***** Highly Recommended ****** After a long absence, Wicked is finally back in Chicago for a fourteen week run – and it's about time!   I loved this show so much I hired a limo and took my three sisters and a couple of my nieces to a performance.  Wicked has everything a successful Broadway musical needs; colorful costumes, fantastical sets, entertaining music, clever lyrics, great choreography and two fabulous female stars.  I love Wicked, a fantastical tale about a pair of unlikely best friends, and I think you will too.  4 BIG Spotlights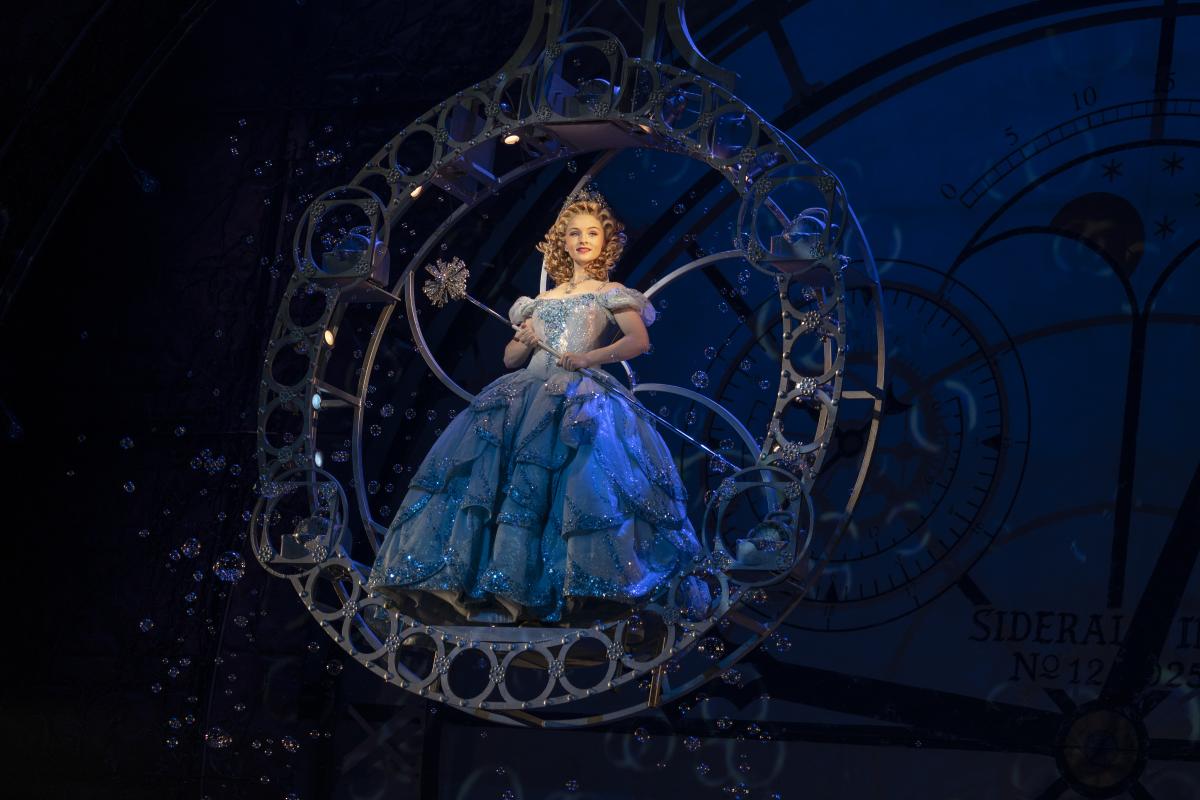 Wicked  (book by Winnie Holzman, Music and Lyrics by Stephen Schwartz) is based on Gregory Maguire's 1995 novel, Wicked: The Life and Times of the Wicked Witch of the West – which I read and enjoyed.  Maguire's view of Oz was completely different and much more cynical than that of L. Frank Baum.   
Maguire followed Wicked up with three more books, Son of a Witch (about Elphaba's son, Liir), A Lion Among Men, (about the cowardly lion – and the discrimination against sentient animals first mentioned in Wicked), and Out of Oz (focused on Liir's daughter, Rain). 
Two girls couldn't be more different than smart, prickly, green Elphaba (Lissa Deguzman) and perky, beautiful, blond Glinda (Jennafer Newberry) who met their first day at Shiz (kind of every university.  It's clear that Elphaba is only allowed to be there to help her more favored but wheel-chair bound sister, Nessarose (Kimberley Immanuel), who was gifted a pair of silver slippers.  Glinda, who pronounces her name Ga-Linda, makes friends instantly. 
They meet their first day at Shiz and loathe each other on sight.  After Elphaba demonstrated her magical ability, Madame Morrible (Natalie Venetia Belcon) assigned them to the same room.  Madame Morrible gives Elphaba the Grimmerie, a book full of incantations written in a strange language.  Elphaba pages through it whenever she needs to perform a spell. 
When Glinda decides she likes Elphaba, she gifts her a truly ugly pointed hat her grandmother sent her.  When they're alone in their room, Glinda announces that she's going to teach Elphie how to be Popular.  Newberry gets a chance to demonstrate her comedic chops with the perkiest song in the show.  
At some kind of party/dance, Glinda, wearing a flouncy pink dress, meets Fiyero (Jordan Litz), a handsome new student at Shiz.  Although Boq (Andy Richardson at the opening performance, Jake Pederson otherwise), a Munchkin, is her devoted swain, she pursues Fiyero, telling Elphie that she's going to marry him. 
Doctor Dillamond (Michael Genet) is the last sentient animal allowed to lecture at Shiz – due to a systematic campaign against them led by The Wonderful Wizard of Oz.  Elphaba is determined to stop this discrimination.  When she's invited to meet the Wizard (John Bolton), she's determined to raise the issue. 
At this meeting, the Wizard admits that he started the campaign against sentient animals because 'people need an enemy'.  The Wizard orders Elphaba's arrest, but she gets away using her broom and the Grimmerie.  The first act ends with the most inspiring song of the whole show, Defying Gravity. 
Wicked is a big old-fashioned musical, with some interesting twists.  Elphaba flies a broom because as she tells Glinda, not everyone can do that bubble thing!   By the way, although an anonymous little girl's house does land on Nessarose, this is not Dorothy's Oz – but it does answer some questions.  Questions like how did the lion became a coward?  Who was the tin man?  What made Glinda 'good' and Elphaba 'wicked'?  And what about that scarecrow?
Note: Guests are encouraged to wear masks while inside the building. 
Wicked runs through December 4th at the Nederlander Theatre, 24 W. Randolph Street, Chicago.  Running time is 2 hours, 45 minutes, with an intermission.  
Performances are Tuesdays, Thursdays & Fridays at 7:30 pm; Wednesdays at 2:00 & 7:30 pm; Saturdays at 2:00 & 8:00 pm; Sundays at 2:00 pm.  There will be nor performances on Thursday, November 24th, Thanksgiving Day.  There will be an additional performance on Friday, November 25th at 2:00 pm. 
Tickets range from $59 - $184.00.  FYI (800) 775-2000, www.ticketmaster.com, all Ticketmaster retail locations and www.BroadwayInChicago.com.