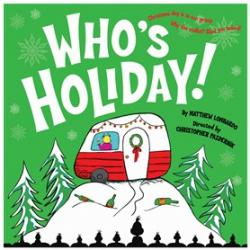 **** Recommended **** If you're looking for some adults-only holiday cheer, then I have the play for you!  Who's Holiday, a one-woman show starring Veronica Garza as 40-something Cindy Lou Who.  Garza had us in stitches from start to finish.  Who's Holiday is raucous, raunchy and absolutely hilarious.  4 Spotlights
As you're seated in the theater, you'll notice the set – a teeny tiny trailer decked out for Christmas with lights and decorations.  At one end, there's a teeny tiny kitchen, a table and chair.  You'll notice the shelf above the stove is filled with booze.  Opposite, there's a built-in bench, a TV tray and Christmas tree with a door in the middle.  Tacky is an understatement! 
The Cindy Lou Who who burst through the door wearing a Santa-esque fur-trimmed red cape is not the sweet little thing we all remember meeting that green guy.  This Cindy Lou lit a cigarette and poured herself a strong drink before she took off her cape. 
By the way, there was a lot going on with her hair – poufs here and curls there, tiny braids and ribbon, fringe around her face and a curlicue on top. 
Cindy Lou Who shared that she was having a party and needed to get ready.  She had a dark red, Christmas print dress with a bright red belt worn over black print leggings.  She took off her boots and put sparkly, strappy red heels over her white ankle socks with lacy edges. 
Cindy Lou Who shared all the intimate details of her life.  Her fascination with the furry green guy started when she woke up in the middle of his Christmas heist.  I don't want to spoil Cindy Lou's story for you, so I won't tell you anything about her later relationship with him, except to say it's complicated. 
As she chatted with the audience – there's no fourth wall here – she had a lot to say, a lot of it profane (dropping F-bombs frequently) but always funny.  At one point, she poured a drink for a guy in the audience.  She asked his name, he answered Matt, she asked another question, didn't like the answer and picked on him for the rest of the evening. 
The phone rang several times, each time it was someone (often characters from the Seuss books) calling to cancel.  Each phone call meant she poured another drink.  At one point, she pulled a foil lined pan of pigs-in-the-blanket from the refrigerator and stuck it in the oven.  When it was done, she shared with the audience – allowing one woman to select her own, throwing them to/at others. 
The New York opening of Who's Holiday was delayed for almost a year while playwright Matthew Lombardo was in a legal battle with Dr. Seuss Enterprises.  He won in the end when the court ruled his depiction of an adult Cindy Lou Who living in a trailer was "fair use." 
Note: Guests must show proof of vaccination with photo ID before entering the theater.  Guests are required to wear masks while inside the building.
Who's Holiday runs through December 26th at Theater Wit, 1229 W. Belmont Avenue, Chicago.  Parking is available in Theater Wit's lot across the street.  Running time is 65 minutes, no intermission.  
Performances are Thursday, December 9 at 7 p.m.; Friday, December 10 at 7 p.m. and 9 p.m.; Sunday, December 12 at 3 p.m. and 7 p.m.; Wednesday, December 15 at 7 p.m.; Thursday, December 16 at 7 p.m.; Friday, December 17 at 7 p.m. and 9 p.m.; Saturday, December 18 at 3 p.m. and 9 p.m.; Sunday, December 19 at 7 p.m.; Tuesday, December 21 at 7 p.m.; Wednesday, December 22 at 7 p.m., Thursday, December 23 at 7 p.m. and 9 p.m.; and Sunday, December 26 at 7 p.m. and 9 p.m. 
Tickets range from $20-$35.  FYI (773) 975-8150 or www.theaterwit.org.