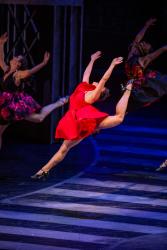 You will rarely hear a better sung version of this classic work. All of the principal players were cast from an exhaustive nationwide search for the most accomplished singing actors. What an exhilarating thrill it is to hear Leonard Bernstein's famous score, which is made up of achingly beautiful ballads mixed with some Latin-influenced beats and be-bop jazz overtones, performed by a 43-member orchestra. The sound ringing from the orchestra pit, under conductor James Lowe, is as big and bold as this entire production itself.
Most people are familiar with the narrative of "West Side Story." Rival street gangs the Jets (made up of "native" New Yorkers) clash with the Sharks, a group of Puerto Ricans, on the gritty streets of Manhattan.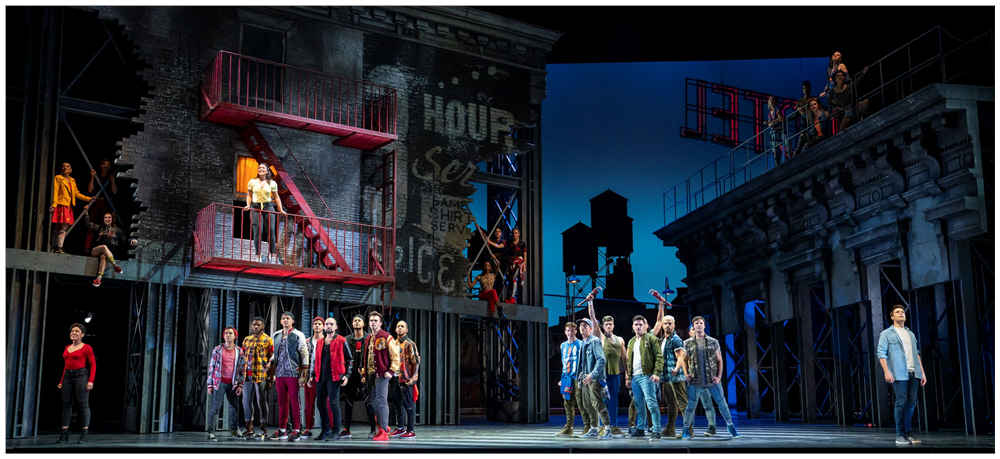 Young lovers Tony (Corey Cott) and Maria (Mikaela Bennett) are each from opposing sides and their illicit relationship soon ends in tragedy.
Cott has a truly magnificent vocal range and often reaches sublime heavenly notes with a clear and effortless falsetto. His version of "Maria" is serene and deservedly received a warm and sustained ovation from the audience. Cott adds plenty of color and texture to this song and, to quote one of Stephen Sondheim's lyrics from it, when he sings it softly "it's almost like praying."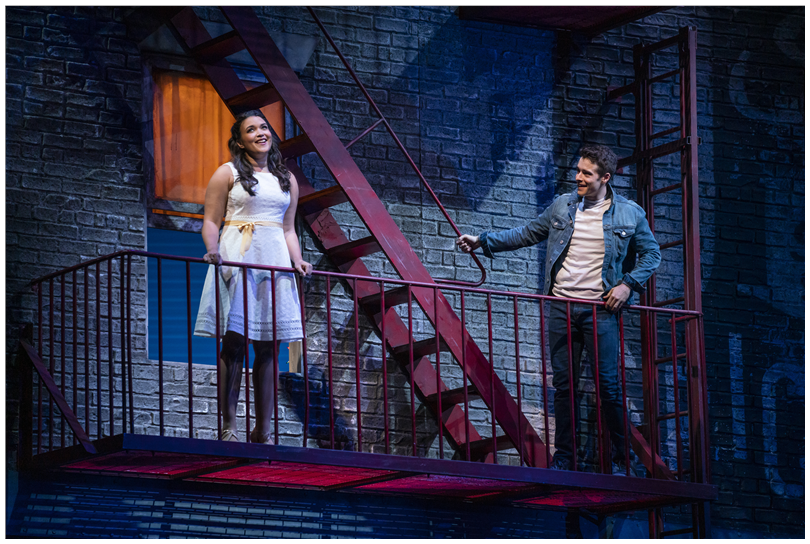 Bennett as Maria is a revelation. In a much more modern approach to this role, she portrays not only the youthful naiveté of someone experiencing the rush of their first love but also displays a steely and spirited resourcefulness that makes her feel grounded and certain of herself, no matter what challenges life may throw her way. Her voice is strong and gorgeous throughout the entire show, but in her Act Two musical number "I Have a Love" you can hear anguish and heartbreak in her vocal delivery. Truly stunning.
Amanda Castro clearly relishes her interpretation of Anita. She is both fiery and exuberant as she leads her fellow Shark Girls in the intoxicating "America" but she is direct and authoritative as she finds the jarring danger that punctuates her "A Boy Like That."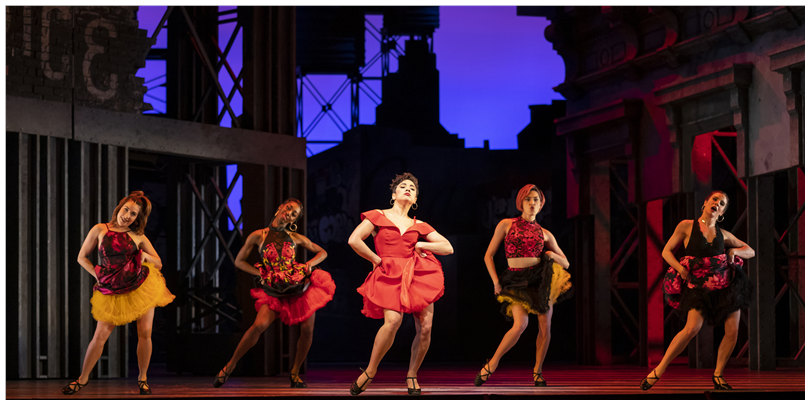 Brett Thiele is marvelous as Riff. He leads the Jets in a very stylized and lively "Cool," complete with plenty of finger snapping aloofness. Manuel Stark Santos is memorable in the more limited role of Bernardo.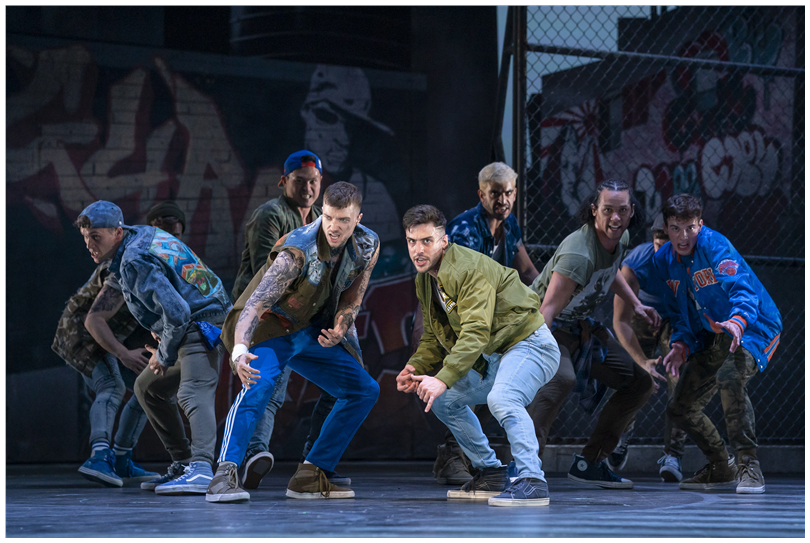 Perhaps the greatest strength of this particular "West Side Story" is the dancing. Julio Monge has painstakingly recreated all of Jerome Robbins' original and iconic choreography and to witness it executed by a supremely talented ensemble of dancers upon Lyric's massive stage literally breathes new life into all of that glorious movement. The joyous and impassioned athleticism of the dancers is a wonder to behold. It can only be compared to a bird that has been freed from its cage as it soars ever higher into the sky. As the company dances the "Somewhere" dream sequence, Robbins' choreography slightly mimics not only Agnes de Mille but also has some influence of the great George Balanchine in the balletic lifts.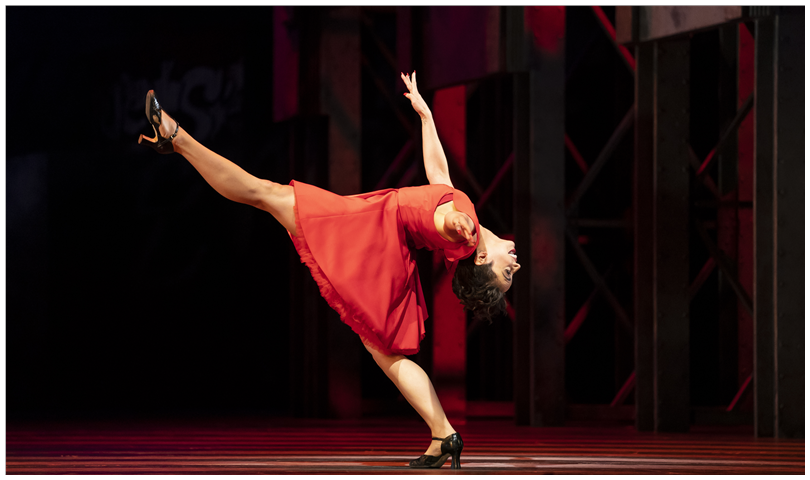 This "West Side Story" just seems to be a perfect fit for Lyric Opera of Chicago. In the very capable hands of director Zambello (whose new-to-Chicago production of "Luisa Miller" will grace Lyric's stage in October) this essential musical treasure completely shines. When you get right down to it, lyrically and conceptually, no other American musical is as operatic as "West Side Story."
_______________________________________________________________________________
"West Side Story" continues through June 2nd at the Lyric Opera House, 20 N. Wacker, Chicago.  Best parking option: The Poetry Garage, 201 West Madison, $12 in advance at www.thepoetrygarage.com.  Valet parking is also available - $30. 
Running time is 2 hours and 30 minutes with one intermission.  Performances are Tuesday, Thursday and Friday at 7:00; Wednesday and Saturday at 1:30 and 7:00 pm; Sundays at 1:30 pm.  Tickets start at $29.  FYI (312) 827-5600 or www.lyricopera.org/Cendrillon.