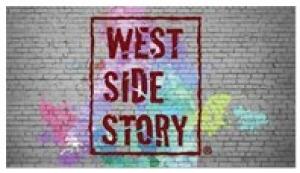 **** Recommended **** Marriott's energetic production of West Side Story is an amazing dance spectacular – and Marriott's in-the-round layout allows the audience to see the dance moves up close and personal – as they say in sports.  Combine Leonard Bernstein's glorious music and Steven Sondheim's amazing lyrics, and you have one of the best musicals ever written.  Although it premiered more than fifty years ago, West Side Story continues to be relevant.  The star-crossed lovers, Tony (Jake David Smith) and Maria (Lauren Marie Median), just reach out and grab at your heart strings.  In fact, I was entranced whenever they sang together!   I had tears in my eye at the end, so I give West Side Story 4 Spotlights.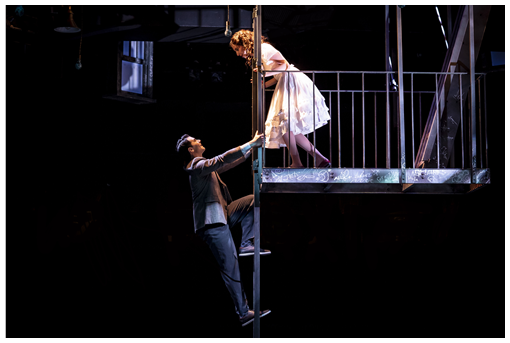 Bernstein's sophisticated score remains one of the most memorable ever written, with songs like Tonight, Maria, Somewhere and One Hand, One Heart.  Steven Sondheim made his Broadway debut, writing the lyrics.  You can hear hints of his future hits with songs like I Feel Pretty, America, Cool and Gee, Officer Krupke.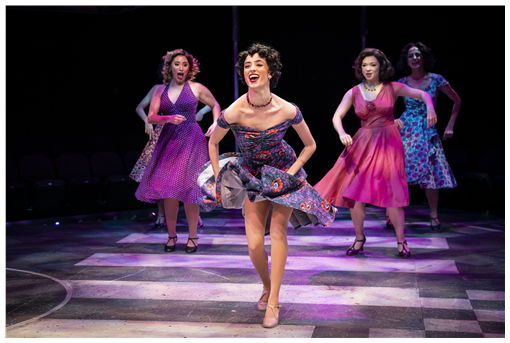 In the early 1950s, two teenage street gangs, the Jets, who are white, and the Sharks, who are Puerto Rican, are fighting for their patch of turf in New York's upper West Side (before Lincoln Center gentrified the neighborhood).  Riff (Drew Redington) leads the Jets, Bernardo (Gary Cooper) leads the Sharks.  Since the Jets were there first, they're not going to yield an inch.  In kind of a weird way, the Jets are egged on by Lt. Schrank (Lance Baker) and Officer Krupke (Bret Tuomi), who have their own prejudices against the Puerto Ricans.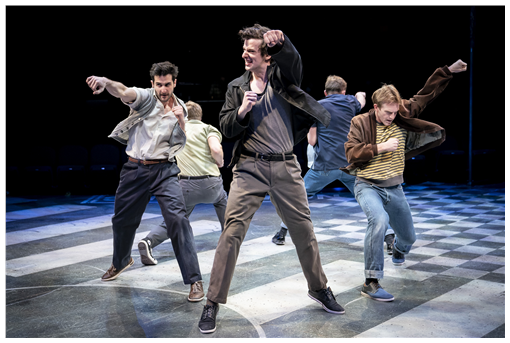 Maria, Bernardo's younger sister, who just arrived in New York from Puerto Rico, has a job sewing at a wedding shop.  His girlfriend, Anita (Vanessa Aurora Sierra), helps her finish a new dress to wear to a dance that night.  At the dance, the Jets and their girlfriends stay on one side of the room, the Sharks and their girlfriends on the other.  It's magic when Tony and Maria spot each other across a crowded dance floor.  After the dance, Tony finds Maria out on the fire escape and they share their first kiss.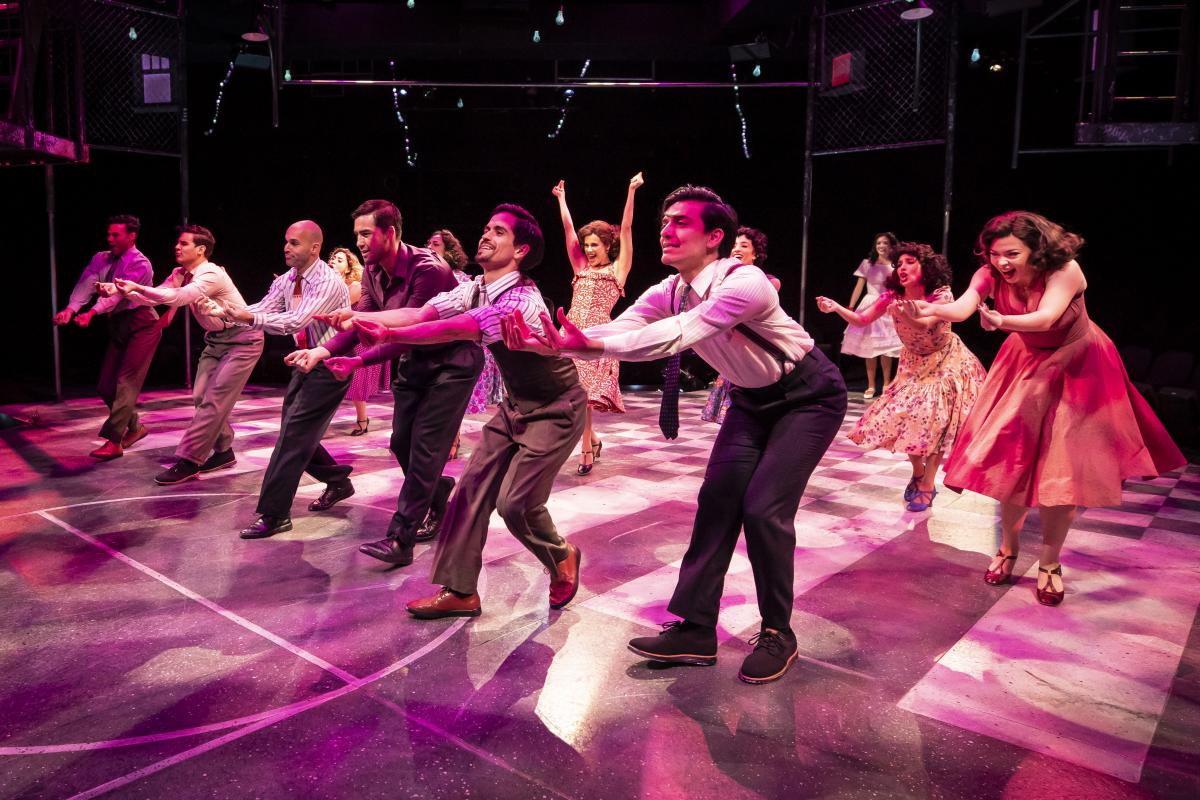 Although the Jets hang out in his drugstore, Doc (Matt DeCaro) tries to maintain neutrality, so it is the location chosen for the meeting between Riff and Bernardo. Once the time and place is chosen for the rumble, the two gangs prepare.  During the fight, Bernardo accidentally kills Riff, so Tony kills him.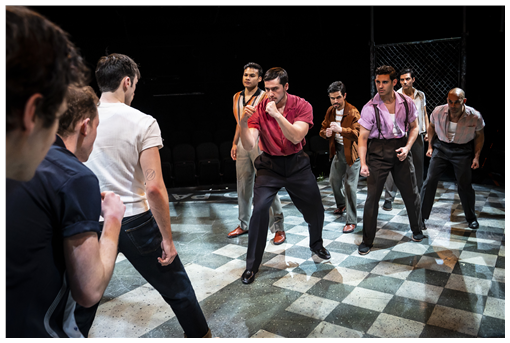 If you're thinking that this whole thing sounds a lot like Romeo and Juliet, you'd be right.  Just like Romeo and Juliet, Tony and Maria belong to different sides of the feud.  In spite of that, they fall in love and pledge themselves to each other.  When Tony get a message that Chino (Marco Antonio Tzunox) has killed Maria, he goes looking for him.  Then he sees Maria, but just as they run to each other, tragedy strikes.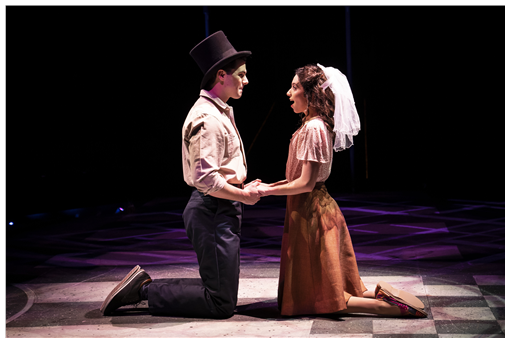 Back to the dancing. West Side Story is a spectacular and very balletic dance show, too, with original choreography by Jerome Robbins.  It looked to me as though Alex Sanchez kept the choreography in line with Robbins' vision.  Kudos to Victor Malana Maog on a wonderful production.  
Note: Guests must show proof of vaccination before entering the theater.  Guests are required to wear masks while inside the building. 
West Side Story runs through March 27th at the Marriott Theatre, 10 Marriot Drive, Lincolnshire.  Parking is free; valet parking is also available.  Running time is 2 hours, 20 minutes, with an intermission.  
Performances are Wednesdays at 1:00 and 7:30 pm; Thursdays at 7:30 pm; Fridays at 8:00 pm; Saturdays at 4:00 and 8:00 pm; Sundays at 1:00 and 5:00 pm with select Thursday 1:00 pm matinees.  There are a limited number of dinner-theatre packages available on Wednesdays and Thursdays.  Tickets range from $50-$60.  FYI (847) 634-0200, www.ticketmaster.com or www.marriotttheatre.com.