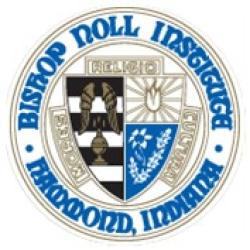 Bishop Noll has hired Ryan Julian as its new Director of Advancement for the 2022-23 school year. Ryan Julian will be taking over the department from Mary Ellen O'Neill, who has retired from this position.
Julian has been a part of Bishop Noll in a teaching and coaching capacity for the previous six years. He welcomes this new role with 11 years of educational experience. During his time at Noll he served as the department chair of the Social Studies Department and was head varsity baseball coach from 2017- 2022. Julian is a graduate of Mount Carmel High School in Chicago along with earning degrees from Loras College '11 and a M.A. from Valparaiso University. Julian is excited to get started building relationships with the many friends and family of BNI and, of course, the large alumni community. 
"Coming from a high school Mount Carmel with a rich alumni tradition, I realized early in my educational career that what makes Catholic education stand out amongst its competitors is the family-like relationships that go far beyond the high school years and the physical school building. Being a part of BNI these last six years, I have witnessed first hand the special atmosphere created at 1519 Hoffman," he said. 
Mary Ellen O'Neill retires as Director of Advancement
Mary Ellen O'Neill has served BNI as Director of Advancement for the past 11 years. In that time, she has grown BNI's presence through fundraising and communication efforts with alumni and the surrounding community. 
"Eleven years ago Bishop Noll took a big leap of faith when they hired me as the Director of Advancement. The saying is true – time flies when you're having fun! I am now looking forward to a relaxing retirement! How lucky I have been to have had the opportunity to be part of an organization that has had such a profound effect on the Region for the past 101 years! Our 21,000 alumni stand out for their professional accomplishments, contributions to their communities and beyond," she said.
"I have had the privilege to meet many of you during my time here. I am deeply grateful for your commitment to Bishop Noll Institute, our mission and our amazing students. Your financial support, volunteer time and many other kindnesses have enabled us to grow our student body, offer financial support to our students and make significant improvements to our school building."
O'Neill previously worked for Marshall Field & Co. in Chicago for 14 years as both a buyer as well as a human resources director.  A graduate of Mundelein College (now Loyola University), O'Neill has displayed a lifetime of commitment to Catholic education.
"My parents were both educators who provided all five of their children 16 years of a Catholic education," O'Neill said. Her husband, Kevin O'Neill, is a Bishop Noll graduate (Class of 1976). Their children are also alumni - Brendan (2010) and Eileen (2012).
"I leave this office in the capable hands of Mr. Ryan Julian. Ryan is no stranger to Bishop Noll. He has been a social studies teacher here at BNI for the past seven years, and has also served as the head varsity baseball coach.  I will continue to work in a consulting role one day a week for the next several months."
Julian said, "Mrs. O'Neil has been a blessing helping me transition into this new role at BNI. She has helped BNI in so many ways, often without public recognition and I hope I can come close to matching her passion and drive for the future success of BNI in the 21st century."