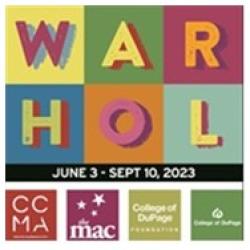 Today, the Cleve Carney Museum of Art (CCMA) at the McAninch Arts Center (MAC) on the College of DuPage (COD) campus announced a wide variety of free programming in conjunction with the upcoming WARHOL exhibition taking place June 3 – Sept. 10. The WARHOL exhibition ticket grants free access to more than a dozen free on-site lectures and discussions by internationally renowned experts and authors, as well as COD Faculty Members. Free concerts, special events and a Warhol birthday celebration round out the engagement offerings that dive deeper into Warhol's life and legacy.  
The programming has been developed to support the exhibition, which unfolds across nearly 11,000 square-feet of exhibition space. In total, more than 200 original Warhol works will be on display, including the 94 works from "Andy Warhol Portfolios: A Life in Pop | Works from the Bank of America Collection" on loan through Bank of America's Art in our Communities® program, and a collection of 150 Warhol photographs and original works from the College of DuPage's Permanent Art Collection. Visitors will experience Andy Warhol's life through interactive exhibits, recreations and videos created exclusively for this exhibition including a historical exhibit, Kids Pop Art Print Factory, Studio 54 Experience, Central Park-inspired outdoor café and Silver Clouds installation. 
Featured in the series of lectures and discussions will be Blake Gopnik, author of the definitive biography Warhol; Joseph Freeman, Warhol's former assistant; Thomas Kiedrowski, author of Andy Warhol's New York; former Chief Curator of the Andy Warhol Museum, Jessica Beck; and former Andy Warhol Museum Director Eric Shiner. Each expertly delves into subjects related to Warhol's character, upbringing and personal struggles that influenced his views and artwork. These lectures are free to anyone who has purchased a ticket to the exhibition (same date admission ticket is not required; reservations strongly recommended). Without a ticket, admission is $10. 
Local voices from the College of DuPage community will complement these lectures with free presentations. Exhibition curator Justin Witte will discuss Warhol as the ultimate outsider and the impact that had on his work. COD Film Chair Professor Brian Brems and Creative Writing Certificate Chair Trina Sotirakopulos lead a discussion about Valerie Solanas and her motivations for her assassination attempt on Warhol, COD's David Ouelette will discuss Art and Biodiversity since Warhol, drawing inspiration from Warhol's "Endangered Species" series, and COD's Julia diLiberti will contextualize Warhol's wildly familiar Soup Can series. 
"The are so many interesting facets of Warhol's life and we look forward to having special guests and staff, who have thoroughly studied these topics, share their insights," said Executive Director of the MAC, Diana Martinez, who booked programming. "We hope that by exploring these topics in depth, it will provide more context to Warhol's artwork and to the thoughtfulness behind the curation of the exhibit and why we chose to highlight certain aspects," said Exhibit Curator and CCMA Curator Justin Witte.  
In addition to the lectures and discussions, the MAC's Lakeside Pavilion will host two free Warhol-inspired concerts: Pride Anthems Concert on June 24 and a concert on July 30 by the MAC's professional orchestra in residence, New Philharmonic, under the baton of Maestro Kirk Muspratt, which includes a performance of the fifth movement "Passacaglia in Primary Colors" from Michael Daugherty's composition "15: Symphonic Fantasy on the Art of Andy Warhol," along with music from albums featuring Warhol's cover art and some of Warhol's personal favorites.  
Other special events include a ticketed wine and print workshop led by COD Professor Charles Boone (Aug. 3), a free Andy Warhol's 95th Disco Birthday Bash! (Aug. 6) and a meet and greet with children's author and illustrator Mike Venezia (Aug. 9).  
The full list of events and additional details can be found at the end of this release. For more information, event updates and reservations visit Warhol2023.org. 
WARHOL featuring "Andy Warhol Portfolios: A Life in Pop | Works from the Bank of America Collection" is presented by Bank of America and made possible through support from Ball Horticultural Company, Bjarne R. Ullsvik, Wight & Company, DuPage Foundation; JCS Arts, Health and Education Fund of the DuPage Foundation, Clayco and the College of DuPage Foundation.  
Exhibition and Related Programming Tickets
WARHOL featuring "Andy Warhol Portfolios: A Life in Pop | Works from the Bank of America Collection" is on display June 3 – Sept. 10, 2023 at the Cleve Carney Museum of Art, 425 Fawell Blvd. Ticket prices range from $25 - $40. Add-ons and VIP packages are available.  
All programming in conjunction with The WARHOL Exhibition are free to attend with proof of a ticket purchase to the exhibition. Tickets for the lectures without exhibition admittance are $10 and tickets to the Wine and Print Like Andy Warhol Workshop are $50. Reservations for free events are recommended.
Tickets to the exhibition and related programming may be purchased online at Warhol2023.org  or by calling 630.942.4000.  
About the CCMA  
The late Cleve Carney provided a significant legacy gift to establish the Cleve Carney Art Gallery at College of DuPage. The gallery opened in February 2014 with its inaugural exhibition, "Selections from Cleve Carney's Art Collection." In fall 2020, the gallery was expanded to a 2,500 square-foot museum. The Cleve Carney Museum of Art opened June 2021 with the highly anticipated "Frida Kahlo: Timeless" exhibition and hosts exhibitions year-round.
Funding for CCMA is provided by the Cleve Carney Endowment Fund, which supports vital programming including artist engagement opportunities for community members and students, gallery exhibitions, artist commissions, new acquisitions and other teaching and learning tools that foster cultural enrichment in our community. More information can be found at TheCCMA.org and on social media @CleveCarneyMuseumofArt.  
About the MAC  
The McAninch Arts Center at College of DuPage is located at 425 Fawell Blvd., 25 miles west of Chicago near I-88 and I-355. It houses three indoor performance spaces (the 780-seat proscenium Belushi Performance Hall; the 186-seat soft-thrust Playhouse Theatre; and the versatile black box Studio Theatre), the outdoor Lakeside Pavilion, plus the Cleve Carney Museum of Art and classrooms for the college's academic programming. The MAC has presented theater, music, dance and visual art to more than 1.5 million people since its opening in 1986 and typically welcomes more than 100,000 patrons from the greater Chicago area to more than 230 performances each season.  
The mission of the MAC is to foster enlightened educational and performance opportunities, which encourage artistic expression, establish a lasting relationship between people and art, and enrich the cultural vitality of the community. Visit AtTheMAC.org or facebook.com/AtTheMAC for more information.
About the College of DuPage Foundation
Established as a 501(c)(3) not-for-profit charitable organization in 1967, the College of DuPage Foundation raises monetary and in-kind gifts to increase access to education and to enhance cultural opportunities for the surrounding community. For more information about the College of DuPage Foundation, visit https://foundation.cod.edu or call 630.942.2698. 
WARHOL EXHIBITION PROGRAMMING
The following events all take place at the McAninch Arts Center, 425 Fawell Blvd. All events are to take place at the Belushi Performance Hall unless otherwise noted.  For tickets or more information visit AtTheMAC.org. Reservations are recommended.
LECTURES/DISCUSSIONS/TALKS 
LECTURE: Blake Gopnik on "Andy Warhol: What Makes Him a Great Artist?"
Thursday, July 20 at 7 p.m.
Tickets: $10 or free with exhibition ticket stub
 
As the author of Warhol, Blake Gopnik has written the definitive biography of the pop artist, providing the clearest documentation to date on an artist who constantly avoided definition. In this lecture, Gopnik provides and in-depth look at what makes Warhol a great artist from historical, social and artistic perspectives.
Gopnik holds a PhD in art history from Oxford University. He has been the staff critic at the Globe and Mail, the Washington Post and Newsweek, and critic-at-large for ArtInfo and Artnet News. He is also a regular contributor to the New York Times and shares his Warhol findings at Warholiana.com. 
LECTURE: Jessica Beck on "Politics and Friendship in Warhol and Basquiat's Collaborations" 
Thursday, August 10 at 7 p.m.
Tickets: $10 or free with exhibition ticket stub
 
Referencing her published essays on Basquiat and Warhol, former Andy Warhol Museum Chief Curator Jessica Beck will speak about the artists' collaborations created in the 1980s. While Basquiat and Warhol are often discussed according to their differences, Beck will demonstrate just how much the two artists shared---friendship, a mutual interest in anatomy, language, and an engagement with the political climate of the 1980s.  
Their partnership impacted both of their careers, but through a close examination of the details of their paintings and sculptures, we can see that it was Basquiat who possessed the most influence and helped reinvigorate Warhol's late career. 
LECTURE: Eric Shiner on "Who was Andy Warhol?"
Thursday, July 27 at 7 p.m.
Tickets: $10 or free with exhibition ticket stub
 
Over the course of a prominent and prolific career, Andy Warhol practiced his religious faith, which has been largely excluded in historic accounts. Warhol also faced challenges as a gay man and a believing Christian, whose identity in American society was made complicated. Eric Shiner will provide insight into who Andy Warhol really was, from humble beginnings as a first-generation immigrant to a superstar icon.  
Shiner served as director of the Warhol Museum in Pittsburgh from 2010 to 2016 and was the team leader on The Warhol Museum's major Warhol retrospective that traveled to Singapore, Hong Kong, Shanghai, Beijing and Tokyo between 2012 and 2014.  
DISCUSSION: Joseph Freeman "Behind the Scenes"
Sunday, Aug. 6 at 2 p.m.
Tickets: $10 or free with ticket stub
 
Joseph Freeman worked alongside Warhol for several years and will share an inside perspective and first-hand accounts of who this legendary artist indeed was. Freeman will take us behind the scenes into the world of Warhol's famous Warhol studio, The Silver Factory, and into Warhol's home life.  
 CURATOR TALK:  Justin Witte on Andy Warhol as the Ultimate Outsider  
Thursday, Aug. 10 at 7p.m.
Free
 
Justin Witte, Curator of the Cleve Carney Museum of Art, will discuss how Andy Warhol's experience as an outsider propelled him to become one of the most famous American artists to have lived. This talk will focus on his early work as an illustrator through his later work that has undergone major critical reevaluation. Guests will learn how sometimes the best way to be the center of it all is to be an outsider.
LECTURE: Julia diLiberti, Humanities Faculty "Soup Can Can't: Warhol and the Unraveling of Art" 
Thursday, Aug. 17 at 7 p.m.
Free
Warhol's wildly familiar Soup Can series will be contextualized by COD Humanities Department Faculty Member, Julia diLiberti. Artist Marcel Duchamp's work will be recognized, as her work paved the way for Warhol, along with women artists practicing Pop Art in conjunction with Warhol. 
DISCUSSION: Who was the Woman that Shot Andy Warhol? A Discussion on Valarie Solanas
Thursday, Aug. 24 at 7 p.m.
Free
 
Valarie Solanas was the controversial author that shot Andy Warhol as an assassination attempt at The Factory in 1968, forever altering the course of the artist's career. Film Chair Professor Brian Brems and Creative Writing Certificate Chair Trina Sotirakopulos will lead this discussion on various representations of Solanas in popular culture, including in the novel Valarie by Sara Stridsberg, the film I Shot Andy Warhol (1996), and the song I Believe, by Lou Reed.
 
DISCUSSION: Author Thomas Kiedrowski on Andy Warhol's New York
Moderated by MAC Director Diana Martinez
Thursday, Aug. 31 at 7p.m.
Tickets: $10 or free with exhibition ticket stub
 
Kiedrowski has led tours to Warhol-centric locations in Manhattan for over a decade. The author of Andy Warhol's New York City will engage in a lively conversation regarding Andy Warhol's fascinating life and monumental career centered around "The Big Apple" and how Warhol helped build the mystique around the city that never sleeps.  
LECTURE: David Ouelette Vanishing Species: Art and Biodiversity Since Warhol
Thursday, Sept. 7 at 7p.m.
Free  
 
COD Art History Professor David Ouellette explores the themes of animals in Warhol's work, referencing the artists' "Endangered Species" series.   
CONCERTS/PARTIES/WORKSHOPS
 
CONCERT: PRIDE ANTHEMS Concert
Lakeside Pavilion   
Saturday, June 24 at 7:30 p.m.
(Lawn opens 1 hour prior to concert for seating)
Free  
Pride Month is celebrated through a musical journey through the past 50 years of Pride anthems. As Warhol is known to have battled with his sexual identity, the story of the fight for LGBTQ+ equality and acceptance is linked to this music, which evokes the struggles, heartache, and liberation of queer lives then and now. PRIDE ANTHEMS takes the audience from disco to present day hits by Donna Summer, Queen, George Michael, Erasure, Madonna, Lady Gaga and much more.  
PRIDE ANTHEMS is produced in partnership with Pride Live and Joe's Pub. A portion of the proceeds for PRIDE ANTHEMS will be donated to Pride Live and the Stonewall National Monument Visitors Center (SNMVC) which will open in June 2024.  
CONCERT:  New Philharmonic: Andy Warhol – A Concert of Musical Inspirations  
Lakeside Pavilion
Sunday, July 30 at 6 p.m.
(Lawn opens 1 hour prior to concert for seating)
Free
 
New Philharmonic, under the baton of Maestro Kirk Muspratt, performs the fifth movement, "Passacaglia in Primary Colors" from Michael Daugherty's composition "15: Symphonic Fantasy on the Art of Andy Warhol" which premiered in Pittsburgh in February of 2020 as the touchstone for this Lakeside concert.
 
Vinyl album cover art was an outlet for Warhol and spanned a wide array of musical genres and artists including the Boston Pops, Liza Minelli, Tchaikovsky's "Swan Lake", Artie Shaw, and waltzes by Johann Strauss Jr. New Philharmonic will include selections from several of these albums including "Du and Du" waltz and "Swan Lake." 
MEET AND GREET: Children's Illustrator and Author, Mike Venezia  
Saturday, August 9 from 10 a.m.-12 p.m.
Free
 
Mike Venezia, Author and Illustrator of over 150 books, including "Getting to Know the World's Greatest Artist" series, will greet visitors in the exhibition's Kids Pop Art Print Factory to sign autographs and demonstrate a Warhol-style pop art project for the young audience to participate in.  
WORKSHOP: Wine and Print Like Andy Warhol
COD Print Lab
Thursday, Aug. 3 from 7 - 10 p.m.
Tickets: $50. Attendance limited to 12 attendees.  
 
COD Professor of Printmaking Charles Boone will host a group of 12 in the print lab to learn how to design and print their own Andy Warhol style silk screen print. During the course of the evening, while the first part of the project is drying, Professor Boone will share the fundamentals and history of printmaking and Warhol's impact on the artform. 
PARTY: Andy Warhol's 95th Disco Birthday Bash!
Lakeside Pavilion
Sunday, Aug. 6 from 11 a.m. – 2 p.m.
Free
 
Guests are invited to celebrate Andy Warhol's Birthday in the exhibition's outdoor "Central Park" located on the MAC patio. There will be an Andy Warhol look-a-like for guests to get a polaroid photo taken with, a live DJ spinning disco hits, a printmaking projects for kids, an ice cream vendor and more.