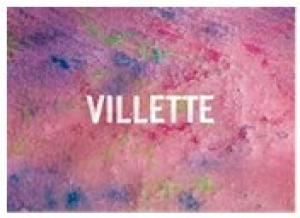 **** Recommended **** Lookingglass Theatre's production of Villette, Sara Gmitter's new adaptation of Charlotte Brontë's 1853 novel, is a small, rather intimate story about a young woman without a family or means (money) must find a way to support herself when few opportunities were available to women.  The enigmatic and self-contained Lucy Snowe (Mi Kang), a keen observer of human foibles, rarely revealed anything about herself.   I remember saying that Mi Kang gave a tour de force performance in TimeLine's production of The Chinese Lady last year.  It's great to see her shine in a completely different kind of role.  3 ½ Spotlights
By the way, I love going to Lookingglass Theatre!  You never know what to expect.  It's like going to a different theater for every show.  The most flexible theater space in the city has a different set-up for every show, as everything from stage location to seating changes for every production.  I can remember sitting in baseball bleachers for one play, and rough, wooden Chautauqua pews for another.  They've returned to tiered theater seating for Villette.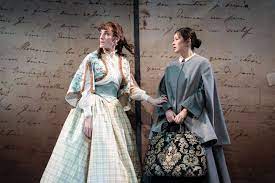 At any rate, as we were waiting for the play to begin, there was a voice behind us. Slowly walking down, the stairs, a young woman dressed in gray, introduced herself s Lucy Snowe.  As she reached the stage, she turned to the audience and set the scene.  She's alone in the world, so she decided to travel to another country – where she didn't speak the language – to look for work.    
On the boat, she met a girl, Ginevra Fanshawe (Mo Shipley), who was returning to her boarding school.  Ginevra decided to befriend Lucy because in her perception, Lucy was a nobody.  She was proud to say that she had expectations (she had a wealthy uncle who might make her his heir) and connections (her uncle moved in the highest circles).  She mentioned that the headmistress at her school needed an English nanny for her children.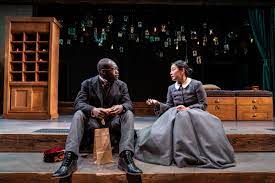 When Lucy got to the school, she had to talk her way in.  Madame Beck (Helen Joo Lee) invited her relative, Paul Emmanuel (Debo Balagun), to evaluate her.  He approved, so she was hired.   Even though Madame snooped through her things, Lucy was content until Madame asked her to teach a class – and Lucy became a teacher (at the nanny pay rate). 
Over a holiday, alone in the school, she encountered the school's resident ghost, a nun.  Frightened, she stayed out in the rain too long, got wet and cold, and fainted in the street.  She was found by Dr. John Graham Bretton (Ronald Román-Meléndez), whom she'd met at the school.  He took her home where his mother, Mrs. Bretton (Renée Lockett) recognized her as Lucy Snowe, her goddaughter and his childhood playmate.  Lucy thinks she might be in love with Graham (as he's called at home) but he's interested in Ginevra.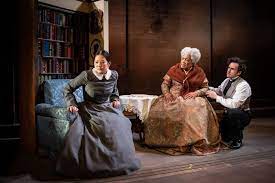 Note: Masks are encouraged but not required. 
Villette runs through April 2nd at Lookingglass Theatre in Water Tower Water Works, 821 N. Michigan Avenue, Chicago.  Discounted parking is available at 875 N. Michigan ($10); Olympia Centre ($11): Water Tower Place ($14 for 4 hours).  Validate parking ticket at Lookingglass Box Office.   Running time is 2 hours, 15 minutes with an intermission. 
Performances are: Tuesdays and Wednesdays at 7:00 pm; Thursdays at 2:00 & 7:00 pm; Fridays at 7:30 pm; Saturdays & Sundays at 2:00 & 7:30 pm.  * Tuesday evening and Thursday Matinee performances alternate, so check the calendar.  Tickets start at $60.  FYI www.lookingglasstheatre.org/lookingglass-alice-tickets/