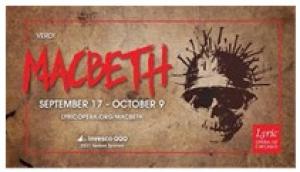 ***RECOMMENDED***  After a period of over 18 months with their stage being dark, Lyric Opera of Chicago ushered in a new season with a production of Verdi's "Macbeth" which is -- well -- pretty dark. General Director Anthony Freud, accompanied by Chair Sylvia Neil, gave a rousing curtain speech on opening night stating that the company, like so many countless other arts organizations, is entering a recovery phase. With a warm sense of pride and genuine optimism, Freud welcomed the audience back to the communal joy of live performance in the newly renovated Lyric Opera House, where more comfortable seats have been installed in a reconfigured floor plan to allow for better sightlines. What you will be able to clearly see on stage with unobstructed views (thanks to those modern improvements) is a visually striking but not wholly satisfying production of "Macbeth."   3 SPOTLIGHTS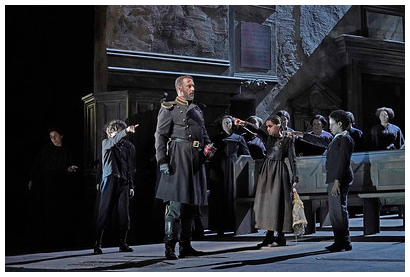 It seems that Lighting Designer David Finn may have delved a little bit too deeply into Francesco Maria Piave's libretto for his inspiration here. Taking note of the numerous references found in the first two acts that include passages which mention murky darkness, shadows, gloom, dim nights and bleak death, Finn has created a lighting plan which makes it rather difficult at times to know which character is actually singing. Complicating matters is the fact that both Craig Colclough, who portrays Macbeth and Christian Van Horn as Banquo are bass-baritones and spend nearly all of Act One prowling the stage in a greenish-gray oblivion. So early on in the production it is difficult to be able to differentiate between the two gentleman's voices.  It forces the viewer to really lean in and concentrate in order to properly follow the narrative.
 Also not a ringing success is John Macfarlane's set design, which is a single-location abandoned mid-nineteenth century Scottish chapel. Compressing all of the action within the three walls of this stone church has an extremely claustrophobic effect which is actually made even worse by the addition of heavy wooden rafters in Act Two. While this sense of confinement works to ramp up the psychological doom of the two central characters it does not serve the entire story well enough.
Director David McVicar's take on all of this is that Macbeth and Lady Macbeth's problems arise from the fact that they have no children, so he has thrown in a macabre puppet resembling a bloodied toddler, a doll given as a gift to Lady Macbeth and small coffins as church pews. McVicar hasn't found
a satisfying way to handle all  of the the technical challenges in the first two acts and his direction never really develops a definitive sense of rhythm. Add in some rather cumbersome scene transitions and one unfortunately lengthy pause between Act One and Act Two and it makes for an uninspired first half which sort of sputters until it reaches intermission.
Thankfully, conductor Enrique Mazzola is on the podium. Mazzola, in his inaugural season as Lyric's Music Director, deftly guides the orchestra through Verdi's surprisingly dynamic score. The musicians must have spent all of their time off practicing daily because the entire orchestra sounds more ravishing than ever.
Colclough, who is making his Lyric debut, is vocally very strong as Macbeth. Having made his Metropolitan Opera debut in this very same title role, one might have expected a bit more of a dramatic turn from him. However, he did replace two other stars who dropped out of the production earlier so he may have had limited rehearsal time with his castmates. Van Horn, who is no stranger to Lyric audiences and is always reliable, is a very fine yet stoic Banquo. It is rather shocking that soprano Sondra Radvanovsky is making her role debut as Lady Macbeth. She is so polished and confidant in the role that you might think that she has been performing it for years. Her sleepwalking scene is beautifully modulated and pure perfection.
The biggest surprise of the evening is tenor Joshua Guerrero, making his Lyric debut in the role of Macduff. His aria, which opens the first scene of Act Four, is the emotional core of this production and it earned a well-deserved and sustained ovation. Amidst the lamentation of Scottish refugees and in commiseration with them, Macduff mourns the death of his wife and children.  After such a prolonged period of grief, loss and uncertainty that all of us have endured during this global pandemic, Guerrero's heartfelt and plaintive delivery clearly resonated with the entire audience and made for some deep inner reflection. It quite literally breathed new life into this production.
While "Macbeth" is by no means a cheery opera, by the time the final act arrives the lighting design has noticeably brightened, the upstage wall of the chapel has been removed and McVicar's direction has solidified. It all ensures that this tale of murder, greed and power, which is most definitely full of sound and fury, signifies much more than nothing.
___________________________________________________________
"Macbeth" continues through October 9, 2021 with the following performances:
September 30 at 7:00 PM
October 3 at 2:00 PM
October 6 at 2:00 PM
October 9 at 7:30 PM
Running time is approximately 3 hours with one 30 minute intermission
Note: Guests must show proof of vaccination before entering the theater.  Guests are required to wear masks while inside the building.