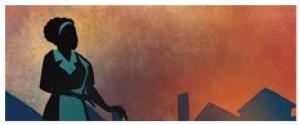 **** Recommended **** Each of the plays in August Wilson's ten-play Pittsburgh Cycle, which chronicles African-American experiences, is set in a different decade of the twentieth century. Two Trains Running, which opened at the Court Theatre last week, set durin theg sixties, examines the disruption caused by urban renewal in Pittsburgh's Hill District, a once thriving African American neighborhood.  It is thought-provoking, poignant and yet laugh-out-loud funny.  4 Spotlights
The Yale Repertory Theatre, New Haven, Connecticut, had the first production of Two Trains Running in 1990, which went on to premiere on Broadway in 1992.  It won the 1991 American Theatre Critics Association New Play Award, the 1992 Tony Award, Best Featured Actor in a Play, the 1992 Drama Desk Award Outstanding Featured Actor in a Play and the 2007 Lucille Lortel Award for Outstanding Revival.  The first Chicago production was at the Goodman Theatre in 1992, followed by a revival in 2015.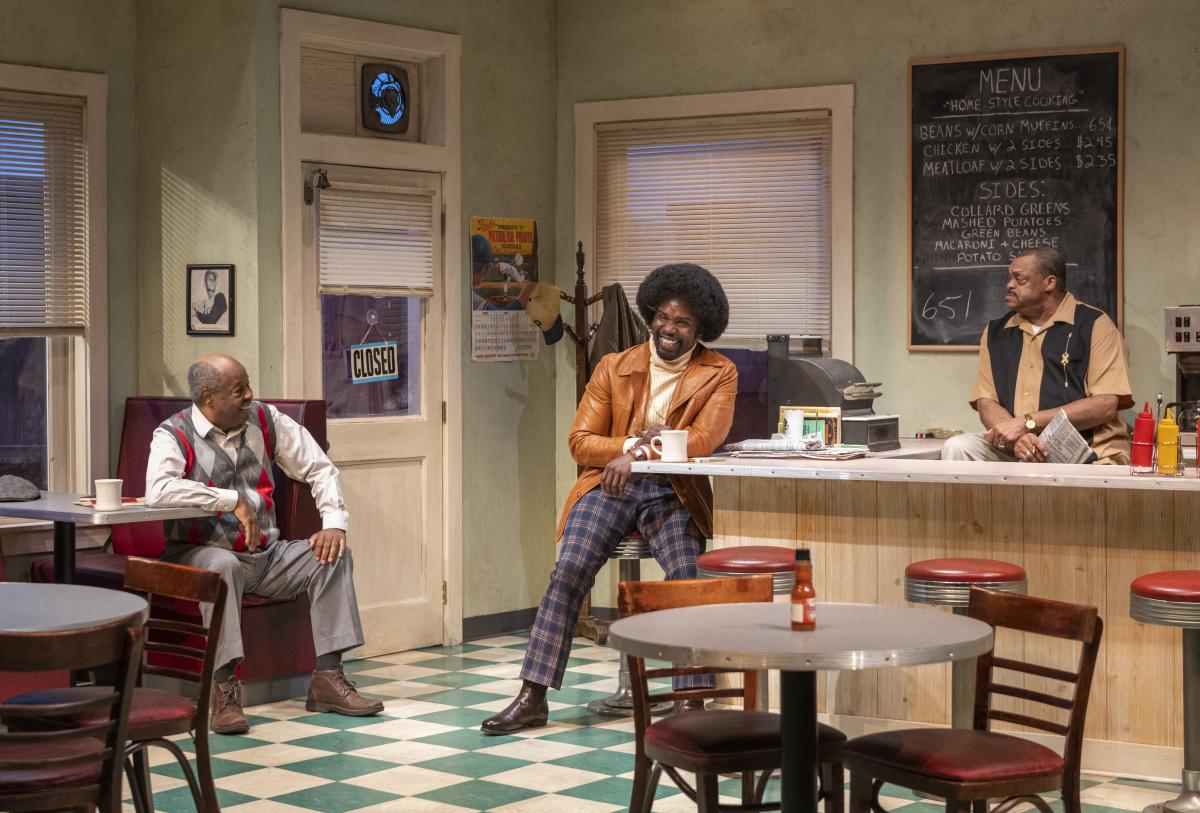 August Wilson wrote about what he knew best, the trials facing African American men.  If I were to offer a criticism, it would be about the paucity of women's parts in his plays.  Women are on the sidelines, usually cooking and/or cleaning.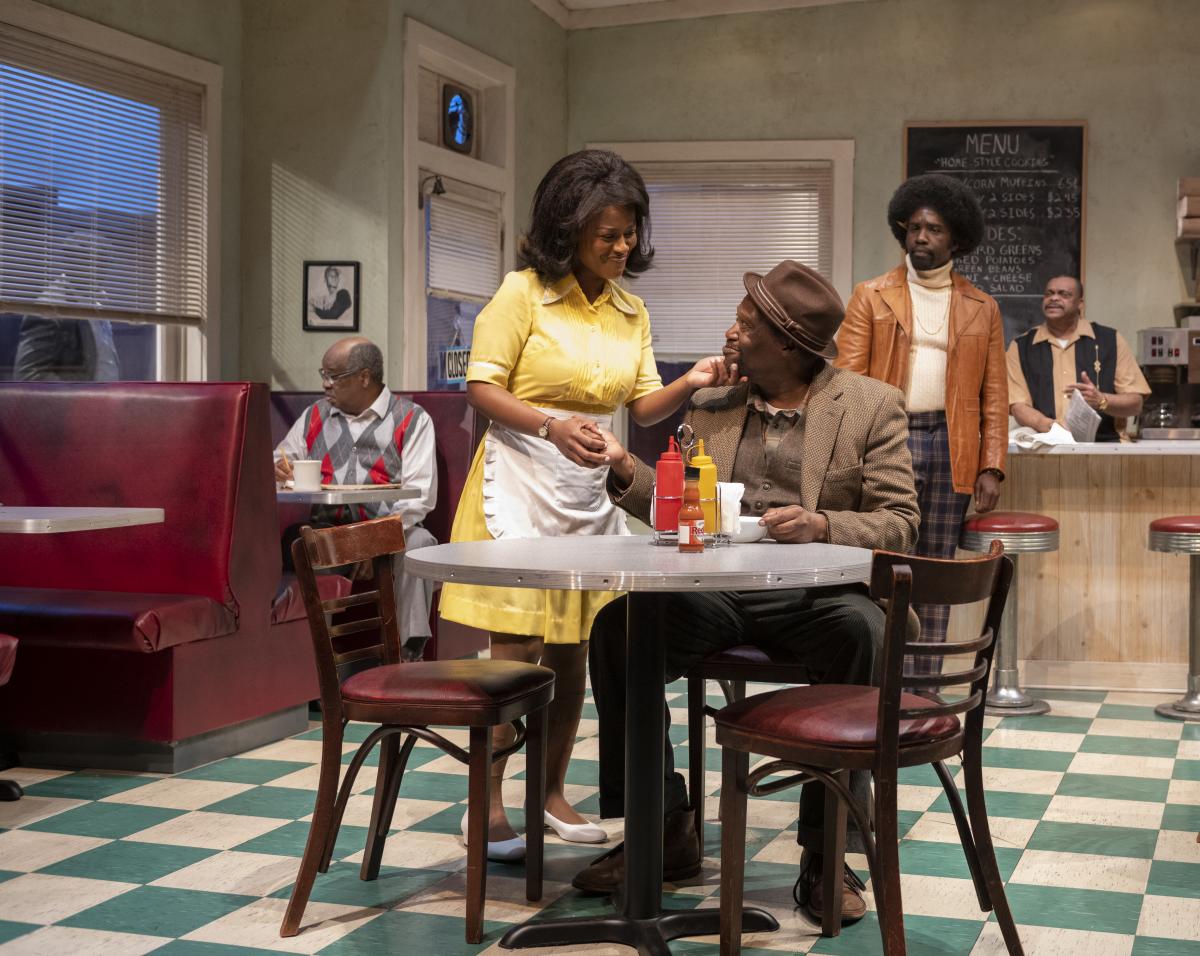 Urban renewal is coming to Pittsburgh's Hill District, whether the residents want it or not.  Memphis (A.C. Smith) owns a restaurant that has fallen on hard times.  As his neighbors drop in for a meal or just a cup of coffee, their discussions focus on life and death in the neighborhood.  There's a lot of speculation about the city's plans for their block.  Memphis is going back and forth with City Hall about the amount he'll get for his building, frequently reiterating his price, $25,000, to anyone who will listen.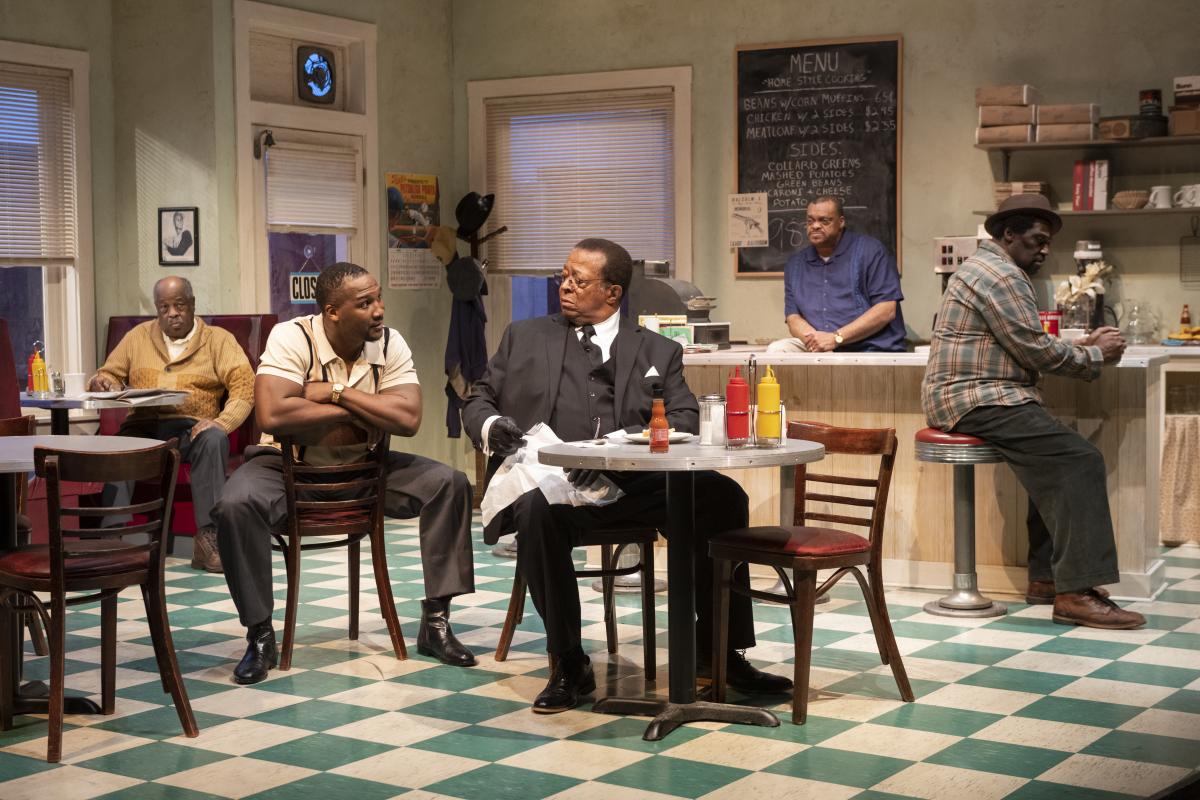 Memphis had a place down south, but says he was run out of town, although he still has the deed.  He mentions that there are two trains running every day if he does go back to reclaim that property.
Quiet Risa (Kierra Bunch), does the cooking and waits on the customers.  I think she's intended to be background character, but she just has too much presence to be relegated to the kitchen.  Although Memphis frequently berates her, she pays absolutely not attention, continuing to work at her own pace.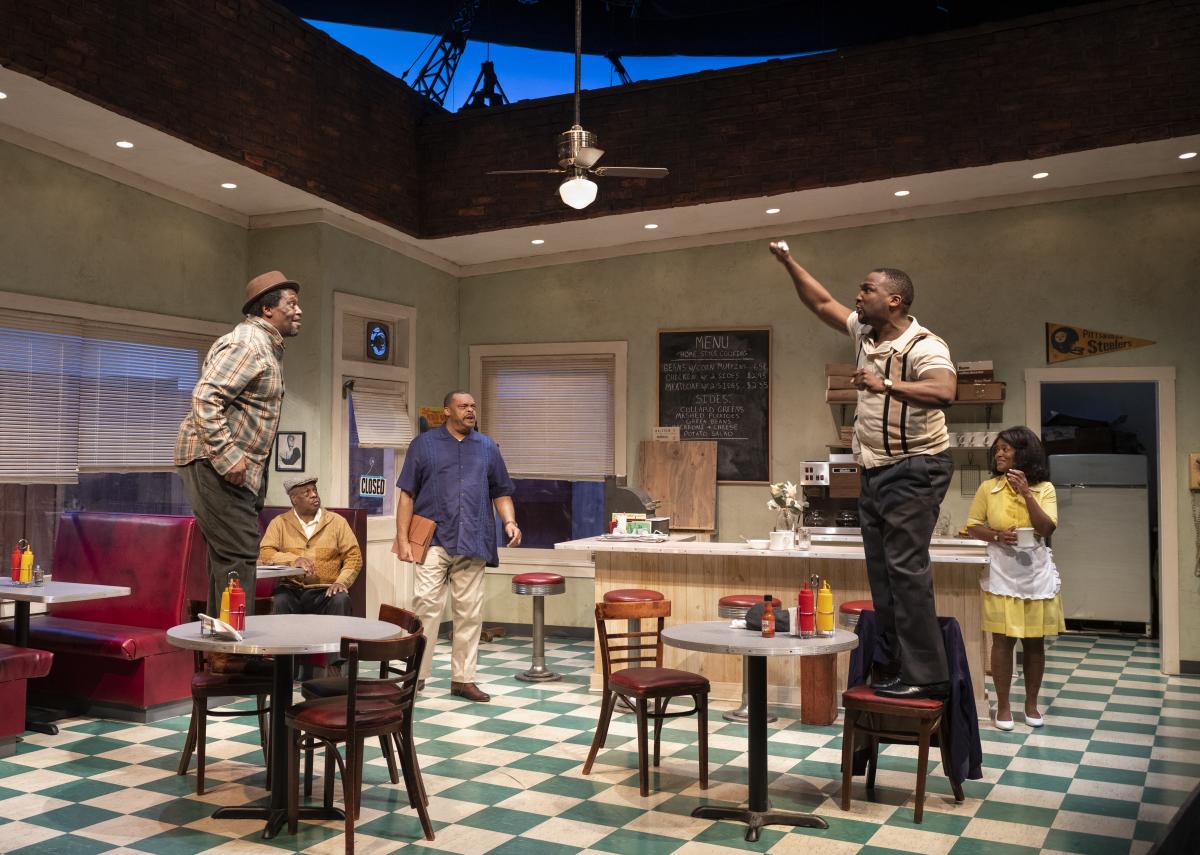 Holloway (Alfred H. Wilson), enjoys his coffee while telling stories laced with truisms.  Everyone has something to say about the viewing at West's Mortuary, what with people lined up around the block to get in. 
Wolf (Ronald L. Connor), a numbers runner who does a lot of business on the pay phone in the restaurant, isn't particularly interested in dead people - they don't make bets.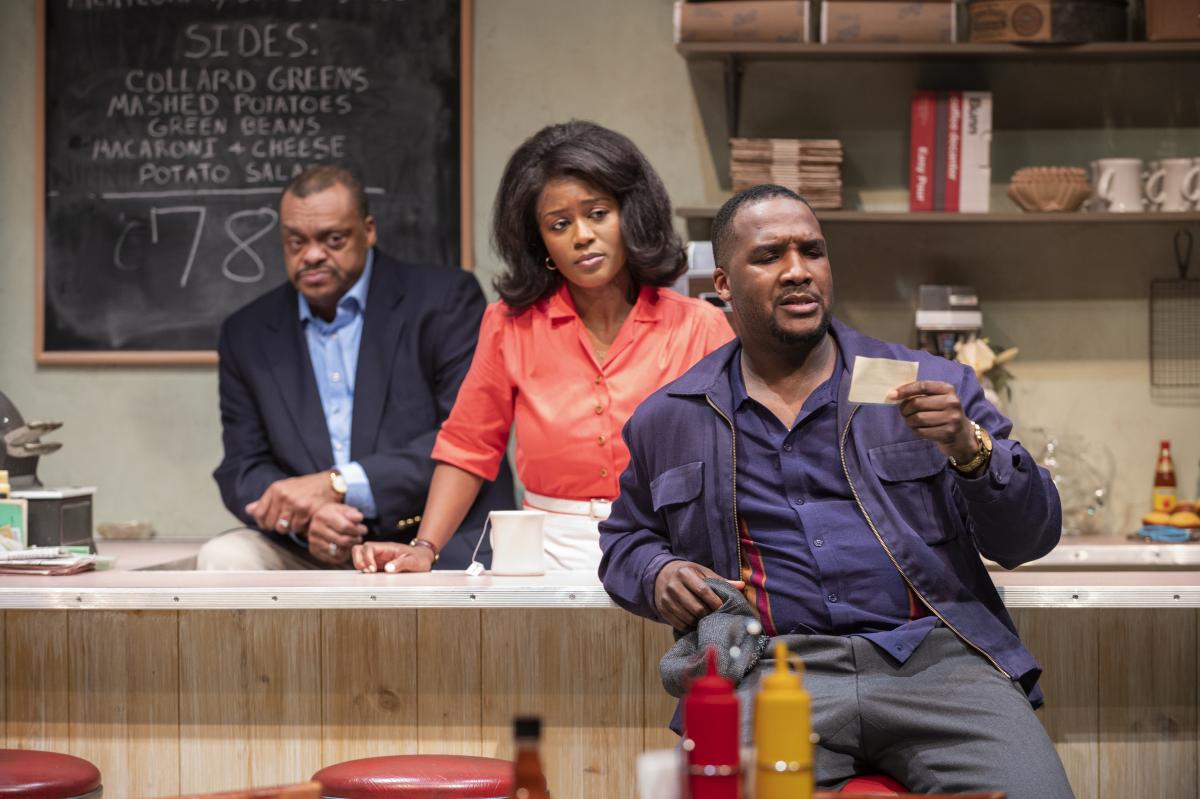 Mentally impaired Hambone (Joseph Primes) can only demand to know when he's going to get his ham.  Years earlier, the neighborhood butcher promised a ham as payment for some work, but never paid.  Risa really cares about Hambone, always giving him a meal, even though Memphis doesn't want to hear his demand for ham again.     
New in town, Sterling (Jerod Haynes) bursts into the restaurant with plans for a big score, but he needs a job first.  He falls for Risa, including her in his future plans – Vegas for instance – regardless of her rejections.  
Finally, there's West (Cedric Young), the funeral director.  No one likes the greedy businessman who always wears black – appropriate for funerals – but what about those black gloves he wears, even when he's eating.  West has bought up all the property on the block, except for the restaurant, which sticks in his craw.  He knows what Memphis paid for the building, so he keeps offering to 'take it off his hands' at a 'reasonable' price.  Memphis, who is determined to get that $25,000, emphatically turns him down.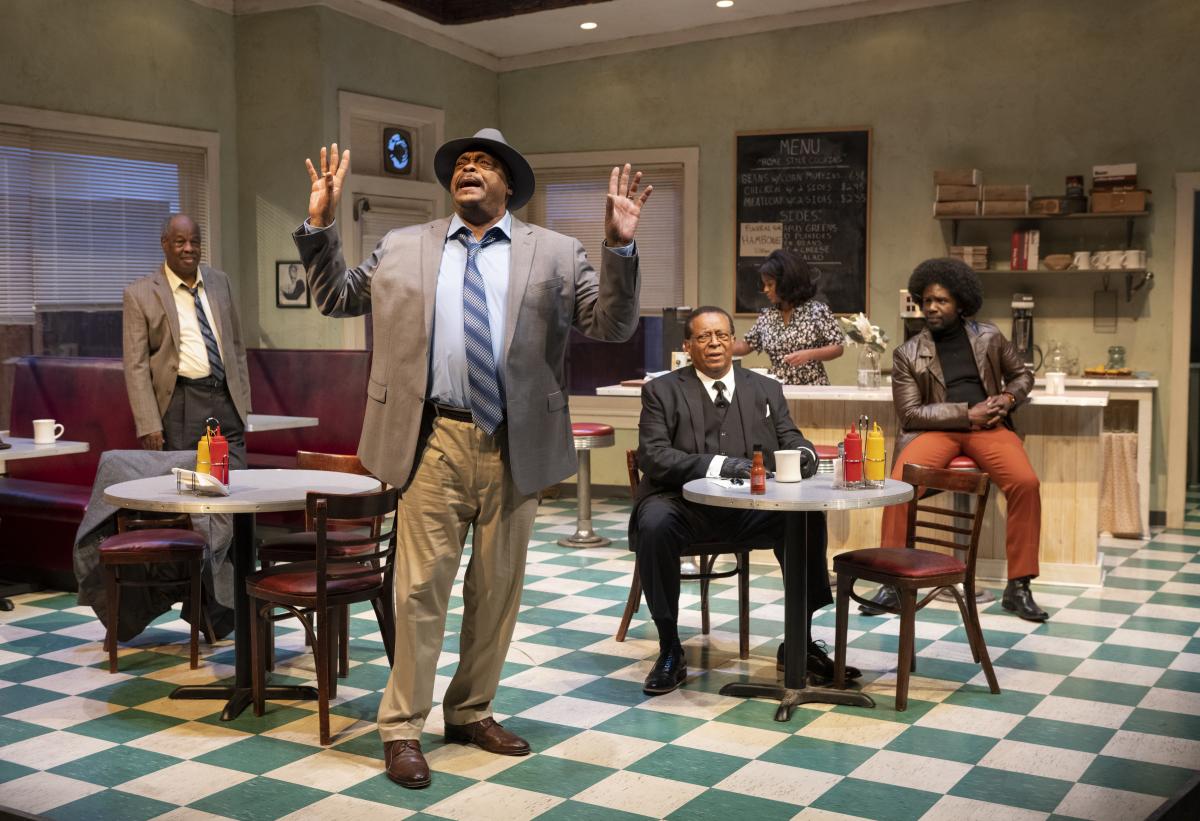 Never seen but deeply influential is Aunt Ester (who actually appears in Gem of the Ocean), a 'washer of souls' reputed to be 322 years old, who can tell a believer how to reach his goal.  Wolf admits that he once consulted Aunt Ester, but he said he just couldn't follow her instruction to throw a $20 bill in the river.  When Memphis consults her, he follows her instructions and in the end, gets what he wants. 
Congratulations!!!  The Court Theatre is to receive a 2022 Regional Theatre Tony Award on Sunday, June 12th during the Tony Awards which will be broadcast live from Radio City Music Hall in New York City. 
Note: Guests must show proof of vaccination before entering the theater.  Guests are required to wear masks while inside the building.
Two Trains Running runs through June 12th at the Court Theatre, 5535 S. Ellis, Chicago.  Free parking is available in the garage adjacent to the theater.  Running time is 2 hours, 45 minutes with an intermission. 
Performances are Wednesdays through Fridays at 7:30 pm, Saturdays and Sundays at 2:00 and 7:30 pm.   Tickets range from $39 - $76.  FYI (773) 53-4472 or www.courttheatre.org.