Get your tickets today for Tri Kappa Beta Rho Chapter's 2nd Annual "Bingo in Paradise," fundraiser on Thursday, September 28, from 6-10pm at the St. Elijah Event Center, 8700 W. Taft St. in Merrillville.
"Bingo in Paradise" is Tri Kappa Beta Rho's annual fundraiser with proceeds providing donations for charities, cultural organizations and education in Northwest Indiana.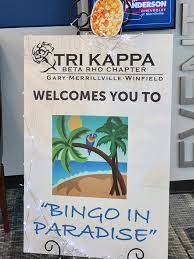 Tickets are $40 each with open seating, or reserve tables of 10 can be purchased for $400.
Individual tickets and sponsorships are available for purchase ONLINE ONLY at betarhotrikappa.org. 
Guests must be 18 years or older.
Deadline to purchase tickets is Sept. 20th or when tickets are sold out.
If you can't come please consider making a donation.  Any amount is greatly appreciated.
Each ticket includes a Bingo card for 9 games, dinner, music, cash bar, raffles and a "Dessert Island" Bake Sale.  
There is a $250 cash prize for each game plus a 10th game that can only be purchased at the event with a Grand Prize of $1,000!
We hope you can JOIN US Thursday, September 28, for "Bingo in Paradise!"
TICKETS - betarhotrikappa.org
MORE INFORMATION - Patti:  pvrotny@sbcglobal.net
Thank you!
The Beta Rho Chapter of Tri Kappa