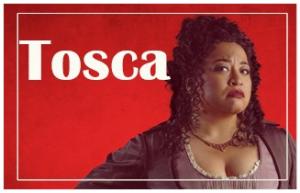 ****HIGHLY RECOMMENDED****  Giacomo Puccini's widely-beloved and extremely popular opera Tosca has made a triumphant return to the Lyric Opera in a new-to-Chicago production.  Featuring majestic sets designed by the late Jean-Pierre Ponnelle and the exquisite costumes of the late Marcel Escoffier (including a reproduction of the legendary blood-red velvet gown worn by Maria Callas for the premiere of Franco Zeffirelli's 1964 Covent Garden production) this is the 19th production of Tosca that Lyric has presented in its 67-year history. However, this version is notable for the refreshing diversity represented on stage as well as in the orchestra pit.  4 Spotlights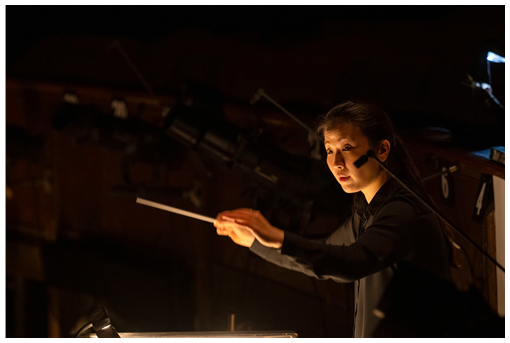 Conductor Eun Sun Kim, who was just recently appointed the new music director of San Francisco Opera, is not only making her Lyric debut but is also making Lyric history as the first Asian female to assume the podium here. Director Louisa Muller, while closely collaborating with Kim, was fortunate to be working with the magnificent American soprano Michelle Bradley singing the title role.  All three women have discovered subtle nuances during the rehearsal process and clearly Bradley embraced the challenge head on to bring a new perspective to this demanding role. Their valiant efforts combine to enrich this entire theatrical experience.   Bradley's Lyric debut is surprisingly also her role debut as the fiery opera singer Floria Tosca and she brings a youthful freshness to this performance.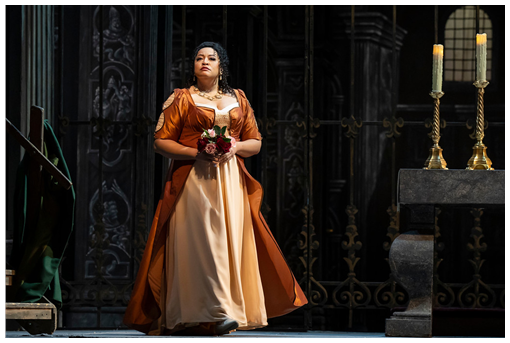 Wonderfully supporting Bradley is the American tenor and Lyric favorite Russell Thomas as Mario Cavaradossi, the revolutionary painter who is in love with Tosca. Both Bradley and Thomas are sensational together, particularly in the first act set in the church of Sant' Andrea della Valle where Cavaradossi is completing a painting of the Madonna. Tosca finds fault in his work and fears he has found inspiration in the beauty of her rival, a Marchesa who was seen praying in the cathedral. She insists that Cavaradossi change the color of the eyes in his painting from blue to her own rich brown hue. Bradley brings a gentle coquettish charm as well as humor to these early scenes which is balanced by Thomas' strong confidence and genuine assurance that he has remained faithful to her. Both of their voices blend gorgeously together and they are truly a match made in heaven. Eventually, Tosca's misplaced jealousy will be used against her and bring despair and ruin to her and Cavaradossi.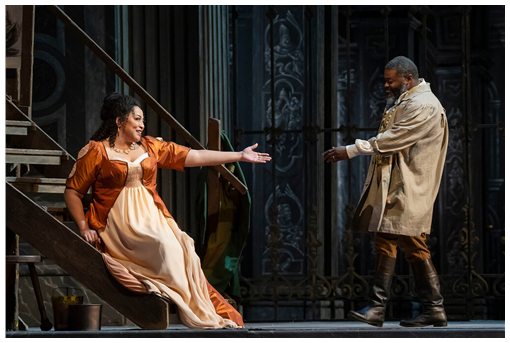 The one who manipulates her is none other than the villainous Baron Scarpia, Rome's corrupt chief of police who will stop at nothing to have Tosca as his own. Sung by the Argentine baritone Fabian Veloz, also in a Lyric debut, this may not be the most malicious Scarpia you have encountered over the decades but Veloz is impassioned and in very good voice.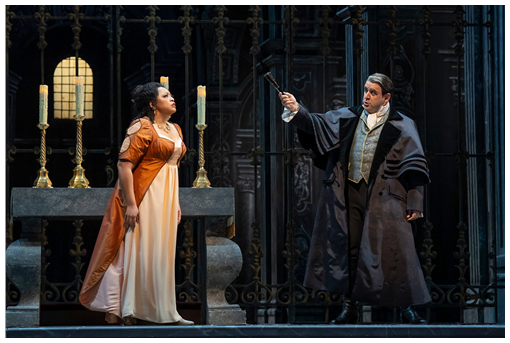 If there is one fault in this production it seems that it would be in some of the choices that Muller has made in her direction, particularly in some key moments of blocking her performers. Perhaps she may have felt constrained by the imposing set pieces that Ponnelle designed and the tone that they invoke or she just wanted to present an extremely traditional narrative that fits snuggly within those confines. But having Bradley sing the Act II aria "Vissi d'arte" while kneeling just felt strange. This is one of the most famous arias in the entire repertoire and, while it is in essence Tosca's prayer to God asking where she went wrong in her life, having Bradley sing it while on bended knee may suggest Tosca's religious deference but it ultimately diminished some of the glory of her characterization. Thankfully, Bradley didn't let her physicality affect her vocalization. She was sublime.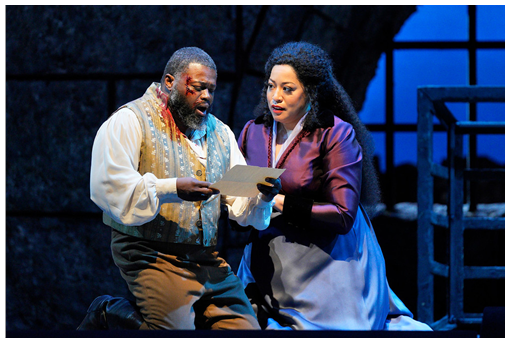 However, what is almost unforgivable is the manner in which Muller has positioned Thomas as he sings his glorious Act III aria "E lucevan le stelle" -- (that translates as "And the stars were shining").  This is Cavaradossi's shining moment as he composes his final words in a love letter to Tosca. As the libretto literally indicates, Cavaradossi is reaching for the stars as he achingly pens his farewell. Muller again has opted, as with Bradley in Act II, to have Thomas weakened and collapsed upon his knees, which makes absolutely no logical sense. All of Cavaradossi's dreams and his amorous first meetings with Tosca in years past are expressed in this aria. When Thomas reaches the conclusion of his heartfelt delivery he is bent over leaning on both of his hands, scrambling to rise to his feet. The pacing is too swift at this point, the orchestra does not break and suddenly the soldiers, who are the prison's guards, rapidly enter and there is a very awkward moment where the audience does not have time to applaud Thomas for his stunning aria. It just feels like an egregious injustice to an accomplished artist who just gave a magnificent performance and was denied his proper reward.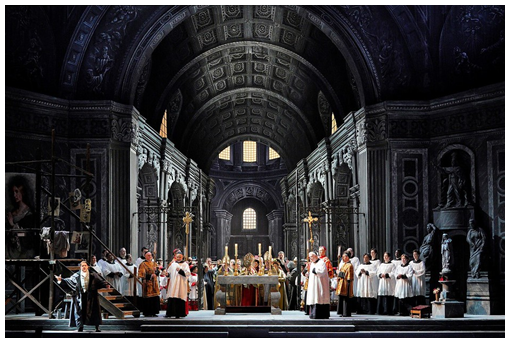 Note: Guests must show proof of vaccination with photo ID before entering the theater.  Guests are required to wear masks while inside the building.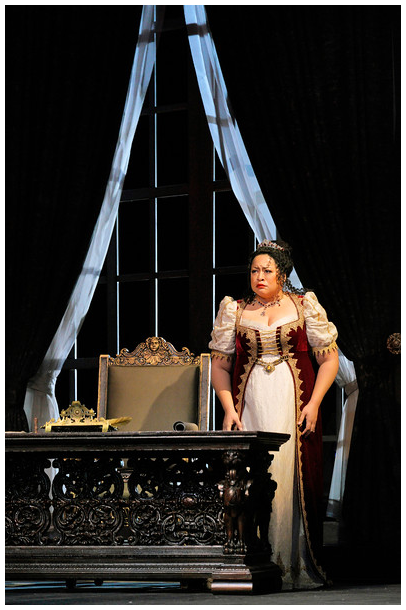 Tosca continues through April 10, 2022 with the following performances:
Wednesday, March 23 at 2:00 PM                                                                                                                           
Saturday, March 26 at 7:30 PM                                                                                                                                     
Sunday, April 3 at 2:00  PM                                                                                                                                               
Thursday, April 7 at 2:00 PM                                                                                                                                      
Sunday, April 10 at 2:00 PM
Running time is 2 hours and 50 minutes with two intermissions
Tickets start at $49.  FYI (312) 827-5600 or lyricopera.org/tosca.