Join Chef Joe Trama and his Trama Catering Team as they host a tribute dinner event under the chandeliers in the ballroom replicating the elegant dinner served to the first class passengers on the RMS Titanic on the ocean liner's final fateful night April 15, 1912.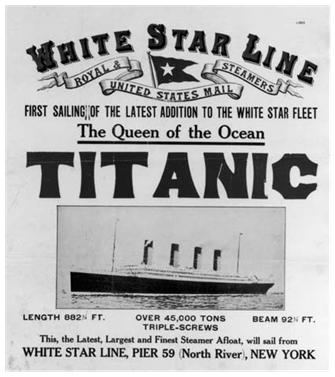 Date: Thursday, April 15, 2021
Doors open at 6 pm
Dinner at 6:30 pm
Titanic exhibit with china dinner settings! 
Period clothing on display!
President Taft's stovepipe hat! 
Live instrumental musicians! 
Free drawing for pearl jewelry throughout the evening! 
Large screen depiction of the Titanic's final voyage charted during the course of the evening!
Please note: this is not a CVPA Movie & Dinner Night showing of the 1997 film "Titanic."
Menu
Cream of mushroom and barley soup
Asparagus, mixed spring greens and watercress with champagne saffron vinaigrette
Chateaubriand roast tenderloin in a cognac and cabernet reduction, served with Chateau potatoes, creamed carrots and julienne zucchini
Bavarian cream chocolate eclairs
Tickets are $75. Call the CVPA Dining and Events office to make your reservation at 219-836-1930.
LIMITED SEATING
NOTE: In consideration of the 2020-21 Global Pandemic and in accordance with the Governor's mandated mask order, guests are asked to wear ''a mouth and nose covering'' when walking about during the course of the evening but may remove coverings once seated at their table or when in a secluded area away from others.