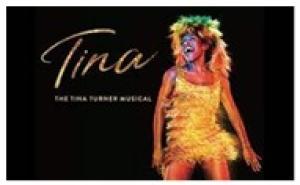 *** Recommended *** If you're planning on seeing TINA – THE TINA TURNER STORY you should know that it is not a juke box musical.  There's plenty of music, but it's Broadway musical music, not Top 40 hits music.  In other words, this is Tina Turner's life story, and it's very, very dark.  That said, the audience was cheering at the opening night performance, the 200th performance.  I thought the was too long, coming in at 2 hours, 45 minutes; the encore performance after the bows redeemed the show for me.  3 Spotlights
Zurin Villanueva dazzled as Tina Turner.  In addition to a terrific voice, she had Turner's unique dance moves down pat – and she has really long legs (a Turner prerequisite).  Her moves weren't as smooth as Turner's, but so what?   By the way, Villanueva shares the role with Ari Groover, so the performance you choose might not be the same one I saw. 
TINA – THE TINA TURNER STORY opens at a church service with a young girl dancing in her seat as her voice soaring in song – somehow embarrassing her mother, Zelma (Roz White).  I mentioned this scene because Ayvah Johnson who plays young Anna Mae (Turner's birth name) is a phenomenon – and mark my words, a future Broadway star!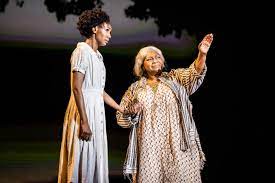 Anna Mae was abandoned by both parents and sent to live with her Gran Georgeanna (Ann Nesby).  After Gran died, she went to live with her mother in St. Louis.  When she was just 17, she auditioned for Ike Turner (Garrett Turner) who negotiated a quick deal with her mother.  Anna Mae sang with Ike's band until he decided to change the band's name to the Ike and Tina Turner Revue – and thus Anna Mae became Tina Turner.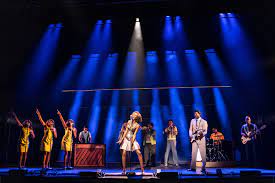 Life with Ike Turner was uneven to say the least.  On stage, she starred as a singer and dancer as the band toured.  Off stage, she was Ike's punching bag.  On the way to a gig in Dallas, Ike beat her bloody, so she fled with just 36 cents in her pocket, filing for divorce just a few days later. 
Trying to support herself and her children, Tina worked wherever Rhonda (Lael Van Keuren), her friend and manager, could find gigs.  One night In Las Vegas, Terry Britten (Geoffrey Kidwell) caught her show.  He'd written a song he thought would be perfect for her, so he persuaded her to go to London to record an album.  That song, What's Love Got to Do with It, her Grammy award winning #1 hit led to her solo success.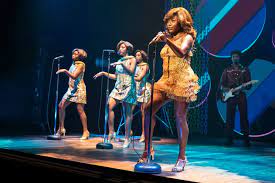 TINA – THE TINA TURNER STORY was written by Katori Hall with Frank Ketelaar and Kees Prins, directed by Phyllida Lloyd, choreographed by Anthony van Laast.  Costumes and set were designed by Mark Thompson. 
The ensemble: Daelyanna Kelly Benson, Antonio Beverly, Taylor A. Blackman, Karen Burthwright, Aliyah Caldwell, Lillian Charles, Max Falls, Zachary Freier-Harrison, Reyna Guerra, Gordia Hayes, Andre Hinds, Takia Hopson, Parris Mone't Lewis, Nia Nelson-Williams, Gracie Phillips, Nicole Powell, Terance Reddick, Shari Washington Rhone, Jacob Roberts-Miller, Aniya Simone, Chris Stevens, Jeff Sullivan and Carlton Terrence Taylor.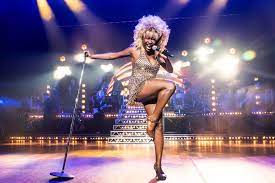 TINA – THE TINA TURNER STORY runs through April 2nd at the James M. Nederlander Theatre, 24 W. Randolph, Chicago.  Running time is 2 hours, 45 minutes.
Performance schedule:
March 21at, 7:30 pm
March 22nd, 2:00 & 7:30 pm
March 23rd, 7:30 pm
March 24th, 7:30 pm
March 25th, 2:00 & 8:00 pm
March 26th, 2:00 pm
March 28th, 7:30 pm
March 29th, 2:00 & 7:30 pm
March 30th, 7:30 pm
March 31st, 7:30 pm
April 1st, 2:00 & 8:00 pm
April 2nd, 2:00 pm
 Tickets range from $52.50 - $132.50.  FYI (800) 775-2000, all Ticketmaster retail locations and www.BroadwayInChicago.com.