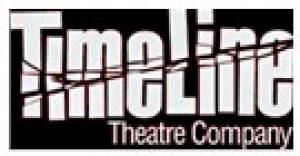 After 20 months away from the stage, TimeLine Theatre Company is excited to return to live, in-person theatre with its free FIRST DRAFT: Playwrights Collective Festival, spanning two weekends, Friday-Sunday, December 3-5 and December 10-12, at Theater Wit, 1229 W. Belmont Avenue in Chicago.  
This year, TimeLine's FIRST DRAFT festival will introduce four new plays by Chicago writers Dolores Díaz, Kristin Idaszak, Osiris Khepera and David Rhee, the members of TimeLine's 2020-21 Playwrights Collective. Each play will be presented as a staged reading twice during the festival. Tickets are free but advance reservations are required.
TimeLine Playwrights Collective members (from left) Dolores Díaz, Kristin Idaszak, Osiris Khepera, and David Rhee will see their new plays read in public for the first time at TimeLine's FIRST DRAFT: Playwrights Collective Festival. 
Starting Thursday, November 18 at 12 p.m., reservations will be available online at timelinetheatre.com/first-draft-2021, or by calling the TimeLine Box Office at (773) 281-8463 x6. 
FIRST DRAFT: Playwrights Collective Festival is generously sponsored in part by Timothy C. Sherck.
FIRST DRAFT marks the culmination of TimeLine's two-year new-play incubator program for this quartet of Chicago-based writers, originally selected in 2019 by TimeLine's Company Members. For the past two years, they met regularly, including virtually during the pandemic, and together shared scenes under development, asked questions, discussed challenges, and cheered on each other's progress.
Each playwright chose their own project that fits TimeLine's mission of presenting stories inspired by history that connect with today's social and political issues. TimeLine provided support throughout the residency, including development readings, under the leadership of Director of Playwrights Collective Ben Thiem.
Their work was also featured in an online public program streamed live on June 3, 2021; an edited version of that program can be viewed on TimeLine's YouTube channel.
TimeLine Theatre's Playwrights Collective was featured on Setting the Stage(s), an online public program streamed live on June 3, 2021. Click here or above to screen an edited version of that program.
Since its inception in 2013, the Playwrights Collective has helped develop 14 plays, including Relentless by Tyla Abercrumbie, set to receive its world premiere at TimeLine in January 2022, and Brett Neveu's To Catch a Fish, produced at TimeLine in 2018.
This year's group is the third to be in residence as part of the Collective, which supports Chicago-based playwrights to create new work centered on TimeLine's mission. The inaugural group, including Alice Austin, John Conroy, Emily Dendinger, Frances Limoncelli, Susan McLaughlin Karp, and Brett Neveu, convened 2013 to 2016. The second, including Tyla Abercrumbie, Will Allan, Maureen Gallagher, and Calamity West, convened 2017 to 2018 and culminated in TimeLine's inaugural FIRST DRAFT festival in December 2018. 
Here's the 2022 FIRST DRAFT festival line-up, including directors for each reading:
Playwright Dolores Díaz (left) and director Sandra Marquez
Black Sunday
by Dolores Díaz
directed by Sandra Marquez
When coyotes kill off Ma's chickens, it sets off a series of disasters in 1930s Texas in the days leading up to an infamous dust storm—the titular event known as Black Sunday. An ecological horror that explores the conflicts surrounding climate change, race, and gender.
Playwright Kristin Idaszak (left) and director Regina Victor
Revenge of the Holy Virgin Martyrs as Told by Hrotsvit of Gandersheim and Her Time Traveling Amanuensis 
by Kristin Idaszak
directed by Regina Victor
Escaping from a toxic work environment and a predatory boss, Jordan takes an impromptu vacation—and accidentally travels back in time to the 10th century. Mistaken for a thief by the canny women who live in a medieval abbey, she joins their efforts to protect themselves from a lecherous local lord and becomes the assistant to Hrotsvit, the first female playwright in the Western canon. A feminist farce about rape culture, faith, and a world without the male gaze.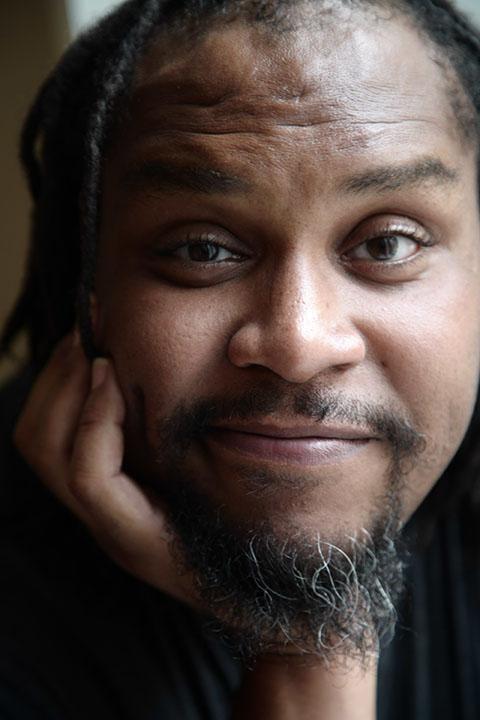 Playwright Osiris Khepera (left) and director Regina Taylor
The Five
by Osiris Khepera
directed by Regina Taylor
In this Afrofuturistic dark comedy, five Black Male Witches enter a seemingly innocuous warehouse in Mobile, Alabama after responding to a mysterious invitation. Upon arrival, they are greeted solely by a glass of red wine and a finely crafted wooden table. Their learning curve is steep, and the fate of time rests in the balance of their choices, even though they may be the last ones to find out what's at stake.
Playwright David Rhee (left) and director Lavina Jadhwani
the feet of God
by David Rhee
directed by Lavina Jadhwani
An Asian American theatre company is forced to confront the history of Asians in America when they put on a controversial play. With the backlash of the pandemic on their heels, the theatre company must decide to keep the status quo or find their voice and shake up the established norms of Asians in America.
SCHEDULE AND LOCATION
The performance schedule for FIRST DRAFT: Playwrights Collective Festival is:
Friday, December 3 at 8 p.m. — the feet of God 
Saturday, December 4 at 2 p.m. — Revenge of the Holy Virgin Martyrs…
Saturday, December 4 at 8 p.m. — Black Sunday
Sunday, December 5 at 2 p.m. — The Five
Friday, December 10 at 8 p.m. — Revenge of the Holy Virgin Martyrs…
Saturday, December 11 at 2 p.m. — Black Sunday
Saturday, December 11 at 8 p.m. — The Five
Sunday, December 12 at 2 p.m. — the feet of God
FIRST DRAFT performances will take place at Theater Wit, 1229 W. Belmont Avenue, Chicago. Theater Wit is located one-half block west of the corner of Belmont and Racine in Chicago's Lakeview East neighborhood. The theater is accessible via the CTA El stop at Belmont (Red/Brown/Purple lines). CTA bus #77-Belmont stops at Racine. Parking is available in a lot across the street for $8 and there is also limited free and metered street parking nearby. Visit timelinetheatre.com for complete directions and parking information. Theater Wit is accessible to wheelchair users and visitors who need to avoid stairs.
HEALTH AND SAFETY
Alongside a coalition of more than 70 performing arts venues and producers across Chicagoland, TimeLine has agreed to ensure COVID-19 vaccination and mask requirements for audiences, artists, and staff attending FIRST DRAFT, Relentless, and The Chinese Lady at Theater Wit. In general, current protocols require that patrons be masked and fully vaccinated with an FDA-authorized vaccine, or provide proof of a negative COVID-19 test, in order to attend. These protocols are subject to change as the pandemic evolves. For the most current information about TimeLine's COVID-19 safety protocols, visit timelinetheatre.com/health-and-safety.
TIMELINE'S 25th ANNIVERSARY SEASON, LAUNCHING IN JANUARY 2022
TimeLine Theatre Company, acclaimed for presenting plays that explore today's social and political issues through the lens of the past, looks forward to celebrating its 25th Anniversary season starting in January with two riveting plays that link past, present and future:
The world premiere of Relentless by TimeLine Company Member Tyla Abercrumbie, directed by TimeLine Company Member Ron OJ Parson. Set just over 100 years ago in 1919, Relentless weaves a complicated tale of family, legacy, and progress and features characters who have weathered a great deal—revolution, change, even a pandemic—in ways that we see mirrored in our present day. Relentless was developed by TimeLine Theatre's Playwrights Collective Program. Previews start January 19. Press opening is Wednesday, January 26 at 7 p.m. Performances run through February 26.
The Chicago premiere of The Chinese Lady by Lloyd Suh, directed by Helen Young. This piercing and darkly poetic portrait of the United States as seen through the eyes of the first Chinese woman to come here illuminates the roots of the prejudice, bigotry, and hate facing today's Asian American and Pacific Islander community and inspires us to see and understand each other anew. Previews start May 8. Press opening is Friday, May 13 at 7:30 p.m. Performances run through June 18.
Save on tickets to TimeLine's 2021-22 Season with a 2-Admission FlexPass Subscription. Four different tiers, priced from $52 to $121, are now on sale. For more information and to purchase, call (773) 281-8463 x6 or visit timelinetheatre.com.
Both productions will be presented at Theater Wit, 1229 W. Belmont Ave., in Chicago. This alternate location was chosen to best support current COVID-19 safety protocols for audiences, artists, and staff.
ABOUT TIMELINE THEATRE COMPANY
TimeLine Theatre Company, recipient of the prestigious 2016 MacArthur Award for Creative and Effective Institutions, was founded in April 1997 with a mission to present stories inspired by history that connect with today's social and political issues. Currently entering its 25th season, TimeLine has presented 82 productions, including 10 world premieres and 38 Chicago premieres, and launched the Living History Education Program, which brings the company's mission to life for students in Chicago Public Schools. Recipient of the Alford-Axelson Award for Nonprofit Managerial Excellence and the Richard Goodman Strategic Planning Award from the Association for Strategic Planning, TimeLine has received 58 Jeff Awards, including an award for Outstanding Production 11 times.
The company has long been bursting at the seams of its current leased home located at 615 W. Wellington Avenue in Chicago's Lakeview East neighborhood, where the theatre has been in 
residence since 1999. In December 2018, TimeLine announced the purchase of property at 5033-35 North Broadway in Chicago's Uptown neighborhood to be the site of its new home. Plans feature an intimate black box theatre seating up to 250 audience members, expanded area for the immersive lobby experiences that are a TimeLine hallmark, new opportunities for education and engagement, room to allow audience members to arrive early and stay late for theatergoing experiences that extend far beyond the stage, and more. TimeLine is working with HGA as architect for its new home project, which is expected to be completed in early 2024.
HGA design rendering of TimeLine's future new home at 5035 N. Broadway in Chicago's Uptown neighborhood
TimeLine is led by Artistic Director PJ Powers, Managing Director Elizabeth K. Auman and Board President John Sterling. Company members are Tyla Abercrumbie, Will Allan, Nick Bowling, Janet Ulrich Brooks, Wardell Julius Clark, Behzad Dabu, Charles Andrew Gardner, Lara Goetsch, Juliet Hart, Anish Jethmalani, Mildred Marie Langford, Mechelle Moe, David Parkes, Ron OJ Parson, PJ Powers, Maren Robinson, and Benjamin Thiem.
Major corporate, government and foundation supporters of TimeLine Theatre include the Abe and Ida Cooper Foundation, Allstate Corporation, Paul M. Angell Family Foundation, City of Chicago, Crown Family Philanthropies, Joseph and Bessie Feinberg Foundation, The Forum Fund, Lloyd A. Fry Foundation, Illinois Arts Council Agency, Illinois Department of Commerce and Economic Opportunity, Laughing Acres Family Foundation, MacArthur Fund for Arts and Culture at Prince, National Endowment for the Arts, Pritzker Traubert Foundation, The Shubert Foundation, and the United States Small Business Administration.
For more information, visit timelinetheatre.com or Facebook, Twitter, or Instagram (@TimeLineTheatre).
BIOGRAPHIES (in alphabetical order)    
Dolores Díaz (pronouns: she/her; playwright, Black Sunday) is a Chicago-based Chicanx playwright originally from the border city of Laredo, Texas. Most recently, Goodman Theatre produced Zulema (2021)—in partnership with Sones de México, the Chicago Park District, the Department of Cultural Affairs and Special Events, Chicago Latino Theater Alliance (CLATA), and the National Museum of Mexican Art—which toured the Chicago Parks District with a finale in Millennium Park. Díaz teaches at Columbia College Chicago and Texas Tech, and will attend Tectonic Theater Project's Moment Work Institute this winter. She is a graduate of Northwestern University's MFA Program in Writing for the Screen and Stage and serves as a Dramatists Guild Ambassador in Chicago.
Kristin Idaszak (pronouns: she/her/they/them; playwright, Revenge of the Holy Virgin Martyrs…) is a two-time Playwrights' Center Jerome Fellow and the former Shank Playwriting Fellow at the Goodman Theatre. Idaszak has received commissions from the Goodman, EST/the Sloan Foundation, Cleveland Play House, and St. Louis Shakespeare Festival. Her play Second Skin received the Kennedy Center's Paula Vogel Playwriting Award and the Jean Kennedy Smith Playwriting Award, and Another Jungle was a Relentless Award Honorable Mention. Idaszak was the Kennedy Center Fellow at the Sundance Theatre Lab. Her work has been seen at or developed through the Goodman Theatre, The Playwrights' Center, La Jolla Playhouse's WoW Festival, SPACE at Ryder Farm, Williamstown Theatre Festival's Directing Studio, Ensemble Studio Theatre, The Drama League, Pasadena Playhouse, Circle X, Rivendell Theatre, Renaissance Theaterworks, and Perishable Theatre, among others. Her work has also received support from the Chicago Department of Cultural Affairs and Special Events. Idaszak is the Artistic Director of Cloudgate, a Resident Playwright at Chicago Dramatists, adjunct faculty at The Theatre School at DePaul University and Northwestern University, and received an MFA from the University of California, San Diego. For more information, visit kristinidaszak.com.
Lavina Jadhwani (pronouns: she/her; director, the feet of God) is a theater director, adaptor, and activist. Directing credits include As You Like It (Guthrie Theatre), Peter and the Starcatcher (Oregon Shakespeare Festival), Roe and The Cake (Asolo Repertory Theatre). Adaptations include Shakuntala (Goodman FutureLabs), A Christmas Carol (Guthrie Theater), The Seagull, Uncle Vanya, and The Sitayana (East West Players/Hypokrit/EnActe). Jadhwani lives in Chicago, where she was recently named "One of the Top Fifty People Who Really Perform for Chicago" by Newcity. Learn more at lavinajadhwani.com.
Osiris Khepera (pronouns: anything respectful; playwright, The Five) is a Chicago-bred Black Queer playwright, poet, actor, teaching artist, and activist. Named as one of six inaugural Russ Tutterow Playwriting Fellows at Chicago Dramatists Theatre, most recently his plays have appeared in the MPAACT Podcast Plays, CIRCLE UP! Reading Series with Jackalope Theatre Company and the Chicago Inclusion Project, National Black Theatre's I AM SOUL Reading series, the Chicago Theatre Marathon Festival, the MOJOAA Reclamation Festival, and with Greatworks Children's Theatre Company. He is also a recipient of a 2017 DCASE Individual Artist Grant for his play The Legendary Nana Yaa Asantewaa and the War of the Golden Stool, or, They Is African Royalty Living Off Fuckin' Wilson. As an actor, he can be seen in the recurring role of Cameron/Da Mayor on HBOmax's South Side (Bashir Sallahudin/Diallo Riddle). Other theatrical credits include Bootycandy (Windy City Playhouse), Rutherford's Travels (Pegasus Players), Bars & Measures (PROP THTR), R.E.A.C.H. (Second City), The American Revolution (Theater Unspeakable and Lincoln Center), The Fag-Tionary and Relevant Hearsay: Stories from 57 (MPAACT), Harry and The Thief (Pavement Group), and Passing Strange (Bailiwick Chicago). His poetry is published in "Illinois's Best Emerging Poets 2018."
Sandra Marquez (pronouns: she/her; director, Black Sunday) is an award-winning actor, director and educator. She is a longtime ensemble member at Teatro Vista where she served as Associate Artistic Director from 1998–2006. An ensemble member at Steppenwolf Theater Company as well, she directed I Am Not Your Perfect Mexican Daughter based on the bestselling book by Erika Sanchez. Credits include productions at the Goodman, Steppenwolf, Victory Gardens, Court and Oregon Shakespeare Festival. Film and TV credits include Chicago Med and Chicago Justice (NBC), Prison Break (FOX), and Light Years (Amazon). Marquez is on the theater faculty at Northwestern University.
David Rhee (pronouns: he/him; playwright, the feet of God) began his career as an actor after graduating from New York's Circle in the Square Musical Theatre program. He appeared on Broadway in the Tony Award-winning Thoroughly Modern Millie, worked at numerous theatres across America, including Chicago's Steppenwolf Theatre, Goodman Theatre, Lookingglass Theatre, and Silk Road Rising, among others, and starred on television's Law & Order. Rhee returned to school and earned his MFA degree in Dramatic Writing at Tisch School of the Arts at New York University, where he worked with Oskar Eustis at the Public Theater, Pulitzer Prize-winner Suzan-Lori Parks, Lucas Hnath, Eduardo Machado, and Kristoffer Diaz. In addition to acting and writing, Rhee is also the Artistic Director of Token Theatre, Chicago (tokentheatre.net), and has been a guest lecturer at Northwestern University, University of North Carolina at Chapel Hill, and DePaul University. Rhee is the recipient of the 2021 3Arts/Reva & David Logan Foundation Award, the Tisch School of the Arts Departmental Fellowship, and the Rackham Merit Fellowship Award. This reading of the feet of God is dedicated to his creative writing students at New Trier High School. 
Regina Taylor (pronouns: she/her; director, The Five), an actress, director, playwright, educator, and activist, is the Andrew W. Mellon grant Playwright in Residence for Repertory Theatre of St. Louis. Taylor is writing new plays for Audible and for The Old Vic. Taylor, in collaboration with SMU, is the curator/director of the black album.mixtape, an initiative created by Taylor to invite students, creatives and professionals from all fields - technology, science, art, activism - to think about how we got here and what ways we can create a better future. Taylor's playwright credits include Bread (Edgerton Award, Water Tower Theater), Crowns (four Helen Hayes awards, including Best Director), Oo-Bla-Dee (Steinberg-ATCA award) and Drowning Crow, (Broadway, MTC), The Trinity River Plays (Edgerton Award) and stop.reset (Signature Theater Residency Five). She received the Denzel Washington Endowed Chair Fordham University at Lincoln Center. An Artistic Associate of Goodman Theatre, Taylor is its most produced playwright. Taylor was also the first Black woman to play Juliet in Romeo and Juliet on Broadway (Belasco Theatre). She is featured in First Lady (starring Viola Davis), Lovecraft Country (Jordan Peele, JJ Abrams, Mischa Green), Netflix' All Day and a Night starring Jeffrey Wright, Ashton Saunders and directed/written by Joe Robert Cole (writer: Black Panther), and guest stars on Council of Dads (NBC), Red Line (Producer Ava DuVernay, CBS), and The Good Fight (Paramount+). She received a Golden Globe Award for Best Performance by an Actress, three NAACP Image Awards and two Emmy Award nominations in her TV role as Lily Harper in I'll Fly Away. Her other television roles include The Unit. Taylor was first African American lead in Masterpiece Theatre's Cora Unashamed, starred as Anita Hill in HBO's Strange Justice (Gracie Award), and A Good Day to Die starring Sidney Poitier. She has co-starred in USA Networks' Dig and guest starred in Elementary and The Black List. Taylor's film credits include Saturday Church, The Negotiator, Courage Under Fire, Clockers, and Lean on Me. 
Regina Victor (pronouns: they/them/pharoah; director, Revenge of the Holy Virgin Martyrs…) is a Black director, multidisciplinary artist, and cultural critic. They are presently Sideshow Theatre's Artistic Director, and one of Newcity's "Fifty People Who Really Perform for Chicago"— two years running. Victor has helped develop world premieres by Antoinette Nwandu, Anna Deavere Smith (Notes from the Field), Sarah Ruhl, and recently directed an all Trans and Gender Non-Conforming (TGNC) ACLU Benefit reading of The Wolves by Sarah DeLappe at Actors Theatre of Louisville. Other notable artistic collaborations include Steppenwolf Theater, Berkeley Repertory Theater, TimeLine Theatre, and California Shakespeare Theatre. Works in development include Mallory Raven-Ellen Backstrom (Once in a Bleu Moon), Brynne Frauenhoffer (Pro-Am, Kilroys List 2020), and Emma Durbin (landscape). In their spare time, they run Rescripted, an arts journalism platform they founded in 2017, serve on the National Advisory Council for Howlround Theatre Commons, are a board member for The Sappho Project, a member of the Beehive Dramaturgy Collective, and a member of the Bard at the Gate selection committee at McCarter Theater. Learn more at reginavictor.com.