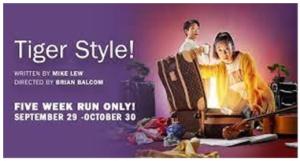 **** Highly Recommended **** Tiger Style! is an absolute comedy treat – and a very good play!  It's laugh-out-loud funny story about a pair of 30-something whiney siblings who blame their parents for turning them into unhappy over-achievers.  The fact that they're Chinese adds an interesting dimension to the story.  I loved this show/ I think you will too.  4 Spotlights
Mike Lew's play, Tiger Style! premiered at the Wimberly Theatre in Boston in 2016.  It was produced at the Olney Theater Center in Maryland in 2019, and earlier this year (2022) at Theatre Squared in Fayetteville, Arkansas.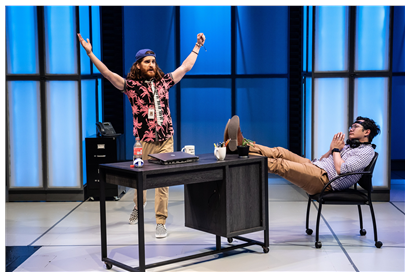 When we meet Albert Chen (Christopher Thomas Pow), he's a diffident computer programmer who lives with his sister.  Since he's positive he's in line for a promotion, he's devastated when he finds out his laid-back, happy-go-lucky co-worker, Reggie (Garrett Lutz), got the promotion. 
Albert's sister, Jennifer (Aurora Adachi-Winter), is devastated when Russ (Lutz), her boyfriend of three years, dumps her.  Jen simply can't understand why he would leave her.  After all, she's a Harvard-educated doctor.  When she throws herself on the sofa in a crying jag, he explains that she just wasn't that interesting.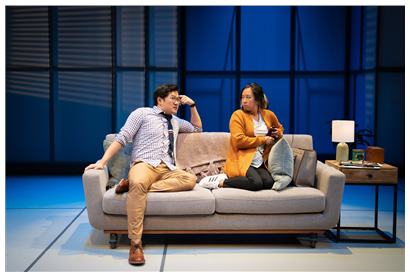 When a depressed Albert gets home, he finds Jen huddled on the floor, her sweater over her head, whining about getting dumped.  In the midst of their pity party, they latch on to their sold-out concert at Carnegie Hall – she played piano, he played the cello – they realize how much their parents had pushed them to achieve.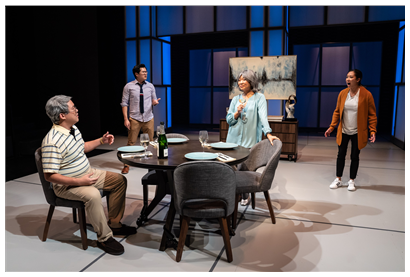 They decided to confront their parents, so they called and invited themselves over for dinner.   They found their parents enjoying pre-dinner drinks.  Dad (Rammel Chan) offered them a drink, Mom (Deanna Myers) had dinner ready.  When their relaxed parents refused to feel guilty, Albert and Jen packed their bags and flew to China, thinking the 'homeland' would be glad to get a couple of brilliant ex-pats.  Needless to say, it doesn't exactly go as they planned.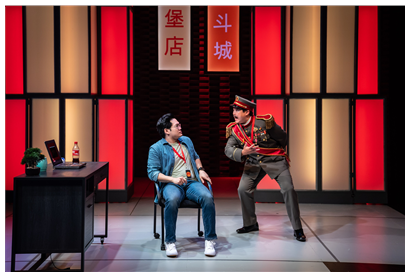 The other three cast members all play multiple parts.  In addition to Mom, Deanna Myers plays the Jen's therapist, Cousin Chen and the Matchmaker.  In addition to Dad, Rammel Chan plays an annoying old man, Tzi Chuan, co-worker Melvin and General Tso.  Garrett Lutz plays Russ, Reggie and the Customs Guy. 
I really enjoyed watching the stage hands roll furniture on and off stage.  In the Act I, they were very unobtrusive, wearing all black.  In Act II, they also moved furniture, but they changed to red coveralls – becoming Chinese guards. 
Note: Masks are optional in the lobby, required in the theater.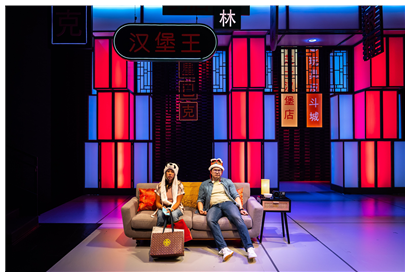 Tiger Style! runs through October 30th in the Alexandra C. and John D. Nichols Theatre at Writers Theatre, 325 Tudor Court, Glencoe.  Free parking is available in the Metra lot across Green Bay Road.  Running time is 2 hours, 15 minutes, including an intermission.  Performances are Wednesdays at 3:00 & 7:30 pm; Thursdays and Fridays at 7:30 pm; Saturdays at 3:00 & 7:30 pm; Sundays at 2:00 & 6:00 pm.  Tickets range from $35-$90.  FYI (847) 242-6000 or www.writerstheatre.org.