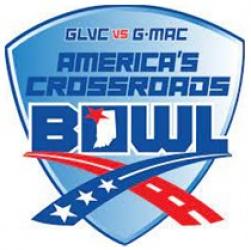 The Hillsdale College Chargers and Truman State University Bulldogs have been selected to participate in the second annual America's Crossroads Bowl on Saturday, Dec. 4, in Hobart, Indiana.
Hillsdale (6-5, 5-2) and Truman State (8-3, 4-3) will represent the Great Midwest Athletic Conference and Great Lakes Valley Conference, respectively, in the contest held at Brickyard Stadium at 1 p.m. CT local time.
The Chargers finished tied for second in the Great Midwest standings. Hillsdale finished the season winners in three of its last four contests, including a victory at Great Midwest champion Findlay and a season-closing victory against Ohio Dominican, the league's inaugural bowl representative at the America's Crossroads.
Truman State will be returning to the America's Crossroads Bowl for a second time after finishing third in GLVC play in 2021. The Bulldogs, who also claimed wins in three of their final four contests this season, captured the 2019 bowl title with a 21-7 win against Ohio Dominican.
The America's Crossroads Bowl is one of four NCAA Division II bowl games sponsored nationally in 2021 and is conducted in partnership with the South Shore Convention & Visitors Authority and City of Hobart.
Tickets are available for $12 for adults, $7 for students and seniors, and $5 for veterans, active military and first responders.  Children 4 and under are free. Tickets can also be purchased in groups of 15 or more for a discounted rate. Regular ticket purchases can be made at americascrossroadsbowl.com or on the Facebook page for America's Crossroads Bowl. Group tickets are available by calling Heather Becerra at 219-301-7756. 
Additional ancillary events and broadcast coverage regarding the America's Crossroads Bowl will be announced at a later date.
The SSCVA will provide reasonable accommodations to people with disabilities. We invite any person(s) with special needs to contact the SSCVA office at 219-301-7763 at least 72 hours before the scheduled SSCVA meeting to discuss any special accommodations that may be necessary.
The SSCVA is an equal opportunity employer and does not discriminate on the basis of race, color, religion, sex, age, national origin, disability, military status, genetic testing, pregnancy, sexual orientation or any other unlawful bias.