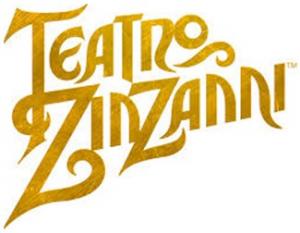 Teatro ZinZanni and Randolph Entertainment are ready to bring live comedy, music, and cirque roaring back to the Chicago Loop with fresh, astounding acts and a unique, immersive dining and live entertainment experience. Its brand-new show begins July 8 in the fabulous Spiegeltent ZaZou, located on the 14th floor in the Cambria Hotel Chicago Loop (32 W. Randolph). It has been a long year, and the time has come to once again fill the tent with light and laughter.
 

The new cast members joining Teatro ZinZanni's unique family of awe-inspiring performers include the "spawn of Freddie Mercury & Janis Joplin" Cunio, singer Storm Marrero, aerialist Lea Hinz, Charlie Chaplin-inspired dancer Mickael Bajazet, trapeze all-stars Duo 19 and hula-hooping contortionist Vita Radionova. Teatro ZinZanni's founder Norm Langill and his artistic team will direct the production.
 
Returning cast members include The Caesar Frank Ferrante and clown and co-director Joe De Paul.
 
An experience unlike any other, Teatro ZinZanni is a whirlwind of international cirque, comedy and cabaret served with a multi-course gourmet feast. Individual and group tickets are on sale now. Teatro ZinZanni is one of the first shows returning to Chicago's Theatre District with performances scheduled to begin on July 8.

 
Teatro ZinZanni has been working behind the scenes to ensure that its patrons have a safe and magical experience. They have enhanced air handling and filtration and incorporated new sanitization technologies. A strong health protocol is in place mandating vaccination for all staff and performers. Teatro ZinZanni will conform to all State and Local requirements at the time of performance, including audience members wearing proper face coverings when not seated at their table. As rules and guidelines ease, Teatro ZinZanni will ease its requirements in a way that is safe and supported by science.
 
"The Goddess" Debbie Sharpe will continue to oversee the menu for Teatro ZinZanni performances as well as private events held in the space. The Spiegeltent ZaZou is available to host lunches Monday through Friday and dinner on "Dark Nights." The one-of-a-kind venue can seat up to 330 guests and is a perfect setting for corporate meetings, social events, convention hospitalities, non-profit galas, and other unique celebrations. The spacious bar and lobby area can seat groups of up to 100 guests for an elegant dinner or accommodate up to 200 guests for a cocktail reception event.
ABOUT THE NEW SHOW
Of all the Spiegeltents in all the neighborhoods in all of Chicago, she walks into Caesar's joint, where Marco Antonio and his kitchen crew offer up a nightly feast.  After 2000 years stuck inside the sarcophagus, will Cleopatra and her entourage find a new empire, true love and the delicious meal that they seek? How does it feel to get out and about again? Guests are invited to join powerhouse vocalists Storm Marrero and Cunio, stunning aerial acts Lea Hinz and Duo 19, veteran comedians Frank Ferrante and Joe DePaul, and hot-shot acrobatic dancers Mickael and Vita to find out.
 

Chris Jones (Chicago Tribune) calls Frank Ferrante's "Caesar" a performance "with so much wit and heart that you want him to sit down at your table and share your dinner," and one of the Top 10 Performances of the year. 
 
Described as the "Kit Kat Klub on acid," Teatro ZinZanni brings to Chicago an international cast of premier entertainers for its anticipated engagement. Teatro ZinZanni's founder Norm Langill will continue to direct the production. The menu will continue to be designed by Chicago's own Debbie Sharpe – The Goddess of The Goddess and Grocer. The included four-course gourmet feast features multiple entrée selections, including vegan options. A fabulous à la carte cocktail menu, wine & beer list and special occasion treats round out the dining experience.
 
TICKET INFORMATION
Individual tickets, which include a four-course meal, are on sale now and range in price from $119 - $189. Front Row VIP tickets are available at a premium price. Limited à la carte "show-only" tickets will also be available for $69. Individual tickets will be available by visiting zinzanni.com/Chicago or by calling (312) 488-0900. Tickets are available now for groups of 10 or more by calling Broadway In Chicago Group Sales at (312) 977-1710 or emailing GroupSales@BroadwayInChicago.com.
 
ABOUT TEATRO ZINZANNI
Teatro ZinZanni was founded in 1998 when a team of creative artists and festival professionals led by Founder Norm Langill and inspired by the great cabarets of Europe, launched a wholly original form of entertainment combining the arts of cirque, comedy, cabaret, spectacle, and live music while serving up a multi-course feast. Since its inception, Teatro ZinZanni has filled its spiegeltents with artists at the highest level of their craft and eager to perform in an intimate space. Performers over the years have included internationally recognized names like Joan Baez and Ann Wilson. The Chicago engagement is presented in the Spiegeltent ZaZou on the 14th floor in the Cambria Hotel Chicago Loop located in the Theatre District. The previously forgotten space was discovered in 2017 during the renovation of the Hotel when dropped ceilings were removed revealing the original grand space within the 1926 historic building. For more information, visit www.ZinZanni.com.
 
Follow @teatro_zinzanni on Instagram, Twitter and Facebook
 
CAST BIOGRAPHIES
 
Mickael Bajazet: Is an actor, acrobat, dancer, choreographer, and act design artist from France, who studied in the famous Fratellini circus school. After 5 years of circus school he started to perform with the unique trio act "Les Petits Freres " on all the major cirque stages of Europe and the USA, including the "Kaleidoscape" U.S tour (Ringling Bros), Cirque D'hiver Bouglione, Wintergarden, Apollo, Friedrichsbau, Tiger Palast, Gop, Palazzo, and of course Teatro Zinzanni!  Mickael's TV credits include Le plus grand Cabaret du monde, Star in die Manège, and the opening and closing show for the 1998 FIFA World Cup.While performing in United States with Teatro Zinzanni, he created his comic character Coco. inspired by his childhood love of Charlie Chaplin and Buster Keaton.
 

Cunio: Called the "spawn of Freddie Mercury & Janis Joplin" Cunio is thrilled to be back with ZinZanni following his 2019 debut in Seattle! Chicago audiences may recognize him from the Lyric Opera's 2018 production of Jesus Christ Superstar (Pilate) and the final year of Jersey Boys' (Tommy DeVito) long run at the CIBC Theatre. Cunio gained national attention as the "electrifying wailer" in PBS retro-rock group Under the Streetlamp and his "gloriously gritty" solo album Back Alley Soul debuted at #6 on iTunes R&B/Soul charts. As a vocalist/MC for Scott Bradlee's Postmodern Jukebox he's toured the world and his videos have amassed over 4 million views on YouTube. In NY he appeared on Broadway in Hairspray (Corny Collins) and is a featured vocalist/MC for Company XIV & Duane Park. Regionally he has starred at American Repertory Theater, Arkansas Rep, North Shore Music Theatre & The Kennedy Center.
 

Duo 19: Duo 19 is made up of Oliver Parkinson and Cassie Cutler, a dynamic trapeze duo taking over the world one theater at a time. Together they push boundaries of aerial technique to create and act known for its eye catching tricks and enthralling style. Oliver is a former MMA champion with a PhD in medicinal chemistry. An overachiever to his core, he became a flying trapeze catcher and a duo trapeze porter and toured the world upside down. Cassie grew up doing gymnastics in Los Angeles, and realized early on that she never wanted to stop flipping. Since then, she's toured with Pippin the Musical, worked with Circus Roncalli and Circus 1903, just to name a few. Together they have traveled the world performing with companies such as Bacio Rosso, Circus Monti, Circus Sarasota, Cirque Mechanics, and Fringe Arts.
 

Joe De Paul: Canadian actor, writer, teacher, director and clown Joe De Paul is a veteran of numerous Cirque du Soleil productions, including his debut as a clown in the North American tour of and in the Emmy award winning film version of Dralion. Joe's unique physical comedy has brought him critical acclaim in various theatres circuses and cabarets in North America and Europe including Salto Natale in Zurich, PALAZZO in Germany, and Cirque Zanzibar in France. Joe has toured from Spain to Finland with Los Galindos street circus. He has performed as a clown in the Football Show during the World Cup of Soccer in Berlin in 2006, and in 2010 he hosted the Förder Preis, The Zurich Cultural Awards Ceremony. Joe was invited as a Star Clown to the Kulture Fabrik in Luxembourg as well as guest star at the festival of Humor in Antibes, France. He has taught at the Geneva Circus School, FRACO clown school in France,  Concordia University Montreal and the National Theatre School of Canada. He has written comedy and directed for Cirque du Soleil's Ama Luna, Ka. Joe is the Clown Act Designer for the new show in Orlando in collaboration with Walt Disney Imagineering. Joe has authored and performed two full length clown productions, Placebo and Mr.P.P. and Joe that have toured cities in Canada, France and Spain. Joe's career has scaled numerous heights, including appearances in over 20 film and television events. Since 2007 Joe has directed and starred in multiple productions of Teatro Zinzanni, the last one being right here in Chicago in 2019 and he is delighted to be back to play again.
 

Frank Ferrante: Frank is an actor-director dubbed "masterful" by the Chicago Tribune and "artful" by The New York Times. At 23, Frank originated the title role in Off-Broadway's Groucho: A Life in Revue by Groucho Marx's son Arthur, later reprising it in London's West End and on PBS. Frank earned New York's Theatre World Award, a NY Outer Critics Circle and a London Laurence Olivier nomination for the part. He's performed the role over 3,000 times in over 500 cities - including a 35 city Australian tour. In 1995, he directed the premiere of Pulitzer finalist Old Wicked Songs. His performance as Pseudolus in A Funny Thing Happened on the Way to the Forum was heralded as a top ten of 2017 by the Wall Street Journal. He guest-starred as a talking mime on Rob Corddry's Emmy-winning Childrens Hospital, is a voice on the animated SpongeBob SquarePants and Garfield and was a question on TV's Jeopardy. In 2019, the Chicago Tribune's Chris Jones picked his performance as The Caesar in ZinZanni as a top ten of the year. Frank is a regular with Teatro ZinZanni since 2001 performing more than 1500 shows as The Caesar.
 
Lea Hinz: Lea is an extraordinary gymnast and aerialist. Born in Goettingen, Germany, she competed on the German National Rhythmic Gymnastics team and won 6 National Championships.  She has performed with Feuerwerk der Turnkunst, Les 7 Doigts de la Main, La Soirée, Urbanatix, Cirque de Demain in Paris, and in cabarets around the world. Her USA credits include Teatro ZinZanni (2016) and over 1500 performances of her solo act "Jeans" at Absinthe in Las Vegas.
 

Storm Marrero: Storm is a Brooklyn native, and proud of it. She developed her unique vocal skills under the private tutelage of veteran opera singers at the University of Puerto Rico's prestigious musical theater department.  Her vocal styling is rooted in Contemporary, Soul, Jazz, R&B and Latin music.  She released her EP entitled 'Black Gypsy', which is on all streaming platforms, and is one of the most sought-after singers in New York City, completing a three-year run with New York's premier dance company, Company XIV, as one of their main singers, and as the first Afro-Latina ringmaster for the Big Apple Circus 2019-2020 season.
 
Vita Radionova: Enchanting, mesmerizing and sensuous, Vita Radionova defies the laws of physics with her contortion, dance and hula hoop performances around the world. Since graduating from the legendary Circus School of Kiev in 1999, Vita has performed her elegant and sensual act at some of the finest venues in Europe, including Germany's Apollo Varieté, GOP Varieté, and Palazzo, as well as Circus Salto Natale. In 2015, Vita was a featured contestant on America's Got Talent Season 10 and made it to the quarter finals. Adding in some Las Vegas magic, Vita worked as assistant magician to David Goldrake at Imaginarium playing at the Tropicana. After performing as featured artist in the 2003 Tiger Lilies circus tour throughout Europe, Ukrainian born Vita Radionova made her North American debut at Teatro ZinZanni in 2004 and has astonished audiences with her skill and versatility in a variety of roles.