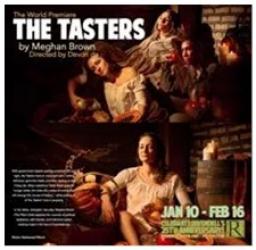 Each one is there for a different reason. Bianca was captured by The General ( Powerfully played by Eric Slater) who uses her for his sexual pleasure as well. She is pregnant with his child. Corrine has volunteered to take on this important position to "save  and protect our leaders" and Elyse is the leader of the Rebels who has been captured by The General. During this 90 minutes of theater we learn a great deal about the politics of this "government" and its leadership. The other character, Lt. Sawyer (deftly handled by Collin Quinn Rice) is the server of the amazing meals.
As each meal is served, Sawyer watches and  if they are still eating after 20 seconds or so, they are sure the others ( the elite) can enjoy the meal they are eating. This play has some twists and turns just as our own world does when it comes to politics. We are after all in a "war torn country" and these three ladies will make choices that can change the course of their lives, and perhaps the history of their country.
Smoothly directed by Devon de Mayo on a set by Yeaji Kim that also allow for amazing projections ( designed by Kim as well) with lighting by Heather Sparling and sound by Hannah Sparling this production moves quickly. The food properties design ( a new classification for the Jeff Awards?) is done by Mary O'Dowd and everything looks amazing. Do not come hungry as you will get even more so. The intimacy and fight design ( we see more of this of late) is by Jreika Guest and Zachariah Payne.
Rather than reveal any of the mystery, I will tell you that these are three different types of ladies and each has their own agenda. The players are all powerful and their actions are very possible. Their stories are probably real in some small ways, and who knows, this may be something that truly is happening in our world today!
"The Tasters" will continue thru February 16th at Rivendell Theatre located at 5779 N. Ridge Ave with performances as follows:
Thursdays  8 p.m.
Fridays  8 p.m.
Saturdays  4 p.m. and 8 p.m.
Sundays  3 p.m.
additional performances on Wednesdays 2/5 and  2/12 at 8 p.m.
Town Hall discussion to follow 4 p.m.  performance on Saturday, 2/8 4 p.m.
Tickets are $38, students and seniors $28 | each performance will have five seats that are pay what you can afford- first come first served.
To reserve your space call 773-334-7728 or visit www.RivendellTheatre.org