Taste of Downtown Hobart
Wednesday, October 4th  
Starting Point:  Wildwood's A Gathering Place, 619 E. 3rd st Hobart, IN
Starting Time:  5:00 - 6:00 pm
Tickets: $60
Tickets are now on sale for our tantalizing tour of Downtown Hobart's best eateries!
Tickets available at www.eventbrite.com/e/taste-of-downtown-hobart-registration-704681751087
We will began our tour at Wildwood's A Gathering Place. We will enjoy a lovely grazing table and Mojitos as we register and form groups of 10, then embark on a rotating restaurant experience. Each group will indulge in the delectable menus of three different predetermined eateries. Finally, we'll all reunite at our last stop, Tavern on the Lake.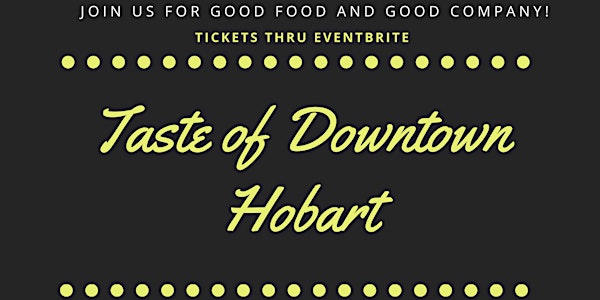 Experience the tantalizing Taste of Downtown Hobart! Indulge in an evening filled with laughter, mouthwatering delights, and a sense of community. Gather your friends and join us as we embark on a culinary journey through our vibrant downtown district. In groups of 10, we will savor delectable dishes from 10 of our finest local eateries. From savory to sweet, every palate will be delighted as you discover the hidden gems that Hobart has to offer. Don't miss out on this unforgettable night of good company and exceptional food!
Participating Restaurants:
Wildwood's A Gathering Place
Montego Bay
Brickie's Gyros
Granger's at the Clocktower
Brickhouse Bar & Grill
Tavern on the Lake
Farmhouse Coffee – dessert stop
Sip Coffee House- dessert stop
Each ticket includes 1 free drink ticket to be used at any participating restaurant
Registration is from 5:00 - 6:00 pm. The Dinner 6:00 pm - 8:00 pm (approx. 30 min rotations from one restaurant to the next)
For tickets click here: Eventbrite Link (for Tickets) : 
Facebook Link.
Hosted by the Hobart Chamber of Commerce!!! 
       Chamber events and ongoing Ribbon Cuttings like at the  NEW Sip Coffee Housewith Fox Art Gallery, include Annual Awards Night Out, Business Expo, Candidates Night, Job Fair Luncheon, July 4th Parade, Taste of Downtown Hobart, Golf Outing, Regional Networking Luncheons, State of the City, Monthly Networking FREE Breakfasts,  Small Business Saturday in November, and Photos With Santa in December.