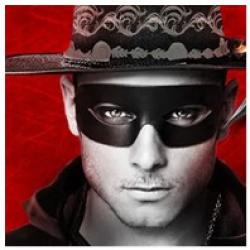 *** Recommended *** I used to love watching Disney's Zorro on TV.  I've enjoyed several movies about the swashbuckling hero, but Guy Williams is in retirement.  There's a new Zorro in town, Zorro: The Musical!  A little darker than the Disney series, this Zorro is filled with drama, treachery, sword fights, flamenco-flavored music and choreography.  I enjoyed the production but the dialogue is kind of weak and the scenic transitions were agonizingly slow.  3 Spotlights
The legend of Zorro originated in a 1919 novella, The Curse of Capistrano, by Johnston McCulley.  Zorro: The Musical is based on a 2005 fictional biography, Zorro, written as a prequel to McCulley's novella by Chilean writer, Isabel Allende.  Zorro: The Musical was written by Stephen Clark, who also wrote the lyrics, and Helen Edmundson.  Music by the Gipsy Kings and John Cameron.  It is produced by Music Theatre Works in association with Ensemble Español and directed by Adrian Abel Azevedo. 
As the story begins, Don Alejandro de la Vega (Luis A. Galvez), the leader of the Pueblo of Los Angeles, has decided to send his son, Diego (Cisco Lopez), to school in Spain, separating him from his best friend, Ramon (Emmanuel Ramirez) and his sweetheart, Luisa (Laura Quiñones).
After a year at the school, Diego ran away and joined a troop of gypsies as their star performer.  One day, he spotted Luisa in the audience.  When he heard that his father is dead, and Ramon is terrorizing the Pueblo, he decided to return to Los Angeles.  Inez (Alex Rhode) and the gypsies decide to go with him. 
Once in California, Diego observes Ramon in action and decides to do something about it.  Rummaging in the gypsy wagon, he finds a black cloak and mask to use as a disguise.  Inez, the only person he trusts with the secret, adds a black hat. 
When two villagers are about to be executed, in spite of the protests of the villagers, a mysterious masked man frees them, defying Ramon.  Sergeant Garcia (J. Christian Hill), following orders, pursues him.  Meanwhile, Diego appears to be servile and weak, much to Luisa's disgust.  Instead of selling wine, the gypsies offer it free to the villagers, holding a celebration with singing and dancing in the plaza.  Garcia is sweet on Inez, but she's just not interested in him.     
The Ensemble, who played soldiers, peasants, villagers, gypsies, even the pueblo priest – and danced their hearts out – are: Henry Cartaya, Luis Del Valle, Trillium Falotico, Jair Herrera, Bruce Holtman, Liora Lahav, Victor López, Malachi Marrero, Kaitlin Pasquinelli, Isabel Ramirez, Jazmine Tamayo, and Autumn Thelander.  The three fabulous Flamenco dancers are Lina Bulovaite, Jocelyn Leving and Karla Tennies Koziura.    
Diego Salcedo provided the magnificent Flamenco Guitar music.  The orchestra included Justin Kone (Conductor/Drums), Nina Saito (Violin), Gregory Strauss (Trumpet 1), Ryan Hobbs (Trumpet 2), Linda Madonia (Keyboard), Stephen Boyer (Keyboard), Thomas J. Logan (Guitar), Marcel Bonfim (Bass) and Tina Laughllin (Percussion). 
Note: Guests must wear masks in the theater. 
The Music Theater Works production of Zorro: The Musical runs through August 22nd at the North Shore Center for the Performing Arts in Skokie, 9501 N. Skokie Blvd., Skokie.  Parking is free.  Running time is two hours, 45 minutes with an intermission.  Performances are Wednesdays at 1:00 pm, Fridays at 8:00 pm, Saturdays at 2:00 and 8:00 pm, Sundays at 2:00 pm.  Tickets start at $39, (guests 25 years of age and younger- 50% off).  FYI www.musictheaterworks.com.