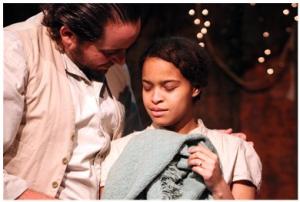 Armand Aubigny (Rory Zacher) is a former plantation owner who now travels throughout the Louisiana bayou promoting his freak show. One member of his bizarre menagerie is Sylphe (Stephanie Mattos) who is billed as the "Woman with No Arms." Sylphe was a life-long servant to Aubigny when he was a wealthy landowner. But Aubigny's main attraction, the one that really draws the crowds and fills his coffers, is "Swamp Baby" (Myesha Tiara). Abandoned at birth and discovered in a swamp, the baby, who we later learn is named Iriana, bears a strange birthmark upon her skin. Supposedly due to the algae in the swamp, the skin on her entire body is green in color. Now a young adult and a captive of Aubigny's, Iriana is no naive fool. A doctor (Rob Frankel) witnesses one of Aubigny's shows and is instantly interested in purchasing the girl. He intends to exhibit her at the 1904 World's Fair in St. Louis, for purely scientific reasons, of course. After much negotiating between the doctor and Aubigny, they agree upon a price, but Sylphe is included in the deal.
Perhaps the most poignant, and certainly the most effective, aspect of Carter's script is that it is fluid. Like the very essence of water itself, his narrative ebbs and flows, moving forward and backward in time. In Iriana's past is the story of her mother Desiree (Destiny Strothers), a character who weaves her very being into Iriana's dreams and her spirit. It seems that Desiree too may have been abandoned as a child -- or else fled -- for as a young girl she showed up at the mansion of Madame Valmonde (Audrey D. Allen), a woman who would become her adoptive mother. Why Desiree was in the Manchac Swamp in the first place and who Iriana's father is are eventually disclosed as Iriana plans her retaliation in an attempt to guarantee her freedom.
Frankel as the doctor is quite disgustingly immoral and difficult to pin down. He does work some pretty spectacular magic with his crystal ball as he hypnotizes Iriana in Act One and does the same mesmerizing feat upon Aubigny in Act Two. Mattos is also wholly invested in Sylphe, the extremely loyal confidante who ultimately pays the highest price as her sacrifice.  Tiara is just wonderful as Iriana, the tortured soul of "Swamp Baby." She is possibly her best when she uses her playful and brazen sensuality to entice the doctor sexually, almost as if playing a game of "doctor" amongst two young children discovering their burgeoning curiosity for the opposite sex. She can also be ruthless, as in the final act of carnality. But never does she lose the strong grasp on a young woman who has been ostracized and neglected for her entire life.
The devastating conclusion, featuring a bold image that encompasses and includes four generations, is like hearing the whispers of ghosts traveling through time, the blood and tears of millions almost dripping from the Spanish moss that is suspended above the stage.
------------------------------------------------------------------------------------------------------------
"Swamp Baby" runs through March 3, 2019
The Greenhouse Theatre Center, 2257 North Lincoln Avenue, Chicago, IL 60614
All Show Times: Thursdays, Fridays and Saturdays at 8:00 PM, Sundays at 3:00 PM
Tickets: $22 to $40 single tickets. Group tickets available.
Box Office: (773) 404-7336 or website www.mpaact.org
Running time is approximately two hours with one 10-minute intermission.