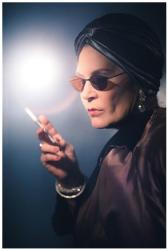 For those of you who are not familiar with the 1950 Billy Wilder film that inspired Don Black and Christopher Hampton to write the book for their version which became the musical "Sunset Boulevard," just know that it shows a grittier side of the Dream Machine and illustrates how Hollywood treated its stars during the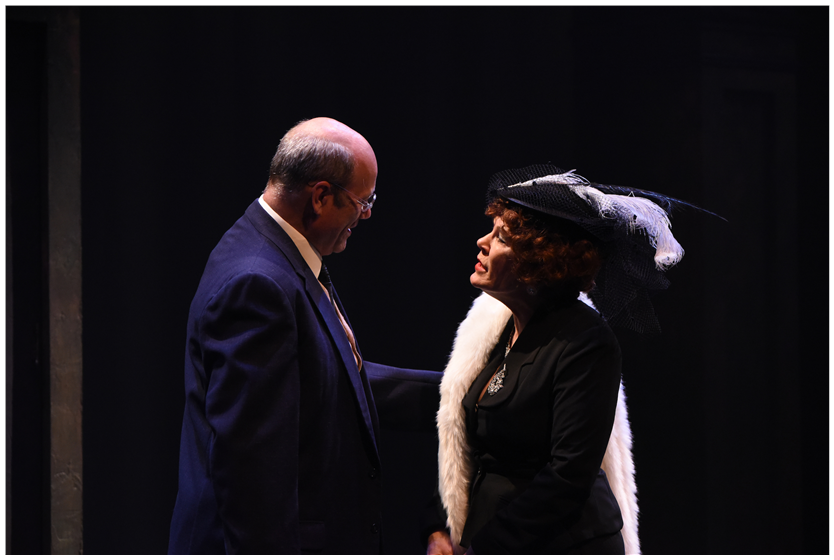 heyday of the old studio system. The ugly underbelly of glamour and fame in which the stars of the past are quickly replaced by younger and more attractive actors takes center stage as many of the veterans are by now completely forgotten.
One such star from that bygone era is Norma Desmond (Hollis Resnik), a faded beauty who started her career as a young girl in the silent film industry and purportedly was the biggest star of them all. However, once talking pictures became more prevalent in the early 1930s, Norma Desmond fell out of favor with her legions of fans. Now she spends her days as a recluse, cloistered away from the spotlight in her massive home located along the famous thoroughfare which shares its name with the show's title. Her only human companion is Max von Mayerling (Larry Adams), her loyal protector who champions her desire to return to her former glory and who was also the director of many of her earliest successful films.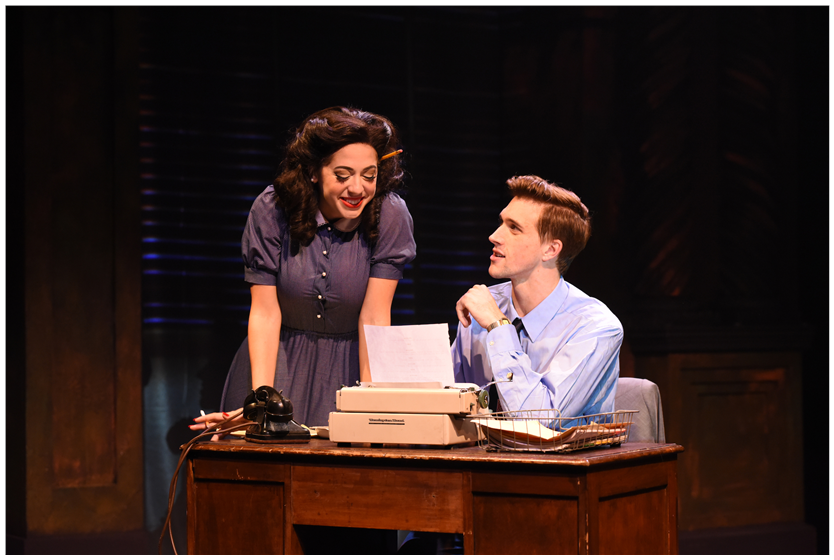 Into this world crashes a young aspiring screenwriter named Joe Gillis (Billy Rude), a financially strapped transplant to Los Angeles who recently nearly got his automobile repossessed. When creditors storm the backlot looking for Gillis he eludes them and drives along Sunset Boulevard, where he stumbles upon Norma Desmond's mansion. Upon noticing the empty garage at the end of her long driveway, Gillis decides that it is the perfect place to hide his car. With that simple act of deception, the two antithetical worlds of these desperate and frenzied individuals collide.
While there is nothing fundamentally lacking in Rude's portrayal of Gillis, he does seem to be roughly five to ten years too young to play this role. While he is very strong in his Act Two opening number "Sunset Boulevard," he can seem, at times, to be disconnected in his scenes with Resnik. Whether this is due to some intimidation that he may have appearing opposite the formidable star or if it's a character choice remains unclear. This difference in age makes Gillis seem to be merely a male gigolo instead of a promising writer who is hired to assist Norma in creating the screenplay (an adaptation of "Salome") which will hopefully restart her career. Rude fairs better in his scenes with Michelle Lauto who plays Betty Schaefer, a fellow screenwriter who just happens to be his own age. Lauto is a knockout in the role of Betty and her duet with Rude ("Too Much in Love to Care") is a highlight.
Most productions of "Sunset Boulevard" are done on a very large scale -- one in which most of the human emotion can get lost upon its enormous set and subtle inflections can be overshadowed. This is a far more intimate -- and ultimately, far more satisfactory -- interpretation of the work. Jeffrey D. Kmiec's scenic design brilliantly condenses locations with key detailed elements that convey Norma's vast Spanish Gothic residence, the gates of Paramount Studios, a sun-drenched poolside chaise lounge or the lunch counter at Schwab's Drugstore.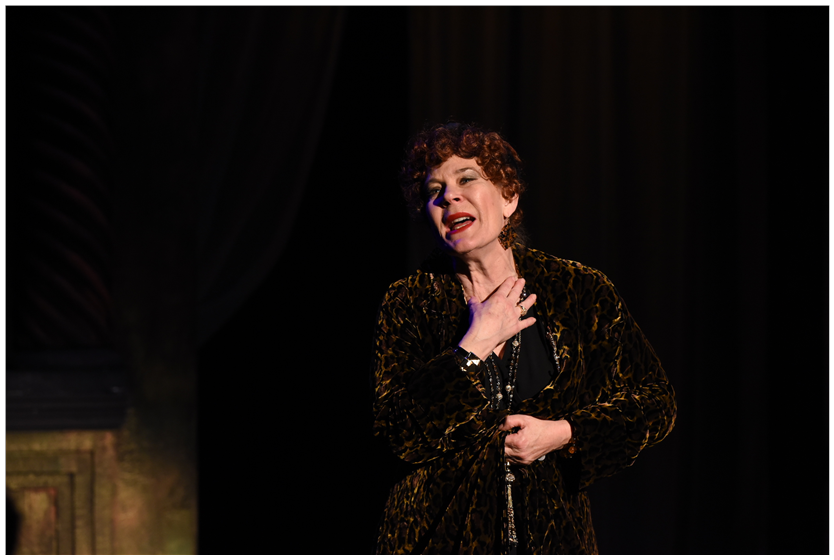 But any production of "Sunset Boulevard" requires a phenomenally gifted actor to pull off the demanding role of Norma Desmond, and Porchlight is fortunate to have Hollis Resnik as this show's reliable anchor. This may quite easily be one of the most well-acted portrayals of Norma that you will ever experience. Resnik's once-silvery soprano has mellowed almost to an alto's range since you may have last heard her sing, but this suits her Norma perfectly. She is nothing short of mesmerizing and you can feel the magic in the air as Resnik sings "As If We Never Said Goodbye" when Norma returns to the soundstage at long last. Resnik's eyes alone in this scene convey the sadness of her erstwhile achievements and the hopeful prospects awaiting her within this realm of legendary fantasy and illusion. It is a stunning theatrical moment, indeed. Norma Desmond is a very tricky role -- one that requires incredible balance -- otherwise you may end up with something that dangerously borders melodramatic camp. For the most part, Resnik meets that challenge head-on. With this being a fairly long run of "Sunset Boulevard" it is quite clear that she will capture all of the nuances of the role before it closes in December...and, who knows, she very well may be justly rewarded with an astonishing 13th Jeff Award to keep the momentum that Butler started soundly in Porchlight's favor.
_________________________________________________________________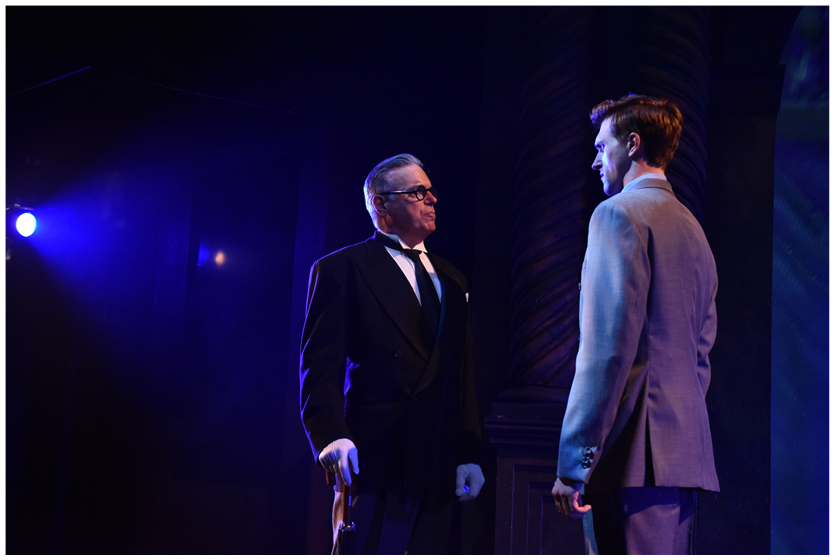 "Sunset Boulevard" has been extended through December 8, 2019
The Ruth Page Center for the Arts, 1016 North Dearborn Street, Chicago, IL
The regular run performance schedule is:
Wednesdays at 7:30 PM (Nov. 13 and Dec. 4)
Thursdays at 7:30 PM (There is no performance Thursday, Nov. 28 in honor of Thanksgiving Day but there is an added matinee performance on Thursday, Nov. 14 at 1:30 PM)
Fridays at 8:00 PM (Friday, Nov. 29 has a 3:30 PM and an 8:00 PM performance)
Saturdays at 3:30 PM and 8:00 PM
Sundays at 2:00 PM (Sunday, Nov. 24 has an added 6:00 PM performance)
Ticket Price:  $39 to $66
Website: www.porchlightmusictheatre.org
Running time is 2 hours and 15 minutes with one intermission.